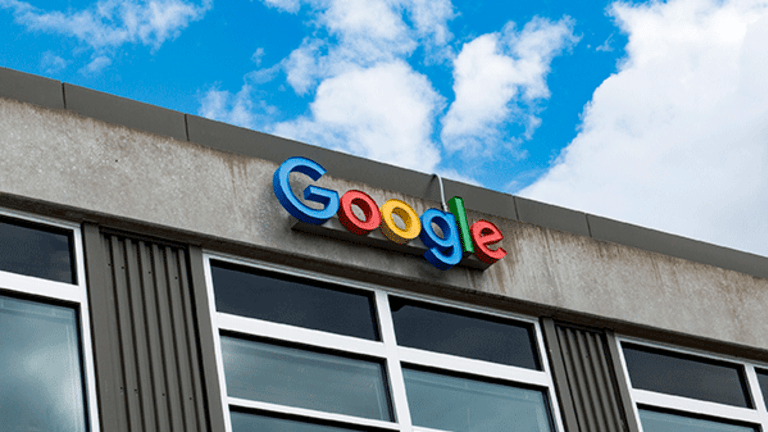 Google's $2.7 Billion Fine From the EU Is Small Potatoes, Analysts Say
Alphabet can easily absorb the costs of the fine, but the bigger issue is what might come next.
Alphabet Inc.'s (GOOGL) - Get Alphabet Inc. Class A Report Google grabbed headlines on Tuesday when the European Commission announced a massive $2.7 billion fine against the internet giant for favoring its own shopping services over those of rivals. 
The $2.7 billion penalty is now the largest anti-competitive penalty ever issued by the European Union's foremost antitrust regulator, topping the $1.2 billion penalty given to Intel Corp. (INTC) - Get Intel Corporation Report in 2009. Google now has 90 days to change the design of Google Shopping in Europe to meet the Commission's legal requirements. The company has 60 days to inform the Commission of its plans. 
Wall Street analysts maintained that the charge will amount to just a drop in the bucket for the Silicon Valley behemoth, however.
"While this result is headline negative and could force changes to the display and ranking of shopping search results...it's important to note this fine still only equates to $3.85 per GOOGL share," said Cantor Fitzgerald analyst Kip Paulson in a note to clients on Wednesday. 
Shares of Alphabet were slightly lower by 0.4% to $943.32 on Wednesday morning after falling 2.4% on Tuesday when the fine was announced. Other mega-cap tech stocks also declined on Tuesday, though, as part of a broader selloff in tech. 
Alphabet has giant cash reserves that will be able to absorb much of the cost, said Monness Crespi Hardt analyst James Cakmak. The company has at least $90 billion in cash and generates more than $25 billion in free cash flow annually, he said. In all, the fine represents just about 3% of Alphabet's cash and marketable securities, as well as less than 1% of its market cap, said Stifel analyst Scott Devitt.
Google said in an SEC filing that it expects to accrue the fine in its fiscal second quarter.
More of What's Trending on TheStreet:
Apple's iPhone Triggered Mind-Blowing Changes to How Investors Trade Stocks
Amazon Could Easily Own Whole Foods and Rite Aid or Express Scripts, This Top Analyst Says
However, some analysts say there are bigger issues for Google than simply the size of the fine. The company will likely face several years of oversight by EU regulators as it tries to implement changes that don't upend its lucrative search and advertising businesses. It could also be hit with a wave of lawsuits from companies who say they were damaged by Google's shopping service practices. 
"We can expect to see a series of damages claims brought by the rivals that were excluded from the market by Google's conduct," said Peter Willis, co-head of competition and EU at lawfirm Bird & Bird LLP, in a statement. "They will be able to use the decision as the basis for a damages claim before the national courts."
On top of that, Google still has other ongoing cases with the EU, one of which deals with Google's Android operating system, and another with its AdSense advertising service. Google's Shopping service is a much smaller unit of the overall business, while its Android and AdSense segments are more consequential. Forced unbundling of the Android business would "require much more maneuvering," Cakmak explained. 
Tuesday's ruling marked a milestone for anti-competition cases, but could be just the beginning for Google. There is a "real concern" that the Commission could potentially use the Shopping ruling as ammunition to gauge wrongdoing in Google's other verticals, such as Images, Travel, and Local, said Cowen analyst John Blackledge. 
Blackledge also believes it's unlikely that Google would win an appeal should it decide to fight the decision. Microsoft Inc. was unable to overturn its case and Intel is still appealing its $1.17 billion fine.