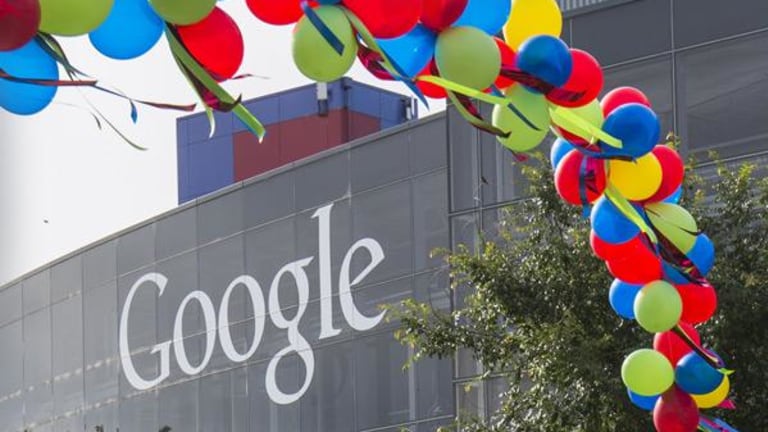 Google Must Finally Cut This One Struggling Business Loose
Assuming it can find a buyer, Alphabet would be smart to unload this broadband service as soon as it can.
Assuming it can find a buyer, Alphabet would be smart to unload this broadband service as soon as it can.
Google is often considered one of the world's most profitable technology companies around, netting billions worth of profits in the past year.
But, since Google became Alphabet (GOOGL) - Get Report in 2015, it has quietly culled the money-losing projects at the company, many of which were once considered revolutionary. Just this month, Project Titan, a program that would use solar-powered drones to beam the Internet around the world, was shut down due to its financial losses.
Alphabet is a holding in Jim Cramer's Action Alerts PLUS Charitable Trust Portfolio. See how Cramer rates the stock here. Want to be alerted before Cramer buys or sells GOOGL? Learn more now.
Many of these financial bets are called, "moonshots," and have cost the company millions, according to recent reports.
And, it looks like one more moonshot project is about to come crashing back down to earth: Google Fiber.
In late October, Alphabet's Chief Financial Officer Ruth Porat projected an aura of confidence, boasting that Google Fiber, has reached 12 regions across the U.S.
"We're making great progress in those cities, and we remain committed to growth in those cities," she said.
However, developments indicate that Google Fiber and the other moonshot programs might not be progressing as well as Porat would have the public think. In fact, Alphabet should cut its losses and suspend development of its broadband service altogether.
Google Fiber's business model is questionable, even within the company's remarkable success.
As reported byBloomberg, company executives disagreed with project Chief Executive's Craig Barratt's decision to move into large cities, claiming that mid-size cities were preferable, as construction costs associated with laying the fiber cables aren't as high.
And speaking of executives, Google Fiber has undergone a series of staffing cutbacks since the middle of last year.
Barratt said that he was stepping down in late October.
At that time, he said that Google Fiber would be "paus[ing] our operations and offices" in "potential Fiber cities."
This shift in strategy was reportedly accompanied by the laying off or reassigning of about 9% of its staff.
Google Fiber has become a nuisance to many. In large cities throughout the U.S., residents complain of the costly and disruptive construction.
Residents in Atlanta, Raleigh, N.C., and San Antonio, Texas, among other places, complain of costly power outages, broken gas and water main lines and personal property damage for homeowners.
In Nashville, Tenn., alone, the Google Fiber-related damage has cost more than $260,000 in water main damage from 71 incidents. Adding insult to injury, months of service delays in many of these Google Fiber cities have left citizens with nothing to show for flooded muddy yards.
More than a nuisance, new reports indicate that Google Fiber may be guilty of digital redlining, a practice in which poor neighborhoods, many of which are neighborhoods of color, are given less access to broadband networks.
"Families in poor areas are almost five times more likely not to have access to high-speed broadband than the most affluent American households," according to research by the Center for Public Integrity.
And data suggest that Google Fiber is only adding to the problem.
In addition to the countless external problems, the company's bottom line is also suffering. Local Google Fiber offices are without subscribers and much-needed revenue.
The company faces higher-than-expected costs associated with laying fiber.
As a recent report by The Information indicates, Google Fiber executives hoped to sign up about 5 million subscribers within five years but clearly fell "way short" of this goal.
This resulted in Alphabet Chief Executive Larry Page ordering Google Fiber officials to start cutting costs in August.
But despite Alphabet's decision to halt Google Fiber's operations in potential cities, doing away with it and its potential threat to the tech giant's bottom line isn't so simple. Google Fiber has legally binding contracts with the cities where it is operational, meaning that it must remain operational and supported for several years.
These indicators don't paint the rosy picture that Alphabet and Google Fiber CEOs so desperately hoped would be a reality. Assuming that it can find a buyer, Alphabet would be smart to unload Google Fiber as soon as it can.
Google Fiber as a hardware installer has fizzled. It was a pipe dream with a very real financial cost.
This article is a commentary by John Burnett, who owns a position in GOOGL.