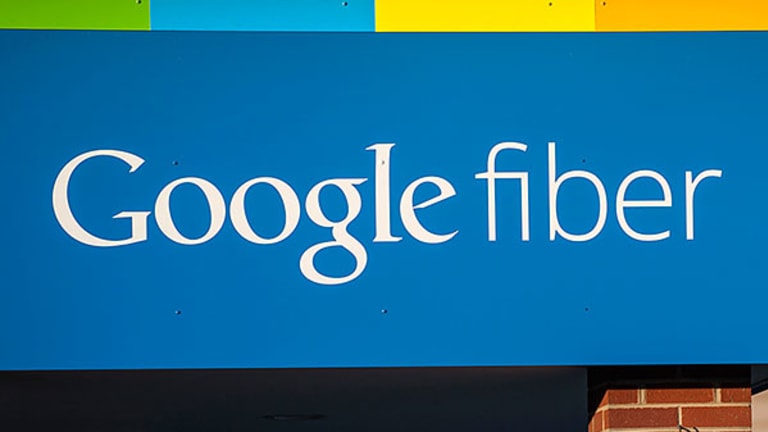 Google Fiber Might Be Pinning Its Hopes on Wireless Broadband
Though Google Fiber seems to be paring back its near-term investments, wireless technologies could still let the Alphabet unit achieve its ambitious long-term goals.
Alphabet's (GOOGL) - Get Alphabet Inc. Report Google Fiber unit seems to be drastically rethinking its once-ambitious plans to roll out fiber-based broadband services in dozens of U.S. cities. Reading between the lines, however, Alphabet might not be giving up on its long-term hopes for Fiber, but simply putting them on ice until fixed-wireless broadband networks are ready to take off.
The Information reported on Thursday Alphabet CEO Larry Page ordered Fiber chief Craig Barratt to cut the size of Google's Fiber team in half, to about 500 people. The site adds that Fiber, currently available in just a handful of U.S. metro areas, had just 200,000 subscribers at the end of 2014, in spite of initially aiming for five million subs within five years.
Page also reportedly told Barratt he wants Fiber to lower its cost of providing Internet to homes by a stunning 90%. Re/code provides some context for this comment, noting Page has a history of making "near-impossible demands."
Regardless, The Information's report follows one from The Wall Street Journal stating Alphabet has suspended plans to bring Fiber to San Jose and Portland, Oregon, and is exploring cheaper options for providing broadband. It also comes amid broader efforts by Alphabet to demand more accountability from its "Moonshot" projects, and pare their substantial losses recorded by some of them.
Alphabet is a holding in Jim Cramer's Action Alerts PLUS Charitable Trust Portfolio. Want to be alerted before Cramer buys or sells GOOGL? Learn more now.
From a near-term perspective, it does certainly look as if Alphabet has narrowed its Fiber ambitions, and will be devoting fewer resources to the business. But from a long-term standpoint, the company's goals may be as ambitious as ever.
The key here is that fixed-wireless technologies capable of delivering reasonably-priced, gigabit-class, broadband services to homes and businesses -- the kind Alphabet has been trying to deliver to date via last-mile fiber connections -- aren't ready for primetime, but could be in a few years.
Many of the first trials for 5G wireless networks, which are expected to begin seeing major deployments around 2020, will involve fixed networks using high-frequency spectrum well-suited for delivering massive amounts of bandwidth over relatively short distances.
In lab tests, 5G connections have achieved speeds topping 10 or even 20 gigabits per second. Chances are 5G users won't normally see such speeds, particularly since a 5G cell site will be shared by many users. But everyday speeds in the vicinity of a gigabit per second certainly look possible, and that should be enough for Google's needs.
The WSJ's report stated Google is now looking to provide wireless broadband systems paired with a central fiber network "in about a dozen new metro areas, including Los Angeles, Chicago and Dallas." In addition, Google has bought Webpass, a provider of high-speed urban broadband services that relies on wireless backhaul infrastructure, and recently submitted an FCC filing indicating it wants to set up "experimental transmitters" for a new wireless technology at up to two dozen U.S. locations.
5G and other wireless technologies may not let Google Fiber hit Page's reported goal of a 90% cost reduction. But once they're ready, it should be possible to deploy them on a large scale much more cheaply and quickly than it's possible to bring fiber to consumers and businesses.
That should leave Alphabet, and perhaps also other upstarts, well-positioned to challenge telco and cable broadband duopolies in a way that they can't today. It might also mean Google Fiber will need a name change.