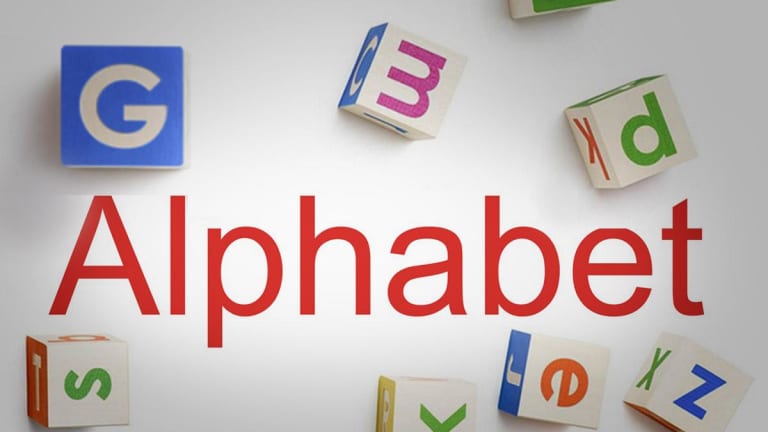 Google Extends Declines as Rising Costs, 'Other Bets' Questions, Cloud Solid Q4
Google shares pared declines Tuesday after it posted stronger-than expected quarter revenue growth thanks to a surge in ad sales but failed to ease investor concerns over rising costs in some of its growth businesses.
Alphabet Inc. (GOOGL) - Get Alphabet Inc. Class A Report shares pared declines in early Tuesday trading after the parent company to tech giant Google posted stronger-than expected fourth quarter revenue growth thanks to a surge in ad sales but failed to ease investor concerns over rising costs in some of its growth businesses. 
Google said group revenues over the three months ending in December rose 22% from last year to $39.3 billion, topping analysts forecasts, as the number of clicks on ads placed inside the companies various properties, such as YouTube and the main search engine, grew 66% from last year. However, Google said its overall cost base rose 26% to just over $31 billion, while capital expenditures jumped 64% to just over $7 billion, as company-wide headcount expanded to more than 100,000 and management piled more cash into the group's high-growth "other bets" businesses, such as Waymo, Google Fiber, the Verily life sciences unit, but offered little transparency on how or when they'll pay off. 
Those cost increases were set against lower prices paid by advertisers across Google's myriad platforms, with so-called traffic acquisition costs falling 29%, pushing overall company operating margins down 400 basis points from last year to 21% and spooking investors that profitability will continue to be pressured in the coming years thanks to intensifying competition -- from Facebook, Amazon and others -- in the online advertising business.
"We remain focused on prioritization in order to optimize resources for longer-term growth in sizable markets," CFO Ruth Porat told investors on a conference call late Monday. "You'll see us continue to support our priority areas with increased headcount, which will remain concentrated in R&D. Although we expect the growth rate to moderate in 2019."
"While I've said previously that there is no monolithic approach to how the Other Bets execute against opportunities, a shared principle is aligning employee interest with the long-term value creation by these companies," Porat added.
Google shares were marked 0.8% lower at the opening bell Tuesday, after trading at low a 3% to te downside in pre-market trading, to change hands at $1,131.73 each, a move that would extend the stock's six month decline to around 9.5% and value the Mountain View, California-based tech giant at just over $760 billion.
The internet giant, the last of FAANGs to report quarterly earnings, posted earnings per share of $12.77 versus a $10.86 consensus estimate, but operating income of $8.2 billion in the quarter fell short of an $8.6 billion consensus as expenses rose, which Porat linked to increased costs for YouTube content.
Google Network ad revenue (third-party sites and apps) rose 13% to $5.61 billion. Google Other revenue, comprising items such as hardware, Google Play transactions and cloud apps and services, rose 31% to $6.49 billion. Traffic acquisition costs amounted to $7.4 billion, or 23% of total advertising revenue, down slightly from 24% a year ago.
Google also said it has authorized $12.5 billion for fresh stock buybacks this year, after purchasing around $9 billion in 2018, with analysts suggesting the additional buys will help support near-term earnings-per-share growth.
"We think continued strength in Advertising and Other revenues should drive consolidated revenue growth in the high-teens over the next 3 years, which coupled with moderating gross margin pressure sets that stage for solid profit growth," said Canaccord Genuity analyst Maria Ripps. "Operating expenses also saw deleveraging amid higher R&D, driven by headcount growth as well as by the accrual of compensation expenses related to re-valuation of equity in Other Bets. While growth in hiring will continue this year, the pace of growth will likely moderate."