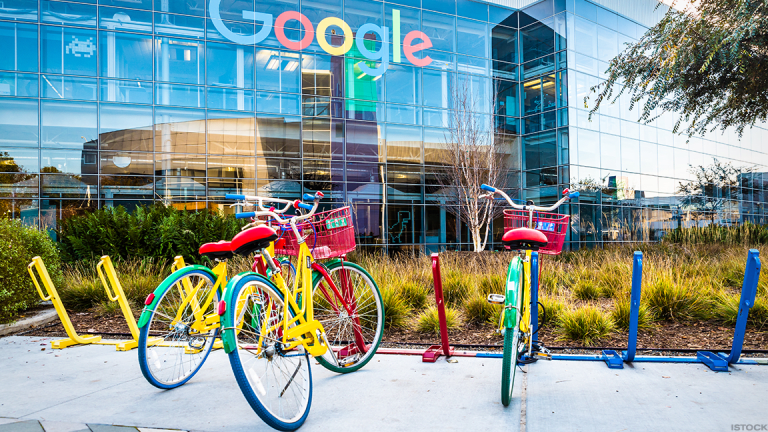 Google's E-Commerce Rivalry With Amazon Just Got More Serious
The search giant is teaming with Walmart, Target and others to let consumers buy items without leaving its web site -- in exchange for a cut, of course.
As Amazon.com (AMZN) - Get Amazon.com, Inc. Report  continues taking e-commerce share like clockwork, many big retailers are choosing to draw closer to Alphabet/Google (GOOGL) - Get Alphabet Inc. Class A Report .
There's a shotgun-marriage aspect to the partnerships: Retailers aren't necessarily embracing Google because they love the company, and many of them probably have misgivings about how the partnerships give Google control of key aspects of a customer's online shopping experience.
Nonetheless, the retailers seem to be concluding that Google's scale, resources and technology give them a better chance to grow in a very rough environment. And Google looks well-positioned to profit in the process.
Jim Cramer and the AAP team hold positions in Amazon and Alphabet for their Action Alerts PLUS Charitable Trust Portfolio. Want to be alerted before Cramer buys or sells AMZN or GOOGL? Learn more now.
On Monday, in an announcement that probably didn't get as much attention as it deserved amid the Facebook/Cambridge Analytica uproar, Google unveiled its Shopping Actions program. Shopping Assistant effectively turns Google Search and Google Assistant into marketplaces that retailers can plug into. Google users searching for items from participating retailers can add them to a common shopping cart, and check out using payment card data Google has on file. Users also get personalized shopping recommendations and can make use of retailer loyalty-card programs.
Walmart (WMT) - Get Walmart Inc. Report , Target (TGT) - Get Target Corporation Report , Home Depot  (HD) - Get Home Depot, Inc. (HD) Report and Costco  (COST) - Get Costco Wholesale Corporation Report are among the initial backers of the program. Google had already announced partnerships with some of these firms to support shopping via Google Assistant and the Google Express site, but hadn't announced a Google Search solution.
Importantly, Google will monetize Shopping Actions transactions by taking a cut on actual sales, rather than by collecting ad revenue. The company claims tests found that participating retailers witness an uptick in sale conversions relative to only buying Google Shopping ads (they're integrated with Google Search), and also see an increase of about 30% in average basket size. In addition, the company asserts a study done with MasterCard  (MA) - Get Mastercard Inc. (MA) Report indicates customers making purchases via Shopping Actions end up engaging more with the merchants that they bought from in the months that follow.
By relying on transaction cuts rather than ad sales, Shopping Actions gives Google a way to monetize voice searches without seriously annoying consumers. Though the threat posed by voice assistants to Google's ad business may be overblown -- online retail ads are just one part of Google's ad business, and while voice commerce can work well when users know exactly what they want to buy and who they want to buy it from, it often helps to have a screen if that's not the case. Still, the explosion seen in voice assistant activity -- including via Amazon's Alexa assistant, which supports Amazon purchases -- gives Google a strong incentive to protect its flank.
Perhaps more importantly, Shopping Actions provides retailers desperate to fight Amazon with a useful weapon -- one backed by Google's near-ubiquitous search engine, as well as its machine learning algorithms and the mountains of payment card numbers it has on file. As it is, Google's mobile-friendly Shopping ads have been avidly embraced by major retailers, and along with YouTube was a key reason why Google's total paid ad clicks and impressions rose 43% annually in Q4 (this was partly offset by a 14% drop in average ad price).
None of this means Google's offerings will put an end to Amazon's share gains. Jeff Bezos' company is now believed to account for close to 45% of U.S. e-commerce gross merchandise volume (GMV) -- that's more than 10 times Walmart's estimated share -- and is coming off a Q4 in which its North American segment saw about 25% organic growth. The popularity of Amazon Prime, the size of Amazon's third-party seller base and the scale of its warehouse and logistics infrastructure (and the advantages it provides in terms of delivery times and shipping costs) make further share gains seem almost inevitable, at least in the absence of a major regulatory crackdown.
Still, the combination of Google's ads and de facto marketplace provides a bit of hope for retailers that can come up with ways to differentiate, possibly by doing things like focusing on niche markets (an eBay (EBAY) - Get eBay Inc. Report specialty), offering in-store pickup services (Walmart is betting big on this) or catering to enthusiasts within a particular vertical (think Etsy (ETSY) - Get Etsy, Inc. Report or Newegg). And one way or another, Google stands to take a greater economic cut from all this activity.
And along the way, it might just convince Amazon, which spends a fair amount on Google ads but is less dependent on them than peers to drive traffic, to up its Google ad spend some. Amazon appears to have upped its Google Shopping ad spend a bit last fall.
But given the tendency of many Amazon shoppers to bypass Google Search and go straight to the company's site and/or app, Amazon is still more foe than friend to Google. Especially as Amazon's own e-commerce ad business, which leverages the tons of shopping data the company has to show ads on Amazon sites/apps and elsewhere, continues swelling. JPMorgan estimates Amazon's ad sales will rise 61% this year to $4.5 billion.
As much as Walmart (and at one time, eBay) has been talked up as Amazon's e-commerce archrival, the company's biggest rival is arguably Google. Until now, the rivalry has been a fairly informal one. But with its latest move, Google and its retail partners have added a measure of formality to it.
And while Amazon maintains some big competitive advantages in this fight, Google's partnerships and resources should let it directly and indirectly monetize a large chunk of an e-commerce pie that's still growing at a healthy double-digit clip.