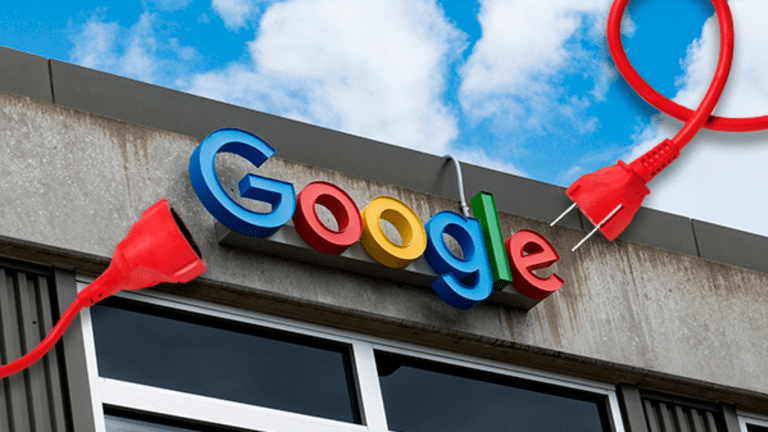 Google Delivered Solid Results When Great Results Were Needed
Mobile search and YouTube momentum once more helped Google deliver strong growth. But the costs of obtaining that growth were higher than expected.
It's hard to seriously complain about Alphabet Inc./Google's (GOOGL) - Get Alphabet Inc. Class A Report second-quarter earnings report, which in most respects was pretty solid. But one can take issue with a couple of details, and with shares up over 25% on the year going into earnings, those details are enough to spark some profit-taking.
On a GAAP basis, Google reported Q2 revenue of $26.01 billion (up 21% annually) and EPS of $5.01, beating consensus analyst estimates of $25.64 billion and $4.44. If one backs out the $2.7 billion fine (set to be appealed) EU regulators recently imposed over the integration of Google Shopping ads within search results, EPS was $8.90, above an $8.36 consensus.
Nonetheless, Class C shares (GOOGL) fell 2.9% in after-hours trading to $969.00. Apparently the main culprit behind this selloff: After backing out traffic acquisition costs (TAC - ad revenue-sharing payments to partners), revenue totaled $20.9 billion, up 19% and roughly even with consensus estimates.
TAC totaled $5.09 billion, up 28% and soundly above a $4.74 billion consensus. Due to mobile ad revenue-sharing payments -- made to Apple Inc. (AAPL) - Get Apple Inc. Report, Android OEMs and carriers, among others -- TAC equaled 11% of revenue on Google's sites and apps, up from 9% a year ago. For ad sales on third-party sites and apps, it rose to 72% of revenue from 70%, thanks partly to a shift in ad sales towards programmatic (automated) ad campaigns.
Neither of these trends is likely to go away anytime soon, given the momentum surrounding mobile and programmatic ad spending. There's also some risk that the changes the EU is demanding to Google's Android app bundling policies -- among other things, regulators want Google to stop denying access to the Play Store if OEMs don't make Google the default search engine on their devices -- could increase TAC, by giving OEMs more leverage in negotiations.
The TAC concerns are overshadowing another phenomenal quarter of ad click/impression growth fueled by mobile search and (to a lesser degree) YouTube's momentum. "Paid clicks" rose 52% annually, outpacing Q1's 44% growth thanks to an eye-popping 61% increase on Google properties. Growth on non-Google properties, pressured some by Facebook Inc.'s (FB) - Get Meta Platforms Inc. Class A Report ad momentum, was 9%.
Jim Cramer and the AAP team hold positions in Alphabet, Apple and Facebook for their Action Alerts PLUS Charitable Trust Portfolio. Want to be alerted before Cramer buys or sells GOOGL, AAPL or FB? Learn more now.
Google's efforts to create effective mobile ad formats that take up a lot of screen real estate, such as Google Shopping ads, app install ads and Expanded Text Ads, have much to do with the paid click growth. As do things like efforts to track the impact of online ads on offline sales, successful outreaches to local and small businesses and the use of machine learning to predict how an advertiser's campaign will perform.
As far as YouTube goes, Google is also benefiting from viewing growth -- users now watch over 60 minutes per day on average on mobile devices, and watch time on TV sets nearly doubled annually in Q2 -- as well as the popularity of ad formats such as its 6-second Bumper ads. And looking more broadly, one can't also ignore the degree to which Google and Facebook keep taking online ad share from smaller players like clockwork.
The paid click growth was partly offset by a 23% drop in ad prices (cost per click, or CPC), larger than Q1's 19% drop. Just as they've been boosting paid clicks, YouTube and mobile search ad growth have been depressing CPC. In addition, though reporting strong Google search ad spending growth overall, ad services firm Merkle reports CPCs for search keywords featuring a marketer's own brand name were pressured in Q2 by a Google algorithm change.
The "Google Other" reporting segment, which covers things like Google Play, cloud apps and services, and sales of Google-branded hardware, saw revenue rise 42% to $3.09 billion (15% of ex-TAC revenue). Though Pixel phone sales have apparently slowed ahead of an expected fall refresh, cloud momentum remains very strong, as big investments to improve the Google Cloud Platform's (GCP) feature set, geographic reach and corporate sales pay off.
On the earnings call, CEO Sundar Pichai mentioned that the number of $500,000-plus deals recorded by GCP, the #3 player in the public cloud services market behind Amazon Web Services and Microsoft Azure, tripled annually. He also indicated enterprise adoption rates for the G Suite (formerly Google Apps) have been growing.
Google's spending remains elevated, but more or less in line with what has been expected. Operating expenses grew 18% to $8.8 billion, thanks to heavy R&D hiring and a change in how Google times its annual stock grants. Cost of revenue (excluding TAC) rose 27% to $5.3 billion due to data center investments, YouTube content payments and Pixel hardware costs. Those data center investments also led capital spending to rise 32% to $2.8 billion.
The "Other Bets" reporting segment, which features businesses such as Nest, Waymo (self-driving cars), Google Fiber, Verily (life sciences) and Calico (anti-aging drugs), remains a cash sinkhole. It produced a Q2 operating loss of $772 million on revenue of $248 million. Though those figures are respectively improved from $855 million and $185 million a year ago, Other Bets is still likely a ways off from turning a profit (maybe when Waymo's self-driving systems finally see mass adoption?). But such losses have been telegraphed for a while, and are unlikely to shock many investors.
On the whole, Google delivered yet another report showing that the powerful trends allowing it to post sales growth in the 20% range even as its GAAP revenue nears $100 billion are still very much in place. But the costs of obtaining that sales growth proved a little higher than expected, and at current levels, that's enough to trigger some selling.
More of What's Trending on TheStreet:
Trump Just Resurrected the Ugly Practice Known as Civil Forfeiture for No Reason
60 Second Tips: Best Return on Your College Investment