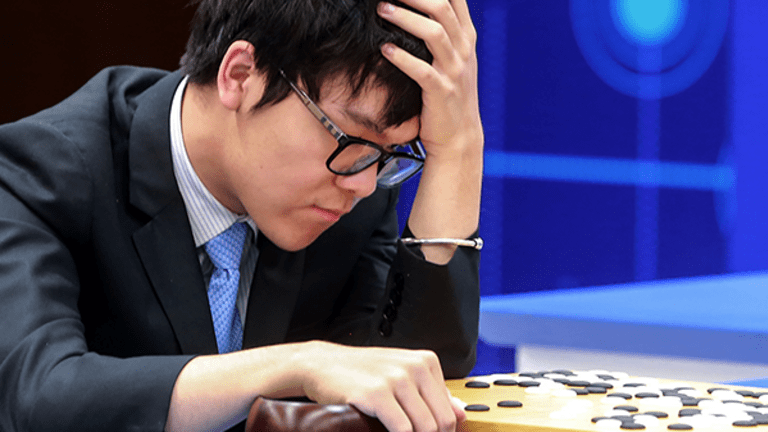 Google Defeats World's Top Go Player, But Can It Win Over China?
The display of its artificial intelligence system at a Chinese board game competition comes with the hopes of re-entering a region it's been blocked from since 2010.
In the ultimate test of machine versus man, Google's AlphaGo artificial intelligence system won its second match against the world's best Go player on Thursday, clinching a victory in its three-game match. 
AlphaGo beat 19-year-old Go world champion, Ke Jie, in a match held in Wuzhen, China, as part of the  Alphabet (GOOGL) unit's Future of Go Summit being held there this week. Go is a complex board game developed in China more than 2,500 years ago.
While the AlphaGo competition is a display of just how far Google has come in the realm of artificial intelligence, it also serves a bigger, more abstract function, especially in China. 
Google is likely using the Future of Go Summit as a means of appealing to Chinese officials at a time when it's been unable to reenter the market. The internet giant's search engine, Gmail and YouTube have all been blocked from access in the region ever since 2010, when government regulators, often known as the Great Firewall of China, rounded up a list of 1.3 million websites and shut them down.
It meant that no one inside China could watch livestreams of the AlphaGo matches, since Chinese state media outlets couldn't broadcast them either. According to Google, the livestreams were still viewed by 60 million people across the Internet.
Google does operate some offices in China and has limited services available there, such as Google Translate, but the relationship still remains largely strained, similar to many other U.S. technology companies. Before the shutdown, Google offered a version of its services that conformed to China's privacy and censorship restrictions, but after the company discovered that several human-rights activists' accounts had been hacked, Google directed search traffic to an uncensored version of its website, violating Chinese compliance rules. The move prompted Chinese officials to swiftly block the site, but some experts say the foreign ministry may have also been trying to advance its own search engine Baidu (BIDU) .
Baidu CEO Robin Li has said he hopes the company will eventually expand into new markets like the U.S. and Europe, hoping to gain a foothold in nascent markets where internet connections have improved. Baidu rival Alibaba BABA has made greater strides in developing in the U.S., particularly through strategic investments in U.S. startups like Lyft, Jet.com (now owned by Walmart (WMT) ) and now public Snap (SNAP) . Similarly, Baidu recently partnered with Ford (F) to invest $150 million in Velodyne, a U.S. startup that develops LIDAR sensors used in self-driving cars.

Despite its rocky relationship with China, Google continues to attempt to reenter the area, perhaps because it recognizes the user and advertiser growth opportunities there. Those efforts will likely entail further compliance on Google's part, but the company has also tried to be more transparent about its dealings there, issuing an annual transparency report that details any user information requests or requests to remove content. To be sure, the AlphaGo event will show whether or not those efforts have paid off.
Editors' pick: Originally published May 25.
The AI machine's latest win shows how engineers are making significant headway in using the technology to complete sophisticated tasks otherwise reserved for humans. Over the past year, AI and machine learning have quickly risen to become the tech du jour among Silicon Valley companies, with many exploring its use in self-driving cars, smart home appliances and search engines, among other things. The technologies were also a major focus at Google's I/O developer conference last week, specifically with the release of Google Lens, its second generation tensor processing unit chips and Google.ai, a new initiative that will house AI- focused tools and research.
Go is a highly complex board game developed in China more than 2,500 years ago that involves placing black and white tiles on a grid system with the strategy of surrounding more territory than the opponent. AlphaGo, which was developed by Google's artificial intelligence research unit DeepMind, also defeated Korean Go champion Lee Sedol last year.
Editor's Pick: This article was originally published at 11:59 am ET.