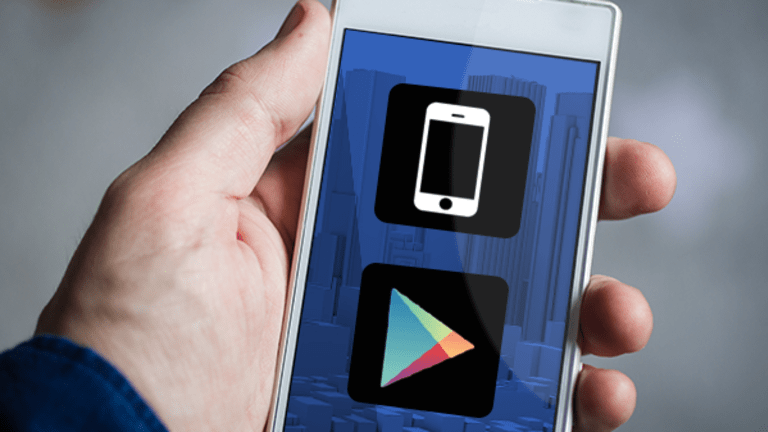 Google and Apple Vie for App Store Supremacy
Consumers spent a total of $45 billion in Google's and Apple's app stores last year, according to BMO Capital.
At Alphabet (GOOGL) - Get Alphabet Inc. Class A Report  unit Google's I/O conference beginning Wednesday in Mountain View, Calif., CEO Sundar Pichai gets the chance to play up new products. Pichai also has the opportunity to stake out Google's position in a global app ecosystem rivalry with Appleundefined , which will hold its own World World Wide Developers conference in San Jose in early June.
Apps are a fast-growing business for both of the Silicon Valley icons. Consumers spent $45 billion in Google's and Apple's app stores last year, BMO Capital analyst Tim Long estimated in Tuesday report, growing 36% from the prior year. The two paid out $31 billion of that to developers last year, according to Long's calculations.
BMO estimates that Google Play made $5.4 billion in fiscal year 2016 sales, accounting for about 6% of Alphabet's top line.
Jim Cramer and the AAP team suggested recently that Google's efforts to diversify its business outside of search ad sales reflects the company's evolution and is a reason to like the stock. Get a free trial subscription to Action Alerts PLUS.
Apple is still the top dog, however. BMO Capital calculates that the company's app store generated $7.3 billion in fiscal year 2016 revenue, or 35% more than Google. Still, BMO says that the app sales represent just about 3% of Apple's total revenues.
The iPhone was the original showcase for smart phone apps, giving Apple a head start on the market. In addition, Apple users tend to spend more on average on apps than Android users. 
"That total spend on iOS apps is larger than Play Store spend may be a surprise to those aware of how much bigger the Android installed base is," Long wrote. "However, given the premium nature of iPhones, as well as, we believe, the often better quality of apps in the Apple store, we find iOS device owners spend nearly three times as much on Apps," Long wrote.
Apple is playing up app culture with the Shark Tank-esque original series Planet of the Apps, which it will launch soon on Apple Music. The series, which features Jessica Alba, Gwyneth Paltrow, Gary Vaynerchuk and will.i.am, will pit app developers against each other for funding.
Tim Cook touted the App Store's 40% growth in the company's early-May earnings call for the second fiscal quarter, and noted that the business generated twice the revenue of Google, according to App Annie.
In the next two years, however, BMO expects Google's app revenues to grow faster than Apple's. The firm forecasts that Google's app store revenues will grow 29% this year, 24% next year and then 20% in 2019.
By comparison, BMO put's Apple's App Store revenues growth at 23% per year for the next four years.
The app explosion comes as the telecoms that provide the infrastructure for the ecosystem have struggled to grow wireless service revenue. "We observe meaningful value continuing to shift away from telco spending, toward millions of developers and Google and Apple themselves," Long wrote.