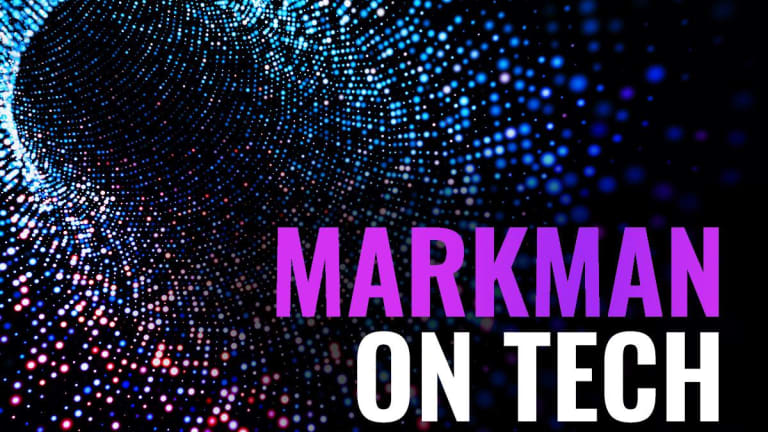 Google AI on Track to Revolutionize Medicine
Using data, machine learning and AI, Alphabet managers are incubating vibrant new businesses in pharma and tech. One or more of these will become exciting stand-alone businesses.
This might seem a particularly bad time to be investing in big tech.
President Trump said Tuesday morning that his administration would look into accusations that Google has been secretly working with the Chinese military. The charge came from Peter Thiel, a PayPal (PYPL) co-founder and strong supporter of the president.
On the other hand, Bloombergreported Tuesday that DeepMind, the artificial-intelligence arm of Alphabet,  (GOOGL)  might be on the cusp of a major breakthrough in the way new drugs are discovered.
It's an important innovation. It's hiding inside the search giant. And it couldn't come at a better time.
This business is on to something really big. Using data, machine learning and AI, Alphabet managers are incubating vibrant new businesses with innovative business models. One or more of these will become exciting stand-alone businesses.
Some analysts are already doing sum-of-the-parts analyses and they like what they see.
A Jefferies analyst pegged the value of Waymo, Alphabet's self-driving-car business, at $250 billion in December 2018, according to a story at Business Insider.
Alphabet's market capitalization is $798 billion, with units including YouTube, Google Search, Google Cloud, Android, the Nest security camera and peripheral businesses, Google Capital, and Stadia, its new video game streaming service set to launch in November.
Together, these parts are probably worth well over $1 trillion.
Until now, the business opportunity for DeepMind was not even on investors' radar.
The subsidiary has its roots in DeepMind Technologies, a British AI startup that was making progress teaching computers the quirks of human short-term memory. Alphabet acquired the business in 2014.
Two years later, its custom AlphaGo code was so advanced that it became the first computer program to defeat a human in a match of Go, the ancient Chinese strategy game. That human happened to be Lee Sedol, the 18-time world champion.
At the CASP13 meeting in Mexico in December 2018, DeepMind was at it again. This time its human challengers were the brightest minds in biology. The task was predicting the shapes of proteins.
Understanding these structures is important because they govern how diseases form. The problem is there are more possible protein shapes than there are atoms in the universe, Bloomberg notes.
The math has vexed computational biologists for the past 25 years. They have been trying to build more predictive software models for protein folding, the process that leads to proteins taking three-dimensional shapes.
Despite its limited experience with folding, AlphaFold, DeepMind's entrant, predicted the most accurate structure for 25 out of 43 proteins, taking the top spot over 98 participating teams, according to a report in the Guardian.
For perspective, the second-place team accurately predicted only three of the 43 proteins.
This does not mean Alphabet has an inside track to the next big drug discovery. It doesn't work that way. Developing new drugs is both expensive and fraught with regulatory hurdles, patient trials and marketing expenses.
Even then, a 2013 study published by Nature Review Drug Discovery found that only 10% of medicines in development ever reach patients.
The business opportunity is increasing those odds.
In The Future Awakens, a November 2017 research study by Deloitte Center for Health Solutions, analysts posit that by 2022 medicine will be predictive, preventative (based on risk), personalized and participatory.
Computational biologists in hoodies and jeans will build personalized drug treatments based on what they know about a patient's individual genomic makeup. Behind the scenes, data scientists using A, will comb through algorithmic models, looking for previously unseen biomarkers.
DeepMind has come out of nowhere to be a major player in that ecosystem, and it is hiding inside Alphabet shares, practically for free.
The parent's stock trades at 21 times forward earnings and 5.6 times sales. These metrics reflect the consensus view that Alphabet is an advertising business, subject to regulatory attacks.
The regulation is coming. That's true.
But the story of the stock is its valuable pieces. Investors are fretting about a potential breakup of Alphabet. They should be embracing that possibility. It will lead to much higher stock prices as the value of its businesses comes to light.
Growth investors should consider buying Alphabet shares into any material weakness.
*
To learn more about Jon Markman's recommendations at the crossroads of culture and technology, check out his daily investment newsletter Strategic Advantage. To learn about Markman's practical research in the short-term timing of market indexes and commodities, check out his daily newsletter Invariant Futures.
Jon Markman is editor of the independent investment newsletter
 He owns shares in Alphabet and Amazon.com.