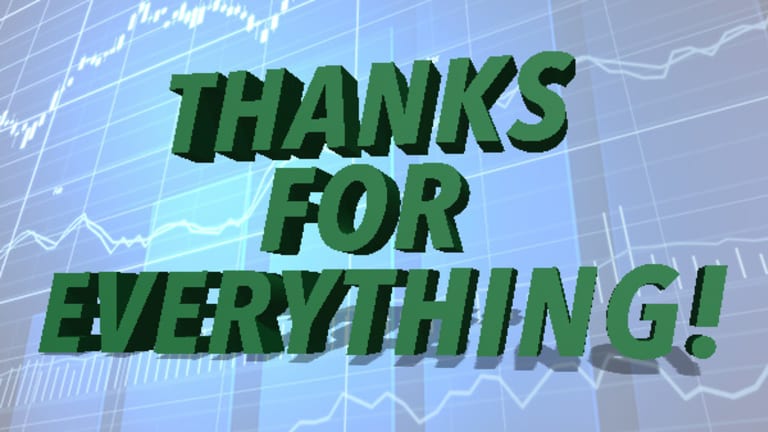 Goodbye
After 16 years writing about biotech stocks for TheStreet, it's time for this writer to say goodbye and thank you.
In February 2001, Dave Kansas, then the editor-in-chief of TheStreet.com, offered me a job writing about biotech stocks. I was living in San Francisco at the time, covering "dot-com" startups and Internet business for Upside.com. The tech sector was crashing around me and I needed the rescue Kansas was providing
"Do you know anything about biotech," Kansas asked me. I lied, told him yes. I vaguely remember saying something about Genentech. I lived in San Francisco. I had heard of Genentech, headquartered just south of the city. This qualified me to write about biotech, or so I hoped.
Kansas could have offered me any reporting job, I would have taken it. More than anything, I wanted very badly to work for Jim Cramer and TheStreet.com. Cramer, the frenetic former hedge-fund manager was re-inventing financial journalism for the web. Remember, this was 2001, when nearly all financial news websites were just cut-and-paste copies of articles repurposed from newspapers and magazines. Finance blogs did not exist. There was no FinTwits community, no @TheStalwart. Josh Brown wasn't yet "Downtown." It's crazy to think about this now, but until Cramer founded TheStreet.com, original market commentary and analysis of stocks, served up in real time on the web, barely existed.
Barry Ritholtz calls Cramer the "big bang of financial blogging" and the guy who "democratized" financial research and reporting on the web. By 2001, I had been a professional business journalist for 11 years. I was no cub reporter. But the reporters and editors hired by Kansas, directed by Cramer, were taking financial reporting on the web in an entirely new direction. I wanted on TheStreet.com train, so if landing a job meant bluffing my way through a biotech beat until I figured shit out, I'd do it.
Sixteen years later, my career at TheStreet comes to an end. Next week, I start a new job as a senior writer and national biotech columnist for STAT.
I will not bore you with a sweeping history of my career at TheStreet since the day Kansas hired me. I have no grand life lessons to offer you. All I'll say about myself is that my goal at TheStreet, always, was to write about the biotech industry in a way that helped readers make better-informed biotech investing decisions. For me, that often meant calling bullshit, which caused some people to love me, others to hate me. [I have 1,200 people blocked on Twitter!]
I like to believe I wrote some kick-ass biotech stories while working here -- impactful, prescient work that I'm immensely proud of. I also wrote some stuff that was really bad, embarrassing and dead wrong. I tried not to gloat about the former but always felt a responsibility to acknowledge the latter.
A big thanks to everyone who read my work, posted comments, emailed questions for the Biotech Stock Mailbag or just yelled at me because you thought I sucked. You didn't have to do any of those things, but you did, and I'm grateful. I also want to thank all my TheStreet co-workers, fellow reporters and editors, past and present, who helped me become a better journalist. I will wear TheStreet alumnus badge with honor.
Lastly, to Jim Cramer, my mentor, my colleague, my friend: Thank you for everything.
Adam Feuerstein writes regularly for TheStreet. In keeping with company editorial policy, he doesn't own or short individual stocks, although he owns stock in TheStreet. He also doesn't invest in hedge funds or other private investment partnerships. Feuerstein appreciates your feedback; click here to send him an email.