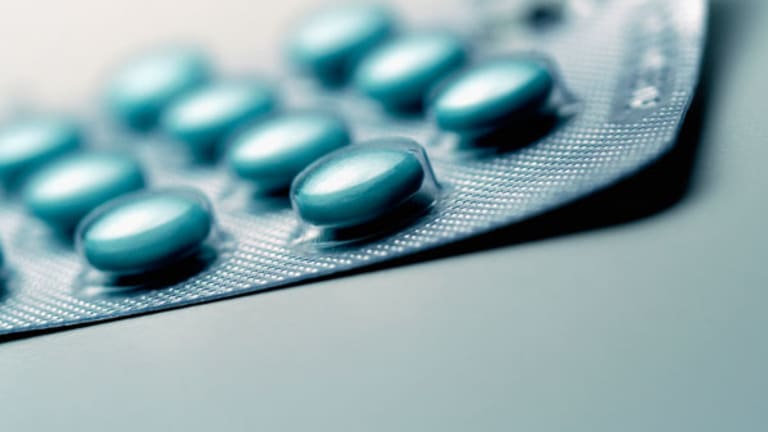 Good Biotech Stocks for a Bear Market
Biotech stocks that can help investors weather the S&P downgrade of American's credit rating and the ensuing market sell off.
BOSTON (TheStreet) -- The Standard & Poor's downgrade of America's credit rating has investors seeking safer financial havens, and that spells trouble for the biotech sector.
A majority of biotech stocks are high risk, unprofitable and burn tons of cash -- three toxic characteristics in an extended bear market. Safe havens don't really exist in biotech, but that doesn't mean investors should view all the stocks in the sector through the same lens. Some are better than others to ride out this storm. Some thoughts, observations and questions about surviving the biotech sell off:
First, let's take a look at where we stand with the numbers. The Nasdaq Biotechnology Index (NBI) has lost 23% in the last 30 days and is now down more than 9% for the year. By comparison, the S&P 500 is down 17% in the past month and down 11% for the year.
 Small-cap biotech stocks are getting hit hard. Take a look at this chart of the JMP Securities small-cap biotech index. Notice the scary blue line, which charts year-to-date performance of small-cap biotech stocks. Also, realize this chart doesn't take into account Monday's plunge.
Investors who love biotech need to accept the fact that the strategies which worked well when the markets were up -- like buying small-cap biotechs in front of clinical trial results or FDA approval dates -- are not going to help them much now.
"Safer" biotech stocks today are those with quality, growth and earnings. Consider Celgene (CELG) - Get Celgene Corporation Report . On Monday, Celgene CEO Bob Hugin purchased 10,000 shares of his company's stock at $52.70, according to a regulatory filing. A token insider buy, perhaps, but let's be optimistic and call it a sign of confidence in Celgene's near-term outlook. 
Celgene's "beat and raise" second quarter earnings performance was stellar yet the stock has since has lost 12% of its value. Maybe Celgene is still not cheap, but at a 2012 price-to-earnings multiple of 12.5, the stock is on sale compared to where it's been in the past.
Alexion Pharmaceuticals  (ALXN) - Get Alexion Pharmaceuticals, Inc. Report delivers much of what biotech investors crave: Growth, orphan-drug exclusivity and protection from government cost cutting. The star attraction is Soliris, a $500,000-a-year drug approved to treat paroxysymal nocturnal hemoglobinuria (PNH), an ultra-rare red blood cell disease. Alexion is on pace to grow earnings and revenue by 30-40% this year. Expanded approvals for Soliris in related orphan disease indications, including one expected in the fourth quarter, should help Alexion continue to drive outsized earnings growth into 2012 and beyond.
Alexion shares hit an all-time high of $59 in late July but have since fallen to around $48. Even down here, investors are paying a pricey 30 times estimated 2012 earnings, but there are few if any profitable biotech stocks that can match Alexion's growth. The orphan drug status of Soliris offers protection from competition and makes the drug much less vulnerable to government-led cuts to healthcare spending.
Government healthcare spending reductions -- or at least the worry about a new round of cuts both here and in Europe -- are a darkening cloud over the biotech sector. All of the large-cap biotech stocks -- Gilead Sciences (GILD) - Get Gilead Sciences, Inc. Report , Biogen Idec (BIIB) - Get Biogen Inc. Report , Amgen (AMGN) - Get Amgen Inc. Report and Celgene -- have some level of exposure or risk to both cuts in Medicare/Medicaid spending and European austerity measures forcing drug price cuts.
You've heard the saying "What would Jesus do?" Well, some biotech investors this week are asking with a fair amount of concern, "What is Steven doing?" As in, what is billionaire hedge fund manager Steven Cohen doing with his biotech stocks after supposedly losing almost $200 million when Dendreon (DNDN) blew up last week.
No one outside of Cohen's SAC Capital trading floor knows for sure if he lost $200 million on Dendreon, but his fund did own more about 8.2 million shares of the company as of March 31, making SAC Capital Dendreon's largest shareholder, according to the fund's last 13-F filing with the SEC.
Some of Cohen's other significant biotech and drug stock holdings include Amgen, Amylin Pharmaceuticals( AMLN) , Bristol-Myers Squibb (BMY) - Get Bristol-Myers Squibb Company Report , Gilead Sciences, Incyte (INCY) - Get Incyte Corporation Report , Inspire Pharmaceuticals( ISPH) and Sequenom (SQNM) , according the fund's last regulatory filing.
The concern is that Cohen, stung by Dendreon, may be getting out of biotech altogether. Of course, this fear may be entirely baseless, no one really knows. SAC's next 13-F is due later this month, but even that won't really tell anyone what Cohen is doing today with his biotech stocks. Maybe he's doubling down on the sector to make up for his Dendreon loss? That would be the optimistic view.
Here's another possible "good news" idea: Elan (ELN) is transforming into a profitable, cash-generating business after years of losses and choking debts thanks to the resurgent growth of the multiple sclerosis drug Tysabri and the sale of its drug delivery technology subsidiary to Alkermes (ALKS) - Get Alkermes Plc Report .
Proceeds from the latter transaction, set to close this quarter, will enable Elan to pay down significant debt and lower future interest payments. Tysabri is fueling Elan's future growth, thanks in part to a new companion test designed to help doctors pre-screen their MS patients to see which are at greater risk for developing progressive multifocal leukoencephalopathy (PML), a rare but serious brain infection linked to the drug.
Stronger-than-expected Tysabri sales in the second quarter demonstrated that the drug is making a comeback with market share increasing even with competition from Novartis' newly approved oral MS drug Gilenya. The recent clinical setback for Teva's oral MS drug laquinimod is another plus for Tysabri.
Elan guided to approximately $1 billion in revenue this year, excluding the drug delivery technology business being sold to Alkermes, growing to $2 billion over the next five years. RBC Capital's Michael Yee says Elan's forecast implies long-term Tysabri sales of $2.8 billion, well above current consensus. Elan shares revenue and profits from Tysabri with Biogen Idec, whose stock price has also been strong as a result.
Elan still owns a piece of the experimental Alzheimer's disease drug bapineuzimab, with Johnson & Johnson (JNJ) - Get Johnson & Johnson Report and Pfizer (PFE) - Get Pfizer Inc. Report . Results from phase III studies should be ready in the second half of next year although investor expectations are very low, making positive data pretty much all upside.
Still looking for risky biotech stocks? Consider the following stocks, all hit hard in the past month but which have significant clinical trial catalysts coming up through the end of the year: Ariad Pharmaceuticals (ARIA) , Targacept (TRGT) , YM Biosciences( YMI) and Pharmasset (VRUS) .
A valuation reset for the entire biotech sector worries me, and by reset, I mean lower. Vertex Pharmaceuticals (VRTX) - Get Vertex Pharmaceuticals Incorporated Report closed Monday at $40 despite reporting a boffo launch of its hepatitis C drug Incivek at the end of July. Vertex shares were above $52 the day after earnings.
I said this last week but it bears repeating: Investors are more skeptical and bearish about new drug launches than ever before. Need more proof? Take a look at Seattle Genetics (SGEN) - Get Seagen, Inc. Report , down 40% since the end of June, and its lymphoma drug Adcetris hasn't even approved yet.
This should go without saying but make sure your favorite biotech stocks have sufficient cash. Just a hunch, but raising new money just got a lot harder. A year's worth of cash on hand is the bare minimum, 18 months or more is better.
Good luck out there.
Adam Feuerstein writes regularly for TheStreet. In keeping with company editorial policy, he doesn't own or short individual stocks, although he owns stock in TheStreet. He also doesn't invest in hedge funds or other private investment partnerships. Feuerstein appreciates your feedback;
to send him an email.