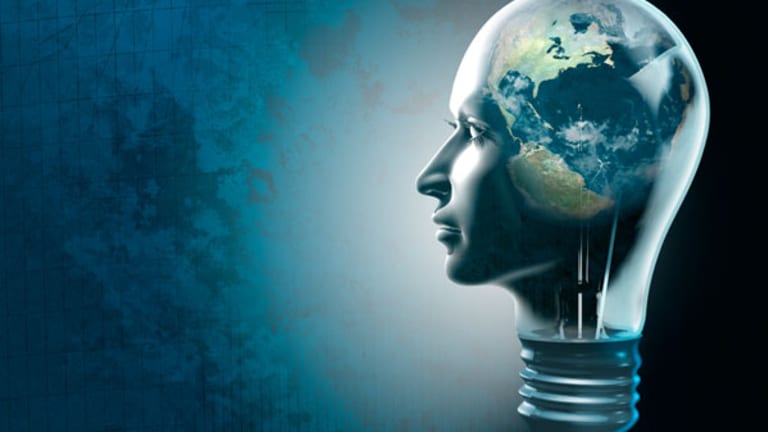 Goldman's 5 Best Energy Stocks for 2011
Global demand for oil and gas is pushing up share prices, though volatility can take its toll.
BOSTON (TheStreet) -- Goldman Sachs' (GS) - Get Goldman Sachs Group, Inc. Report top four energy stock picks for 2011 offer potentially high returns along with high risk, as their prospects can change quickly.
The international companies on Goldman Sachs' so-called
can be affected by everything from shifting environmental regulations, fires, extreme weather and political upheaval, as well as volatile crude-oil and natural-gas prices.
There were five energy stocks on Goldman's list when it was first released, but
(CNQ) - Get Canadian Natural Resources Limited Report
was expelled Jan. 7 because of a fire at the company's biggest production facility. The investment bank is maintaining its "buy" rating on the company.
New York-based Goldman Sachs issues the list of its favorite stocks each year, along with their price targets and the premium the target represents to their closing prices as of Dec. 29.
Indicative of the unpredictability of the oil and gas industry, shares of another company on the list,
Apache
, got hit last Friday because
may hurt the company's projects, while cyclones in Australia have temporarily halted production at its projects Down Under.
Even President Barack Obama got into the act and may have soured some investors' view on the industry's prospects with his comments in his State of the Union speech Tuesday. He called for increased subsidies for renewable-energy sources, such as biomass and wind power. He said he'd like to see the existing subsidies for the oil industry eliminated, although he didn't specify which he was referring to.
"I don't know if you have noticed, but they're doing just fine on their own," Obama told Congress, which must approve any reduction in oil-industry subsidies. "So instead of subsidizing yesterday's energy, let's invest in tomorrow's."
On the positive side for the industry, the world is in the midst of an economic recovery and the prospect of oil passing $100 a barrel in 2011 is forecast by many economists.
As a result, oil and gas drilling company stocks are up 7% this year and 25% over the past three months, while the
S&P 500 Index
is up 3.4% in 2011. Energy stocks have advanced 5.6% this year, according to Morningstar.
Below are the stocks, in order of Goldman Sachs' projected share-price return potential over the first half of 2011, ranked from least to most. Each of the companies gets a "buy" rating.
Ensco
(ESV)
, an offshore oil and natural gas driller, has already
seen its shares
exceed Goldman's projected $55, six-month price target, gaining 1.5% this year, after rising 3.5% over the past month. Its shares increased 36% in 2010.
Fourth-quarter earnings are due Feb. 24 and are estimated at 65 cents per share, bringing its 2010 outlook to $3.50 per share. For fiscal 2011, analysts estimate earnings will grow by 13% to $3.97 per share.
An analyst says Ensco is close to securing its first deep-water drilling contract with Brazilian oil giant
Petrobras
(PBR) - Get Petróleo Brasileiro SA Report
for a huge offshore rig it has under construction and scheduled to be available for work in February.
"The significance of that goes beyond the (contract price) day-rate, as this would be Ensco's entry into the Brazil market, which would be an ideal market for its three ultra-deepwater rigs that are currently under construction and without contracts," notes a Morningstar analyst.
A summary of analysts' views collected by S&P resulted in nine "buy" ratings, 16 "buy/holds," 12 "hold" and one "weak hold."
Occidental Petroleum
(OXY) - Get Occidental Petroleum Corporation Report
, one of the largest oil and gas companies in the U.S., and with global exploration interests, gets some of the strongest ratings from Goldman, as well as a $105 price target, worth a 6% premium one month ago.
The company just reported
of $1.61 per share, easily besting the Thomson Reuters consensus of $1.55. Income from continuing operations was $1.2 billion, a 29% increase from a year earlier, as a result of higher oil prices and increased production volumes, which were offset by lower natural gas prices. Standard & Poor's said analysts' consensus estimates for fiscal 2011 is for 30% earnings growth to $7.33 per share.
Goldman says the company shows several positive trends, including return on capital, a strong production outlook, a healthy balance sheet and substantial cash flow.
And Occidental Petroleum's recent announcement that it is moving forward with a huge shale oil-development program in California should fuel long-term prospects once it gets into production.
But Standard & Poor's analysts have its shares rated "hold," noting that: "We believe its strengths are limited by participation in volatile, competitive and capital-intensive businesses, and (it has) a penchant for debt-financed acquisitions."
A summary of analysts' ratings by S&P resulted in seven "buy" ratings, 12 "buy/holds" and five "holds." Shares are down 1% this year.
Canadian Natural Resources
(CNQ) - Get Canadian Natural Resources Limited Report
, a major player in
generating oil from oil sands
in Canada, as well as a diverse explorer and producer of conventional crude oil and natural gas in North America, the North Sea and offshore West Africa, was on Goldman Sachs' original Conviction List with a $48 price target, worth an 8% premium.
But recent events have resulted in a more uncertain outlook, although Goldman is maintaining its "buy" rating. The investment bank said in a research note that a Jan. 6 fire at the company's Horizon oil-sands production facility in Canada "will likely prove to be a transient event. (It) continues to have a favorable combination of leverage to our bullish crude oil view and expectation for lower discount rates (i.e., higher valuation) as well as visible production and resource growth potential."
But indicative of how important Horizon is to the company, a month before the fire, a Morningstar analyst wrote that the project is a primary driver of the company's growth, "with an anticipated volume increase of 19% due largely to improved reliability. The higher volumes should also result in a decline in per-barrel operating costs for the project. Horizon capital spending could more than double next year, although management has yet to provide a range of potential capital spending for the project."
For fiscal 2010, analysts estimate the company will earn $2.45 per share, which will rise 15% to $2.82 for 2011.
A summary of analysts' ratings by S&P resulted in two "buy" ratings, 13 "buy/holds" and five "holds."
Its shares are down 5% this year. They climbed 24% in 2010.
Apache
gets a $133 price target, worth an 11% premium from Goldman Sachs. The company is one of the largest U.S.-based independent explorers and producers of natural gas, crude oil and natural gas liquids.
Apache gets about 25% of its production and cash flow from its operations in Egypt, and although there have been no production disruptions so far due to that country's current political unrest, there is a potential.
After a few years of relative inactivity on the acquisition front, Apache recently announced three sizable deals -- a $4 billion merger with Mariner Energy and $8 billion in combined asset purchases from
BP
(BP) - Get BP Plc Report
and
Devon Energy
(DVN) - Get Devon Energy Corporation Report
-- and "that should provide near-term exploitation opportunities as well as longer-term exploration potential and help the firm increase production and reserves throughout our forecast period," said a Morningstar research note.
For fiscal 2010,
analysts estimate
that Apache will earn $9.25 per share, and that will expand by 20% to $11.10 in fiscal 2011.
S&P analysts' poll resulted in nine "buy" ratings, 10 "buy/holds," eight "holds" and one "sell."
Capital Research Global and State Street each own about 4% of outstanding shares.
Its shares are down 2% this year, including a decline of 6% in the past week. They gained 16% in 2010.
\
Plains Exploration & Production
(PXP)
earned a $36 price target worth a 13% premium at the time of Goldman Sachs' rating. The independent oil and gas company, with a market value of $4.6 billion, is engaged in acquiring, exploring and producing oil and gas fields predominantly in California, but also in Texas, Louisiana and the Gulf of Mexico.
Fourth-quarter earnings are due Feb. 24, and are estimated at 31 cents per share, which would bring 2010 earnings to $1.18 per share. For fiscal 2011, analysts estimate that earnings per share will increase 52% to $1.79.
Morningstar says the company is on a diversity kick and acquiring assets throughout the world.
"Not only has the firm managed to increase production more than 50% during this time, but it has also accumulated many other growth opportunities. All the while, the company has been able to improve its cost structure."
Its largest investors are
, at 6.6%, followed by
, at 4.8%.
A summary of analysts' views collected by S&P resulted in four "buy" ratings, nine "buy/holds" and five "holds."
Its shares are up 5.4% this year and rose 16% in 2010.
Disclosure: TheStreet's editorial policy prohibits staff editors and reporters from holding positions in any individual stocks.