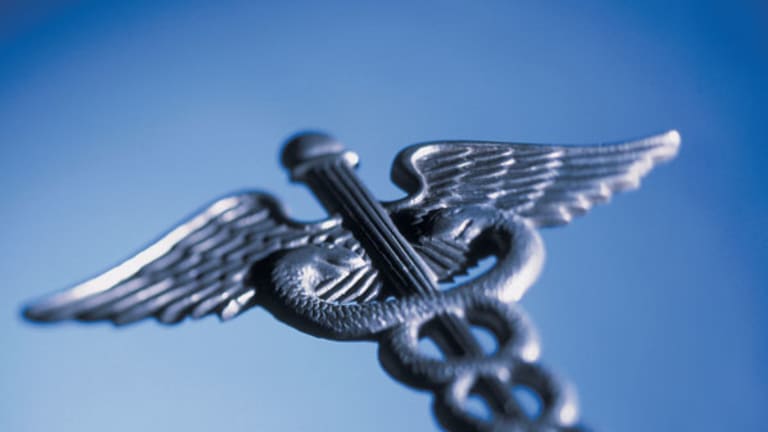 Publish date:
Goldman Suit Reveals Robust Health Care Deals: Street Whispers
Those handicapping healthcare sector M&A need to read a shareholder lawsuit filed against Amerigroup and its financial advisor Goldman Sachs.
Those handicapping healthcare sector M&A need to read a shareholder lawsuit filed against Amerigroup and its financial advisor Goldman Sachs.
NEW YORK (
) -- Although
Aetna's
(AET)
newly unveiled
for
Coventry Health Care
(CVH)
is dominating headlines,
WellPoint's
(WLP)
$4.9 billion July acquisition of
Amerigroup
(AGP)
and a subsequent lawsuit involving
Goldman Sachs
(GS) - Get Goldman Sachs Group, Inc. (GS) Report
may give investors a better sense of the sector's deal heath.
A lawsuit filed by the Louisiana Municipal Police Employees Retirement System (LMPERS) alleges that Goldman Sachs was financially motivated to sell Amerigroup quickly, favoring an expedient deal with WellPoint
over more lucrative bids that could have fetched shareholders a greater price than the final $92 a share deal, which came at a 43% premium to the trading price.
LMPERS is asking that Delaware court block the deal and re-open Amerigroup's sale process because it alleges Goldman Sachs made it hard for competing bidders to WellPoint to enter deal negotiations. The suit highlights that Goldman Sachs stood to gain up to $233 million from a warrant contract it bought if Amerigroup were sold prior to August 13.
While it is unclear how the shareholder lawsuit will unfold - LMPERS previously won a contest against Goldman in its advisory role on
El Paso's
(EP)
sale to
Kinder Morgan
(KMI) - Get Kinder Morgan Inc (KMI) Report
and was the first to sue
JPMorgan
(JPM) - Get JPMorgan Chase & Co. (JPM) Report
for a trading loss that stands at $5.8 billion - the details of the legal contest show how hot the healthcare sector's deal fortune has become as bidders swarm around quality deals.
In the suit, LMPERS notes that an unnamed 'Company D' was willing to pay more to Amerigroup shareholders than WellPoint's $4.9 billion takeover offer, and that other suitors "E", "F" and "G" also held deal talks, signaling widespread interest. The lawsuit also shows that M&A efforts were underway in 2011, well before there was any certainty over whether the Supreme Court would let the Act stand.
"Beginning in December 2011, several suitors expressed unsolicited interest in entering a potential strategic transaction with Amerigroup," alleges LMPERS in its suit. In February, "Company D" met with Amerigroup's chairman and chief executive James Carlson about a deal and in March, companies E, F and G also held discussions with Carlson to "the foundation for future strategic transactions," the suit notes.
LMPERS' suit against Goldman alleges that despite seemingly widespread acquisition interest in Amerigroup, the company's board, at the advice of Goldman and co-financial advisor
Barclays
(BCS) - Get Barclays PLC Sponsored ADR Report
, decided on June 7 to enter into exclusive negotiations with WellPoint. While LMPERS alleges that the exclusivity agreement came before "adequately exploring the level of interest from the other suitors," it also highlights that Amerigroup's preference of WellPoint's bid was driven by the regulatory risks that would come with "Company D's" higher priced offer.
Those allegations signal that although Aetna and WellPoint are among the largest healthcare providers in the nation, larger suitors may yet be in the cards. Currently,
UnitedHealth Group
(UNH) - Get UnitedHealth Group Incorporated Report
has a market cap of near $55 billion, trumping WellPoint's $18.6 billion market cap and the $12.71 billion of Aetna. Cigna and Humana also have market caps above $10 billion.
Bank of America Merrill Lynch analyst Kevin Fischbeck highlights that consolidation may be challenged in the healthcare space after Monday's deal because both companies were the most likely consolidators and larger players like UnitedHealth Group could have faces antitrust scrutiny. "
We see no reason for UnitedHealth Group to pay twice its P/E multiple for business it can win organically, before considering potential antitrust complications," wrote Fischbeck, in a note to clients.
"
Cigna cannot do a transaction accretively given relatively high debt levelsand prefers leveraging HealthSpring capabilities or local JVs. Meanwhile,
Humana believes its partnership strategy (where it has had recent success with CareSource) is the most cost effective way to enter markets," added the analyst.
Although Aetna's Monday's acquisition of Coventry Health Care and WellPoint's deal for Amerigroup are large consolidation efforts that quickly were unveiled after the Supreme Court's decision, the story illuminated in LMPERS' lawsuit signals a wider M&A appetite.
In reaction to WellPoint's acquisition of Amerigroup, analysts highlighted
Centene
(CTN)
,
Molina Healthcare
(MOH) - Get Molina Healthcare, Inc. Report
,
Humana
(HUM) - Get Humana Inc. (HUM) Report
and
Health Net
(HNT)
as Medicaid and Medicare names to watch. "Expect other companies with government exposure to see greater investor interest," wrote Credit Suisse analyst Charles Boorady.
In June the Court confirmed the Act's ability to force Americans to carry health insurance and compel insurers to cover people with pre-existing health conditions. The Supreme Court, however, limited the extension of Medicaid, deeming it unconstitutional for the federal government to withhold money from states that don't comply with the Act.
Some estimate that between 16 million to 20 million new Americans would be eligible to enroll in Medicaid through the Affordable Care Act.
"There is a very basic level of consolidation that is taking place," said Marc Cabrera, head of the health care investment banking practice at Morgan Joseph TriArtisan, of widespread health care sector M&A efforts, in a late June interview that came before the court's ruling.
Regardless of the Supreme Court's ruling, companies will be pressured to figure out a way to grow the bottom-line in a health care market that's likely to become far more cost-competitive. "We do not see that the cost trend today is sustainable, therefore to be a winner in the future you need to be bigger and have economies of scale," added Cabrera in June.
For more on investing in healthcare see why Express Scripts could be
sandbagging synergies
in its mega-deal for Medco Health Solutions and why
sector M&A may trump weak earnings
.
-- Written by Antoine Gara in New York