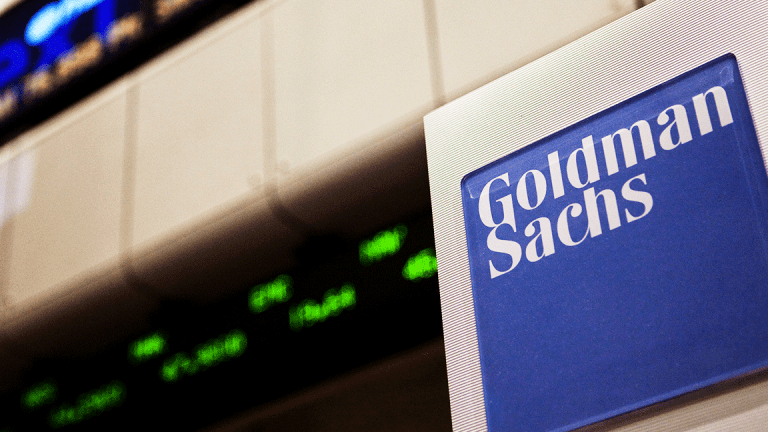 The Federal Reserve Just Made Goldman Sachs Stock Silly Cheap
This is the kind of environment where Goldman struts its stuff. Here's why you should buy the stock.
This is the kind of environment where Goldman struts its stuff. Here's why you should buy the stock.
Bet on the banks.
The banks seemed hot in the wake of the Fed's policy announcement. Then they cooled. They cooled in a hurry as the yield curve would not play ball. Upward pressure at the short end does not help net interest margins if there is no congruent reaction at the long end. That means that traditional bankers will make less money in traditional business lines. These firms will have to rely upon their other skill sets. 
What that means to me, among many other slices of the financial industry, is that for some, a volatile environment caused by improved corporate performance coupled with rising rates, and unpredictable inflation should beget trading profits for the competent. If Action Alerts Plus holding Goldman Sachs  (GS) - Get Report  does not strut their stuff in this kind of environment, then they are no longer the Goldman Sachs that I grew up despising.
I am long Goldman Sachs equity, and just yesterday I added a June 29 135/142.50 bull call spread to my portfolio. Why am I long a struggling name, and what would be the significance of the expiration date on my spread? I'll clue you in, sports-fans.
At a last sale of $233.83, the shares trade at just 9.6 times forward-looking earnings expectations. That's cheaper than Action Alerts PLUS holding JPMorgan Chase (JPM) - Get Report , and cheaper than Bank of America (BAC) - Get Report . Cheap!!
Hate bank stocks? Try airlines like Delta (DAL) - Get Report , watch below for top advice.
Goldman's stock is down more than 8% on the year, and there are reasons. Cash flow has touched on the negative. Trading, though strong in the first quarter, has not performed as thought. Still, operating margins stand at 46.7%, just a hair below gross profit margins. That's outstanding. The stock trades at 1.2 times book value, far less again than JPMorgan Chase.
Then there's the 1.4% dividend yield. Comprehensive Capital Analysis and Review (CCAR) results are due on June 22 (a week from tomorrow), and June 28 (the following Thursday). I fully expect Goldman to pass these "stress tests" with flying colors. My investment is a bet that the firm at that point resumes their corporate buyback program, and increases its dividend.
You likely will recall that these shares were slapped around in response to CFO Martin Chavez's post-first quarter earnings comment that Goldman would not be buying back any shares in the second quarter. What that means to me is that should upcoming CCAR results change that stance, this stock might just be a coiled spring.
At the time of publication, Guilfoyle was long GS, JPM, equity; long GS call options; short GS call options; and short JPM put options.