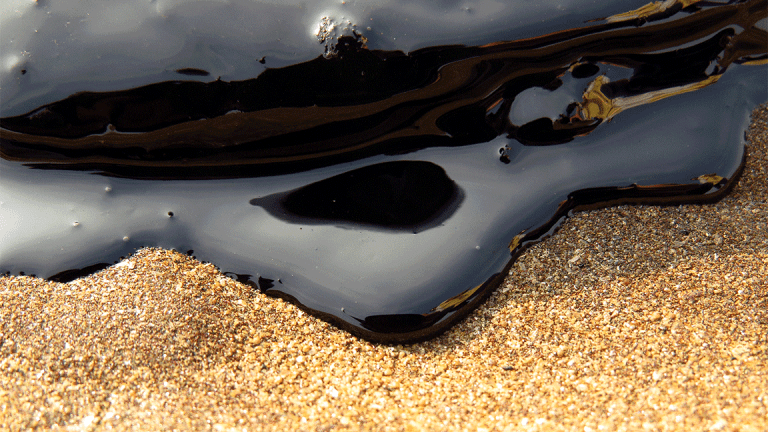 Goldman Sachs Solves the Great Mystery Behind Oil Stocks
Why isn't there more appetite to own oil stocks with oil prices on the rise? Goldman Sachs explains it rather easily.
Oil prices up, oil stocks anything but up. 
Odd? Not exactly explains Goldman Sachs. The investment bank points out in a new note (see charts below) the divergence in energy equities vs. the S&P 500 undefined vs. oil futures remains at its widest in at least 17 years. Some top oil stocks continue to be, well, underground this year.
Baker Hughes GE undefined is down slightly on the year, Exxon Mobil (XOM) - Get Exxon Mobil Corporation Report has shed 3.3% and Action Alerts PLUS holding Schlumberger (SLB) - Get Schlumberger N.V. Report is lower by 4%. 
As Goldman Sachs puts it, investors remain lukewarm on oil stocks likely on fears of a trade war fueled global demand slowdown. With China's economic growth slowdown confirmed this week and the U.S. expansion likely cooling in the third quarter, muted appetite to own oil stocks is logical. 
Here is how neatly Goldman breaks it down: 
"Demand is key for equities. While the sum of each of the 3 D's will be key to oil inventories vs. the five-year average (we broadly expect slightly below average inventories on a days-of-demand basis - for the equities demand is more important. We believe there is greater likelihood of increased interest from generalist investors if oil prices are rangebound and demand is above trend, whereas if there is concern demand growth is going to slow to trend/below trend there may be more hesitation in incremental investment in Energy equities."
Goldman does say the prospect for strong capital return plans by oil companies is proably being under-priced by investors. A silver lining to be sure, albeit a small one.