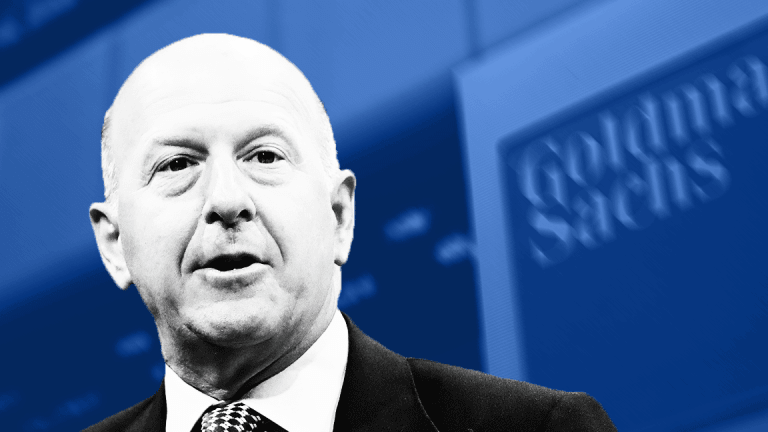 Goldman Sachs Presumed Next CEO David Solomon on Business Lessons, Challenges
PayPal CEO Dan Schulman talks with likely incoming Goldman Sachs CEO David Solomon on the latest edition of 'Never Stand Still.'
PayPal CEO Dan Schulman talks with likely incoming Goldman Sachs CEO David Solomon on the latest edition of 'Never Stand Still.'
PayPal's (PYPL) - Get Report CEO Dan Schulman is a long-time practitioner of krav-maga. Goldman Sachs (GS) - Get Report Chief Operating Officer David Solomon, presumed to be the successor to CEO Lloyd Blankfein, is a long-time DJ.
So it makes sense the two would have an interesting chat on Schulman's new webshow "Never Stand Still." Here are several interesting excerpts from the 30 minute segment. 
DJing Meets Running an Investment Bank
Dan Schulman: Are there things about your passions, DJing, whatever, that you actually apply into your work life as well?
David Solomon: I don't know that I had thought about it in the same context of what you're talking about with martial arts. For me, the thing that I love about music and in particular when I'm actually DJing live, when you're doing it, you have to be 100% present in what you're doing.
One of my big challenges is I got a lot going on in my head every day, particularly around work. Every where I'm going, I'm thinking about I gotta do this, I gotta do that, I've gotta think about this. Did I make the right decision about this? When I'm doing this, my he is ... I am 100% present. My mind is 100% clear. I find that after doing it, the next day I've got room to think about and make decisions about other things. I need to clear my head in order to give me an opportunity to do that.
Shakespeare's Place on Wall Street
Schulman: You also mentioned, and this is different than a lot of people, that Shakespeare actually influenced your move into finance. Out of Shakespeare as well, in fact I just gave the commencement speech at Rutgers ... and I quoted Shakespeare. The quote I did was, "There's nothing either good or bad, but thinking makes it so", which to me is such a powerful statement about the power of attitude and optimism in how you think about life and how you think about work. What was it about Shakespeare and what led you to that thought between Shakespeare and finance?
Solomon: It would be a little bit of a stretch that it led me to finance, but I just loved, one of the great experiences I had at Hamilton College was Hamilton College offered a course to seniors where you took two semesters of Shakespeare. One in the Fall, one in the Spring, and Hamilton at the time was four-one-four, so it was a January term. In January, you went to London and you spent the whole month going to theater, four, five nights a week, including going up to Stratford. When I think about enriching experiences in my Hamilton College experience, this Shakespeare experience was a great experience.
I loved it. I was surprised at how much I tuned in to it, and really enjoyed it. I would be a stretch to say that it connected me to finance, but what I would say, when you go back to communication and story-telling and thought process, it's rich, it's stimulates the mind. My favorite Shakespeare is not as profound as yours, but-
Schulman: What is it?
Solomon: "If music is the fruit of love, play on". It was a wonderful, enriching, when am I ever gonna get a chance to spend a year in a class talking about Shakespeare, going to theater in London?
Diversity Is a Fact, Inclusion Is a Choice
Schulman: One of your biggest priorities has been diversity. One of my favorite quotes around diversity is that, "Diversity is a fact but inclusion is a choice." You've made that a choice at Goldman. Can you talk a little bit about why that's so important to you and why it's become a foundational element of the culture of the firm?
Solomon: For all of us, I think we're at a point in time where enough already. We've got to get this right. We've got to move the needle. As a father of two daughters, I have trouble looking and talking to my daughters about this and explaining why, for so long we haven't made more progress on this front.
I'm passionate that it's right because it's right, but I'm also passionate because it's right for the business, and our business is better if you harness the intellectual capacity of men and women broadly, on an equal basis with different views, etc. There's just more that we can get out of our business and our people and the work that we do with our clients.
I was at an event ... where Inge Thulin, the CEO of [3M Co. (MMM) - Get Report ], was honored by the Foreign Policy Association for work that he and 3M have done, broadly around corporate citizenship and corporate responsibility and sustainability. He got talking for a moment about diversity and inclusion, and he said something that's very simple. I hadn't heard it said exactly this way before but it really resonated with me. "Diversity is why someone comes to 3M, inclusion is why they stay."
When you put this all together, that's what you want in an organization. You want it to be a place that welcomes people, but if it's not inclusive and it's not real and it's not fair, then people leave. Human capitol is everything in our business. We have to have the most extraordinary work force we possibly can to be as effective for our clients as we want to be, and if we don't have an environment that really embraces both diversity and inclusion, it's to our disadvantage.
It's just a business imperative. Besides that it's the right thing to do.
PayPal, 3M and Goldman Sachs are holdings in Jim Cramer's Action Alerts PLUS member club. Want to be alerted before Jim Cramer buys or sells PYPL, 3M and GS? Learn more now.