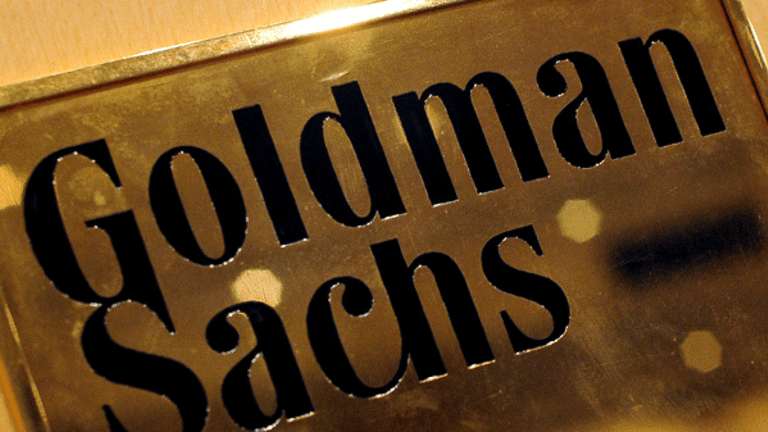 Publish date:
Why Goldman Won't Be 'Government Sachs' Under Trump Administration
There is no secret Goldman Sachs cabal, says Trump adviser Anthony Scaramucci.
There is no secret Goldman Sachs cabal, says Trump adviser Anthony Scaramucci.
Goldman Sachs (GS) - Get Report  alumni may occupy a number of high profile jobs in President Donald Trump's young administration, but that doesn't mean the Wall Street firm can orchestrate a de facto takeover, says Anthony Scaramucci, a former employee of the investment bank who advises the new president.
The notion that all Goldman alums belong to a cabal, "and we've got the secret handshake is sort of nonsense," Scaramucci said Monday night during a discussion with columnist Michael Wolff at the inaugural event of TheStreet's "Wall Street Goes to Washington" series.
Instead, Trump has turned to former Goldman staffers because they are "wickedly smart" and disciplined as he tries to create a diverse team of experts to execute his economic agenda, Scaramucci said. He described his former colleagues as people "who were very determined, very self-disciplined at young ages."
After surviving a rigorous hiring process to obtain jobs at the storied bank, "many of them did reasonably well, if not very well, and they have this public service bent to their personalities, but they are very different people," he added.
Scaramucci's description echoed that of CEO Lloyd Blankfein.  
"The charge is that Goldman Sachs is able to extract certain advantages that others cannot," Blankfein wrote in a letter to investors earlier this year. "In fact, the opposite is true. Those in government bend over backward to avoid any perception of favoritism."
Blankfein is all too well aware that critics have lambasted what they call a revolving door between Wall Street and Washington, claiming that "Government Sachs" has fostered a system that benefits the wealthy at the expense of the broader U.S. population.
In fact, the number of former Goldman staffers who moved on to executive-branch posts was part of the impetus for writer Matt Taibbi's notorious description of the bank as "a great vampire squid wrapped around the face of humanity" in an article published in Rolling Stone a few years after the financial crisis.
Trump's appointments have revived some of those concerns: He chose former COO Gary Cohn as director of the National Economic Council, expanding a roster of bank alums that includes Treasury Secretary Steve Mnuchin and strategist Steve Bannon. 
While they all get along well, Scaramucci said, "I don't see the Goldman militia or the Goldman cabal the way some have described it."
Goldman personnel are typically team players, he said, an ethos encouraged and exemplified by longtime senior partner John L. Weinberg, who died in 2006.
"Weinberg had this great line: 'Some people grow, and other people swell,'" Scaramucci said. "What you have to do, and Weinberg would always say this, is to keep your ego in check, recognize what your role is in a team, and subordinate your ego to the common cause."
Scaramucci and colleagues like Bannon, Cohen and Mnuchin "grew up in that culture," he said. "The president has got great intuition. The reason why he's got a number of those people around him is that they are team players. These guys will pass the ball, and they will try to get the thing done collectively."
Goldman stock, which has climbed 24% to $228.57 since Trump's surprise victory in the presidential race, is the third-best performer on the Dow Jones Industrial Average in that period; it ranked at the top for much of that time.
Scaramucci's own expectations of a role in the Trump administration were dashed at the start of the year when the sale of his firm to a politically connected Chinese conglomerate sounded too many alarm bells, but he's optimistic about landing another position.
In the meantime, if his statements on Goldman's public service ethos mirror Blankfein's, so do his comments about differing opinions.
Despite the number of former staffers in government posts, Goldman hasn't hesitated to speak up when administration policies affect its people negatively, Blankfein said in his letter.
Earlier this year, for instance, the bank reached out to staffers who might be caught up in Trump's ban on travel from select Muslim countries in the Mideast and Africa.
"This is not a policy we support," Blankfein said in a voicemail message to the bank's staff, a transcript of which was posted on the company's website. "I recognize that there is potential for disruption to the firm, and especially to some of our people and their families. I want to assure all of you that we will work to minimize such disruption to the extent we can within the law."
This article, originally published at 7:45 p.m. on Monday, March 27, 2017, has been updated with market data and commentary.
Read more from TheStreet's "Wall Street Goes to Washington" series
Scaramucci: Trump's Tax Reform Bill Will Get Bipartisan Support
Anthony Scarmucci Gives Trump Administration a Grade of 'Incomplete'