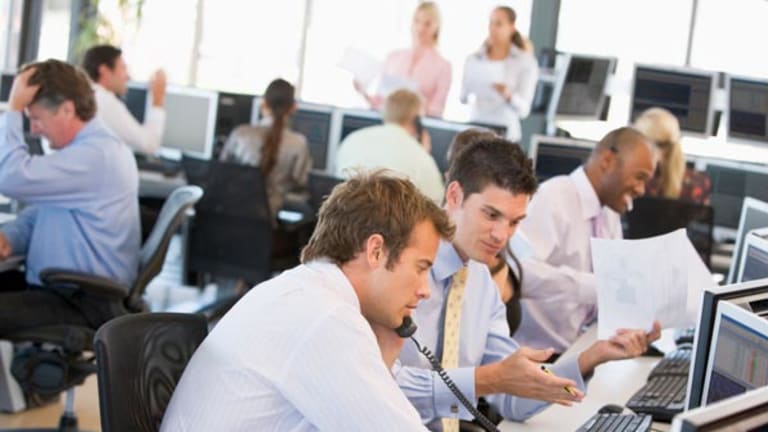 Goldman Hit by Discrimination Suit
The firm is being accused by three former executives.
Story updated with additional information from the lawsuit.
NEW YORK (
)--
Goldman Sachs
(GS) - Get Free Report
is being sued by three former female employees who accused the firm of widespread sexual discrimination.
"The violations of
Goldman Sachs female employees are systemic, are based upon company-wide policies and practices, and are the result of unchecked gender bias that pervades Goldman Sachs' corporate culture," the complaint says.
The lawsuit was brought on behalf of H. Cristina Chen-Oster, a former vice president in convertible bonds and former managing director of asset management Lisa Parisi. Also listed at a platiff is Shanna Orlich, a former associate in trading at Goldman.
Among the litigants allegations is that Chen-Oster, now an executive at
Deutsche Bank
(DB) - Get Free Report
faced continued discrimination and was passed over for promotions despite having more experience than her male collegues.
Included in the lawsuit is the allegation that a 1997 "Goldman sponsored dinner" for a male employee was followed by outing to a New York strip club, Scores. The complaint says that "all employees in the group were encouraged to join in," and that following the dinner a male employee "surprised Chen-Oster by pinning her against a wall, kissing and groping her, and attempting to engage in a sexual act with her."
Despite reporting the unwanted advance to a male superior, the lawsuit contends the Chen-Oster "began to experience increased hostility and marginalization at the firm."
Chen-Oster, who is Chinese, was reviewed by a peer "whom her supervisor knew had sent racially offensive emails around
the office," the complaint states. One, entitled, "Learn Chinese in 5 Minutes," included statements such as "Our meeting is scheduled for next week...Wai Yu Cum Nao" and "Great...Fu Kin Su Pah," according to the complaint.
A call to Chen-Oster was referred to a Deutsche Bank spokesman, who declined to comment.
The complaint states that Parisi, who "has played gold since childhood and also played varsity gold for her high school team," was not asked to attend a couple of golf outings to which more junior male colleagues were invited. Once, she was told she was not invited because she was "too junior, but she later learned that several male colleagues straight out of college attended the outing," according to the complaint.
A spokesman for Goldman defends the firm's record. "We believe this suit is without merit. People are critical to our business, and we make extraordinary efforts to recruit, develop and retain outstanding women professionals," says Goldman spokesman Lucas van Praag.
Readers Also Like:
Disclosure: TheStreet's editorial policy prohibits staff editors, reporters and analysts from holding positions in any individual stocks.