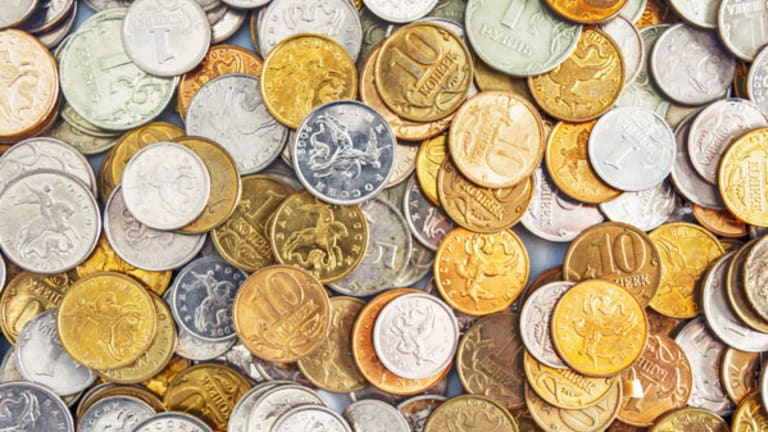 Gold Surges Past $800
The all-time high keeps getting closer.
Gold prices were soaring close to their all-time high Friday as a combination of the weaker dollar, rising oil prices and geopolitical tensions stoked buying interest.
Benchmark contracts for delivery of gold settled at $808.50 an ounce, up $14.80, in frenetic action on the Comex division of the New York Mercantile Exchange. Gold is now only about 2% below the best level ever reached, in 1980.
The exchange-traded funds that own bars of gold bullion, the
StreetTracks Gold Shares
(GLD) - Get SPDR Gold Shares ETF Report
and the
iShares Comex Gold Trust
(IAU) - Get iShares Gold Trust Report
, were both rallying around 2.5%.
"There are so many things which are now supportive of gold," says Carlos Sanchez, precious metals market research analyst at New York-based specialty research firm CPM Group.
He points to a weaker dollar, which has continued to lose ground against other major currencies in the wake of the credit market turmoil, and the rising cost of oil. Gold prices tend to respond positively to both financial market anxiety and the prospect of energy-led consumer price inflation.
The ongoing friction between Turkey and rebel Kurds in northern Iraq, with the U.S. diplomatically in between, was also adding lift to bullion prices. Investors often flock to gold during periods of geopolitical instability.
The price of gold started the year at around $640 an ounce, before dropping back to a low of $608 in mid-January. Now, it stands less than $17 from the all-time high reached 27 years ago, when gold rose amid the Iran hostage crisis and high consumer price inflation.
Through the year, investors have scrambled to buy gold, with streetTracks Gold Shares, the biggest of the ETFs, adding 144 tons of new bullion -- now worth an added $3.8 billion -- to its inventory. The technical side of the picture was helping, as well, with a price break through the psychologically important level of $800 an ounce.
"There was chart resistance at around $801, but the price broke through with relative ease," says Jon Nadler, an analyst at Montreal bullion dealer Kitco. Undoubtedly traders were squaring their books ahead of the weekend, which may have meant anyone with short positions tried to reverse those trades, he explains.
"We could have a huge move to either $850 or $750 Monday with a 50-50 chance of either," Nadler says, with the possibility of the day's action attracting retail investors over the weekend.
The miners were also rallying. Shares of
Goldcorp
(GG)
,
Kinross Gold
(KGC) - Get Kinross Gold Corporation Report
and
Agnico-Eagle Mines
(AEM) - Get Agnico Eagle Mines Limited Report
all gained around 5% in recent action.