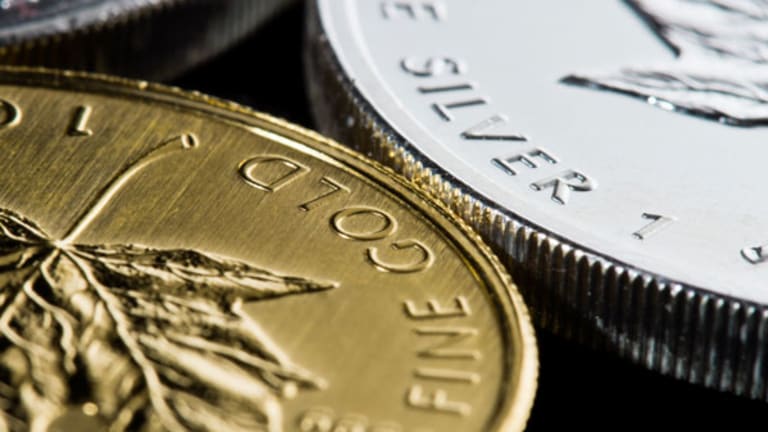 Gold Stocks Ready for a Recovery
Gold stocks have underperformed the gold price, but many analysts think they could reclaim past leverage in the near-term.
Editor's note: As part of our partnership with PBS's Nightly Business Report, TheStreet's Alix Steel will appear on NBR Tuesday (check local listings) to explain why some analysts say gold mining stocks are attractively undervalued.
NEW YORK (TheStreet ) -- As markets are slammed with volatility and fears of a double-dip recession persist, gold stocks are poised to prove themselves as a moderately safe place to stash cash.
Gold stocks can, no doubt, be volatile, as they are subject to geopolitical issues and a constantly churning
. That said, many analysts believe the gold sector is undervalued and poised for a comeback.
Gold miners have had a hard time providing the expected leverage of 2:1 or even 3:1 vs. the price of bullion. Since the end of 2008 the gold price has rallied more than 73.5%, but the
Market Vectors Gold Miners
(GDX) - Get Report
is up just 56%. The crème de la crème of gold stocks,
Barrick Gold
(ABX)
, rallied a meager 18.9% while growth stocks like
Randgold
(GOLD) - Get Report
added 83.3%. More speculative plays like
NovaGold
(NG) - Get Report
jumped 514.2%, but even that kind of dramatic leverage is dissipating.
The biggest catalyst for this shift has been the emergence of physically backed ETFs. The first and largest,
SPDR Gold Shares
(GLD) - Get Report
, was launched in November 2004, and was followed by three more. Since inception, the GLD has amassed more than 1,300 tons and currently holds 1,209 tons. The ETF buys gold, which helps support the gold price, but it also gives investors an easier way of buying into the market without the associated risk of miners.
There are two principal negatives often associated with miners -- risk and cash flow. In certain countries, like Peru and Bolivia, governments have been talking about raising taxes on miners or even nationalizing the mines to take advantage of high gold prices. Either move could seriously dent profits and reserve and resource bases for miners. Investors "are like scared rabbits," says Steve Ayer, managing director and partner at High Tower's Strata Wealth Management.
Vote: Where will gold prices finish in 2011?
Peru, for example, elected a nationalist president, Ollanta Humala, on June 15. Humala favors high mining taxes to return money to the Peruvians and there is speculation that he may go so far as to nationalize mines. Ayer believes that the president isn't going to come into office and change all the economic policies, especially because Peru has the highest growth rate of any nation in South America, according to his calculations. "What they have in place is working ...
they are not going to break the mining stocks." Even if it doesn't happen, the threat of nationalization is enough to scare investors out of a gold stock and into a gold ETF.
Mining gold is also expensive and risky. Companies could not find enough gold, it might take longer for the gold to be pulled out of the ground, production might be halted for myriad reasons and all of that costs money. The average total cost to produce an ounce of gold for the industry is currently between $750-$1,100, only made worse by high oil prices, which jack up input costs.
Another less recognized factor weighing on the gold stocks that Leo Larkin, equity analyst at
Standard & Poor's
, points out is that over that the last 10 years gold companies had to issue huge amounts of shares in order to raise cash to build mines. This dilution is taking a while to shake out of the share price.
"Between 2001 and 2010, Barrick has increased shares outstanding by 86%. That's overlooked when people try to come up as to why these stocks are lagging." Larkin has a strong buy rating on Barrick, however, believing that it is done issuing shares pointing to its recent acquisition of
Equinox
, which was paid for in cash. "You could say the risk/reward is more favorable now than before because the stocks haven't moved and we think they can provide this leverage."
TD Newcrest is also bullish on gold stocks with its top picks being
Goldcorp
(GG)
,
Eldorado Gold
(EGO) - Get Report
and
Iamgold
(IAG) - Get Report
. "Gold equities, on the back of rising gold prices, have generated the best forward earnings growth since mid-2007 at 195%," TD Newcrest said in a recent research note, "yet the average forward P/E multiple has contracted 45%," meaning that the markets expect lower earnings growth.
Some analysts think the tide could finally be turning in favor of the miners.
Imaru Casanova, equity research analyst at MLV & Co., says that "stocks aren't looking that expensive ... if they report higher cash flows and better earnings the market should react to that." Ayer agrees and thinks that the ETFs like the GDX are the safest ways to play this revaluation as they offer exposure to a variety of names. "The sector overall is going to come into vogue" to provide the leverage of 10 or 20 years ago.
TD Newcrest, which is unable to speak to the press, thinks that further multiple contraction in the gold stock sector is unlikely and good earnings and big cash flow should provide the catalyst for stocks.
"The cheaper these shares get while the underlying commodity (gold) holds up in price," says Louis James, chief metals investment strategist at Casey Research, "the more speculative value they represent." James owns
Silver Wheaton
(SLW)
and
Alexco Resources
(AXU) - Get Report
.
The question remains though - when exactly will gold stocks pop? Ayer thinks it's imminent and if oil prices continue to fall that will reduce gold miners' cash costs creating even bigger profits in the second half of the year.
James thinks another black swan event could happen any moment and send the gold price soaring, which would catapult gold stocks. "Any dramatic bad economic news, from war in the Middle East to a natural disaster, to state governments unable to make their payments, could have a very strong and sudden positive impact on the price of gold." If the summer doesn't provide the doomsday event, gold stocks could languish during the seasonally slow buying period but heat up in the fall, argues James.
Paolo Lostritto, analyst at Wellington West Capital Markets, is the lone dissenter of those surveyed and doesn't think the gold stocks are cheap. They "trade at 10-15 times cash flow, excluding the most recent pullback, which has to do with more macro issues."
Lostritto is concerned with a lack of margin expansion and says that the gold price has to move faster than input costs for the stocks to be good buys. The "time to buy a stock is when you believe their growth is not reflected in their share price ... the key metric is cash flow growth per share."
Lostritto thinks those opportunities in gold stocks are rare. He cites 2001-2003 and 2009-2010 as times of real margin expansion, but six months ago he went negative on the gold sector as he thinks gold companies will have a hard time meeting earnings expectations. Although with oil prices down 20% from recent highs and the gold price down just 2.2%, margin expansion seems to be a possibility especially if the gold price stays supported by safe haven buying.
Gold and silver companies that are delivering gold, controlling costs, beating guidance and benefiting from lower oil prices could see their share price rewarded with an upward revaluation after earnings, perhaps providing the leverage gold stocks have been missing for a long time.
--
Written by Alix Steel in
New York.
>To contact the writer of this article, click here:
Alix Steel
.
>To follow the writer on Twitter, go to
.
RELATED STORIES:
>> 3 Growth Sectors for the Second Half Of 2011
>> Safe Energy Investments for 2011: Analyst
>>Copper Sector Set to Shine on Growing Demand
>>Hiding Behind Luxury: 5 Safe Retail Stocks
Disclosure: TheStreet's editorial policy prohibits staff editors and reporters from holding positions in any individual stocks.