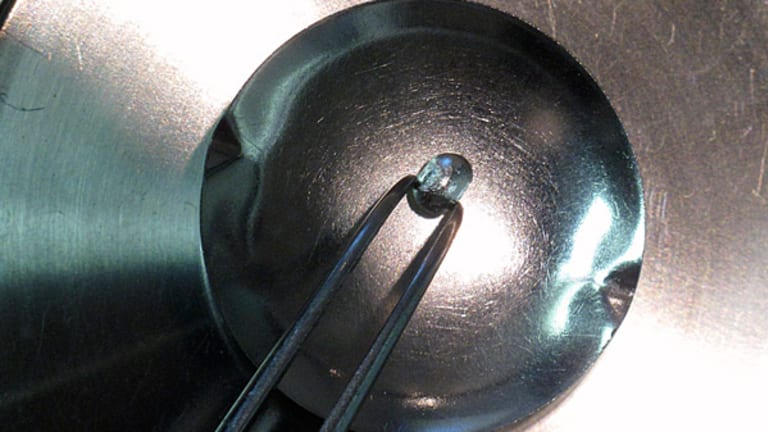 Gold Prices Lose Steam After Reaching Record
Gold and silver continued their record breaking runs on safe haven buying Thursday, lost steam towards the end of trading.
NEW YORK (
) --
and silver prices gave up their gains Thursday after gold hit a record and silver popped to a 31-year high on Wednesday.
Gold for April delivery settled down $3.10 to $1,443.90 an ounce at the Comex division of the New York Mercantile Exchange. The gold price traded as high as $1,448.60, a record, and as low as $1,436 while the spot gold price was shedding $4.50, according to Kitco's gold index.
Gold settled at a record on Wednesday at $1,438 an ounce.
Prices have tried four times to conquer and sustain record high levels, but have sold off each time. The selloffs have pushed the metal back down to $1,300 an ounce.
Vote: Where will gold prices finish in 2011?
The question is can traders become more interested in gold and prevent prices from hitting a fifth top? Prices hit some resistance in early trading on solid weekly initial jobless claims, which were below the 400,000 mark and which were drawing investor interest into stocks away from gold. But as the U.S. dollar continued to weaken, precious metals rallied. Towards the end of the session prices sold off as profit takers jumped in.
The selloff was "technical in nature
and took place as currency fluctuations increased and profit taking ahead of Friday evening out set off some sell stops," says George Gero, senior vice president at RBC Capital Markets.
Mihir Dange of Arbitrage said he would be buying if gold can break and hold $1,445.70 an ounce. "A breakout from there could propel us to $1,480-$1,490."
"You've got a lot of things that are stacked up in gold's favor right now," argues Adrian Ash, head of research for BullionVault.com. "Monetary policy is way too loose across the world ... This is as bad as the negative real interest rate have been since the 1970."
Vote: How High Will Silver Prices Go in 2011?
Ash contends that even a series of rate hikes won't be enough to tame negative real interest rates. He believes the Bank of England, Federal Reserve and, to an extent, the ECB put themselves in a powerless position where they can't raise rates for fear of slowing growth but they can't lower rates anymore. "Negative real rates are the only game in town."
Gold might see some future headwinds from a stronger U.S. dollar, which could gain in value if the euro tanks on European sovereign debt fears. But, if 2010 is a guide, gold could initially suffer but then bounce as new investors jump into the market.
Ash fervently believes that gold is not a bubble and that those who say it is are "confusing longevity with speed." Gold has been in a bull market for 10 years versus its previous 20 year bear market.
Prices could see a short term spike as traders roll over April contracts to June over the next few weeks, but Ash contends that there is still a lot of money on the sidelines.
Silver hitting higher prices might be a bit easier. Silver added 17 cents to $37.37 an ounce after hitting an intraday 31-year high of $38.18.
Silver's highest level was $50 an ounce in 1980 after the famous (or infamous) Hunt brothers bought the metal aggressively for 7 years -- at one time owning more than 200 million ounces of silver. The silver bubble burst soon thereafter, shedding 50% of its value almost immediately.
Although some experts would call $50 silver manipulation, it also means that the metal has a lot more room to run.
Ash says that for every 1% move in gold there is a 1.75% move in silver but that recently silver has outpaced gold five times over. "This is just nuts." Silver is playing catch up to gold and has been increasingly more appealing to investors as a "cheaper" precious metal.
There are also enough headlines to keep buyers interested in gold and silver as safe haven investments. Portugal's 10 year borrowing rate jumped to 7.77% on Wednesday and is moving higher as the government falls apart. The opposition party failed to back austerity measures and the Prime Minister resigned on Wednesday, leaving no government for most likely two months.
Without the austerity measures, which were set to slash the country's deficit to 4.6% of GDP, investors will become more reluctant to lend money to the country. Portugal needs the cash to avoid a bailout from the joint IMF and EU fund, already stretched pretty thin. The country must pay up € 9.5 billion in interest payments in April and June.
Fitch
lowered its rating on Portuguese debt to A- from A+.
The European Union is also waffling on expanding the current bailout fund after agreeing on terms for a permanent fund in 2013. Contagion is the word here as investors worry that Spain, the EU's fourth-largest economy, could be next and that this would break the back of the current bailout fund.
Moody's
downgraded 30 Spanish banks Thursday. Political and economic uncertainty is a green light for gold prices as the hard asset becomes more valuable than paper currency.
Contagion is also spurring the fear trade in the Middle East, with fighting erupting between Palestinians and Israelis as well as within Syria and Libya. NATO still can't decide on who will take over the UN air strikes once the U.S. steps aside as Libyan leader Gadhafi shows no signs of stepping down.
, a risky but profitable way to
, were losing their steam as well.
Yamana Gold
(KGC) - Get Kinross Gold Corporation Report
was flat at $12.69 while
Freeport McMoRan Copper & Gold
(FCX) - Get Freeport-McMoRan, Inc. Report
was down 1.30% to $54.16.
Other gold stocks,
New Gold
(NGD) - Get New Gold Inc. Report
and
Gold Fields
(GFI) - Get Gold Fields Ltd. Report
were trading at $11.27 and $17.13, respectively.
Two stocks to watch today will be
Harmony Gold
(HMY) - Get Harmony Gold Mining Co. Ltd. Report
and
Silver Wheaton
(SLW)
trading at $14.35 and $44.26, respectively.
An
RBC Capital Markets
' note circulated Thursday upgraded Harmony Gold and said it could be a potential takeover target -- that perhaps a bigger company would separate its fledgling Papua New Guinea project and spin off its South African operations. The stock soared 10% Wednesday and is more than 6% today on the news.
Harmony currently has 96% of its production in South Africa and is struggling with higher wages, input costs and a lack of byproducts, meaning that the company doesn't have silver or copper to sell to help it offset the cost producing an ounce of gold.
The company produced 323,275 ounces of gold in its last quarter at cash costs of $979 an ounce. "This year is a break-even year with gold even where it is, but it starts improving going forward," says CEO Graham Briggs.
Briggs is trying to diversify the company quickly, closing operations and putting his focus into the projects in Papua New Guinea, which should come on stream in 2016, at which point Briggs hopes the ratio will be 70% South African mines and 30% elsewhere.
Silver Wheaton also said Wednesday that its attributable reserves grew 9% in 2010 and RBC updated its price target to $50 from $48.
--
Written by Alix Steel in
New York.
>To contact the writer of this article, click here:
Alix Steel
.
>To follow the writer on Twitter, go to
.
>To submit a news tip, send an email to:
.
RELATED STORIES:
>> Where will gold prices finish in 2011?
>> How High Will Silver Prices Go in 2011?
>> Gold Miners Face a Cost Crunch
>>How Middle East Unrest Hurts Gold Miners
Disclosure: TheStreet's editorial policy prohibits staff editors and reporters from holding positions in any individual stocks.