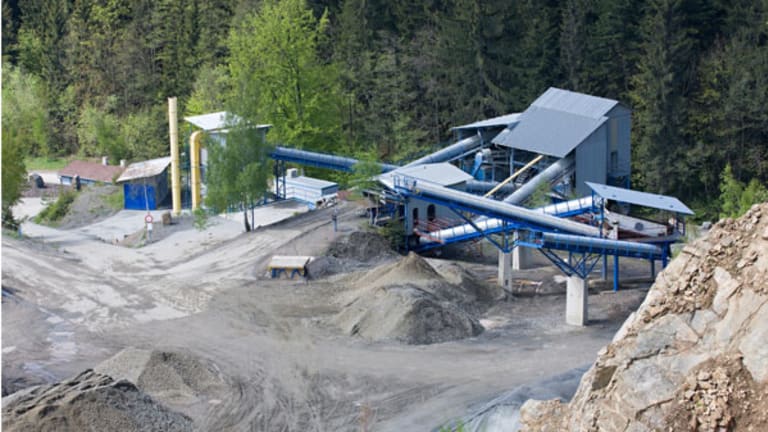 Gold, Silver Forming Base
Recent choppy consolidation in gold and sliver appear to be forming a base that is holding well as support.
The following commentary comes from an independent investor or market observer as part of TheStreet's guest contributor program, which is separate from the company's news coverage.
NEW YORK (
) -- News wires are very quiet in regard to gold (1525) and silver (37.10) bullion-related issues, as price action indicates that a volatile period of price consolidation may be over and that buyers are moving back into the market.
Trade desk updates recently highlighted the potential for choppy consolidation in bullion and in
SPDR Gold Shares
(GLD)
and
iShares Silver Trust
(SLV)
, the exchange-traded funds that track bullion momentum. Those moves look to now be forming a base that is currently holding well as support.
Any existing short-gold or short-silver positions should be monitored while recent price action is absorbed. There have been very few clear signals in the silver bullion market recently. Clients received a gold bullion signal to go long with a break of 1531.
Bullion Price Action:
Strong buying activity was seen at 1490 on gold, and at 33.00 on silver in April and May. These swing point areas will be closely monitored, as it does seem that they are allowing a strong base to form.
Main gold support: 1470. Main gold resistance: 1550.
Main silver support: 34.50. Main silver resistance: 39.50.
Daily trading range is $19 on gold and $1.20 on silver, which are above the historical norm and indicate that speculative interest is still high.
ETF Price Action:
Strong buying activity was seen at 144.50 on GLD in April, and at 32.50 on SLV in March.These swing point areas will be closely monitored and market alerts sent to subscribers if they break.
Main GLD support: 144.00. Main GLD resistance: 151.50.
Main SLV support: 33.50. Main SLV resistance: 37.50.
Technical Correlations:
20-day Simple Moving Average (SMA) on gold is at 1510. The 20-day SMA on silver is at 37.60. Gold bullion has a 12-month 90% correlation to the euro-dollar (Eur/Usd) currency pair.
Outlook:
A long-term buy signal will form if gold closes the week above 1530, and could be sustainable if global equity and risk markets reverse a recent bout of negative sentiment. Silver has not shown any desire to move lower and fair value looks to have been found above 35.00.
Sentiment and outlook toward bullion trade remain bullish after a period of consolidation. Price action favors a bounce off support that buys the recent dips in bullion and ETF prices. Traders committing to bullion trades at these levels need to use caution in trade size levels, as resistance tests will create some volatility.
TheLFB's
Trading Global Momentum
course is designed for equity traders and investors to learn how to get ahead of the global momentum curve. Don't miss another move while waiting for the opening bell. Learn the institutional impact of gold, silver and oil global trade momentum on your portfolio, and how best to monetize it. Receive a personalized trade plan and a technical strategy. Develop a repeatable process, maximize your time, and minimize your effort.
Marco Hague is one of the founders and principals of The London Forex Broadsheet (commonly known as TheLFB), a global forex trader portal with headquarters in the U.S. Hague began his career with the Bank of England dealing with foreign exchange control, and he has been trading for the last three decades. He has been involved with institutional risk asset ratio analysis and the implementation and maintenance of institutional trade desks globally.