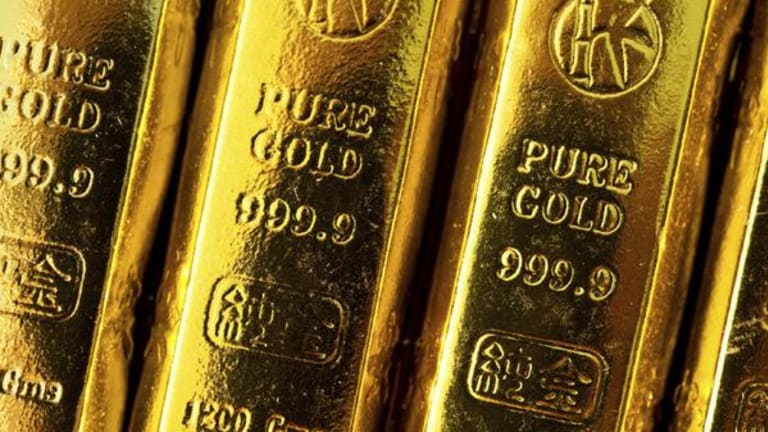 Gold Rush: These Four Gold Miners Are Ready to Break Higher
Gold prices look ready to break higher -- and these four miners are the strongest way to play the trend.
Gold's beginning to glitter again.
After treading water since gold prices peaked last summer, everyone's favorite precious metal is starting to show some key signs of strength again -- and gold miners are the best way to play the trend.
Mining stocks are basically a leveraged bet on gold prices. Because every marginal dollar gold miners get for extracting gold beyond their break-even point has an even bigger impact on profitability than the last, a rising-gold-price environment means industry earnings scale up at a rapid rate. And that means, as gold prices find their footing in 2017, some of the gold industry's biggest players are teetering on the edge of breakout territory this spring.
As usual, stock selection matters a lot. During gold's big run-up in early 2016, the delta between the segment's strongest performers and the laggards was huge. And that's why it makes sense to turn to the charts to figure out which are showing buy signals to traders.
In case you're unfamiliar with technical analysis, here's the executive summary: technical analysis is a way for investors to quantify qualitative factors, such as investor psychology, based on a stock's price action and trends. Once the domain of cloistered trading teams on Wall Street, technicals can help top traders make consistently profitable trades and can aid fundamental investors in better planning their stock execution.
Without further ado, here's a rundown of four technical setups that are showing solid trading potential right now.
Randgold Resources Ltd.
Leading the list is $9 billion mining stock Randgold Resources Ltd. (GOLD) . Randgold has been in rebound-mode in 2017, charging more than 22% higher since the start of the year. But don't worry if you've missed that upside move in Randgold. Shares are pointing toward a second leg higher in April.
Randgold has spent the past couple of months forming an ascending triangle pattern, a bullish continuation setup that's formed by horizontal resistance up above shares at $95, and uptrending support to the downside. Basically, as Randgold has pinballed in between those two technically significant price levels, shares have been getting squeezed closer and closer to a breakout through that $95 price ceiling. When that happens, we've got a new buy signal in this mining stock.
Relative strength, measured by the indicator down at the bottom of Randgold price chart, adds some extra confidence to upside in shares. That's because GOLD's relative strength line has been in an uptrend of its own since late December, an indication that this stock isn't just beating the rest of the metals industry, it's still beating the rest of the broad market in the long run. As long as that uptrend in relative strength stays intact, Randgold is predisposed to outperform in 2017. Wait for a material push through $95 before you pull the trigger.
Yamana Gold Inc.
After shedding almost half of its market value from its highs last summer, $3 billion miner Yamana Gold (AUY) is starting to look "bottomy". Shares are already 25% off their lows back in December, and the path is clear for a more prolonged move this spring. From here, the key level to watch in Yamana is resistance up at $3.65.
The price setup in Yamana is a double bottom -- a bullish reversal pattern that looks just like it sounds. Yamana's double-bottom pattern is formed by a pair of swing lows that bottom out at approximately the same price level, separated by a swing high that identifies the breakout level. That's the aforementioned $3.65 resistance level.
Yamana's double-bottom pattern is a long-term price setup, and that comes with long-term trading -- implications when the breakout does happen. That's good reason to keep a close eye on how shares handle their next attempt at the $3.65 price tag.
McEwen Mining Inc.
Things are even more straightforward in shares of small-cap miner McEwen Mining Inc. (MUX) . At a glance, the price action in McEwen may seem a bit haphazard, but look a little closer and you'll see it's actually been orderly where it counts. Shares have been holding onto a well-defined uptrend since last summer.
In short, MUX has been a "buy-the-dips stock" over that stretch, and we're coming up on another buyable dip this week.
The defining factor in McEwen's uptrend is trendline support, the line that connects this stock's series of price lows from June through today. While volatility has played out to the upside, that trendline support level has been inviolate to the downside, signaling a pocket of buying pressure for shares stretching back almost a year. From here, it makes sense to buy the next bounce higher.
Actually waiting for that bounce is important for two key reasons: It's the spot where shares have the most room to move up before they hit resistance, and it's the spot where the risk is the least (because shares have the least room to move lower before the channel breaks, invalidating the upside trade). Remember, all trend lines do eventually break, but by actually waiting for the bounce to happen first, you're ensuring MUX can actually still catch a bid along that line before you put your money on shares.
Newmont Mining Corp.
Sliding back up the size scale brings us to $18 billion miner Newmont Mining Corp. (NEM) . Newmont has been carving out a long-term bottom since September. Once again, that comes with long-term trading implications once the buy signal gets tripped.
Newmont's price setup is an inverse head-and-shoulders pattern, a classic price pattern that signals exhaustion among sellers. You can spot this price pattern by looking for two swing lows that bottom out at approximately the same level (the shoulders), separated by a lower low (the head). The buy signal comes on a move through Newmont's neckline -- that's up at the $38 level.
Remember to be reactionary with Newmont, or with any of the other potential breakout trades on our list that haven't crossed their breakout prices just yet. Technical analysis is a risk-management tool, not a crystal ball, and NEM doesn't become a high-probability buy until shares can crack above the $38 price level. From there, look for a re-test of last summer's $46 high-water mark.
At the time of publication, the author had no positions in the stocks mentioned.