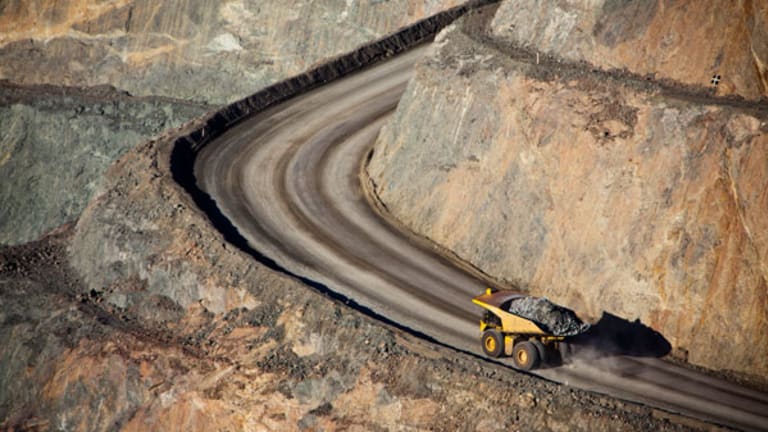 Gold Prices Settle Flat Then Rise on Fed
Gold prices close flat after waiting for direction from the Federal Reserve, then edge up after the central bank's statement offers no surprises.
Gold prices close flat after waiting for direction from the Federal Reserve, then edge up after the central bank's statement offers no surprises.
NEW YORK (
) --
treaded water Wednesday after a heavy selloff but then starting climbing after the
Federal Reserve
reiterated its committment to pump more money into the system.
Gold for February delivery added 70 cents to $1,333 at the Comex division of the New York Mercantile Exchange. The gold price traded as high as $1,337.70 and as low as $1,324.30 during Wednesday's session. The spot gold price was up $9, according to Kitco's gold index.
The
was losing 0.18% to $77.78, struggling as the Fed didn't curb its bond buying program. The euro also down 0.11% at $1.36 vs. the dollar.
Gold prices were slightly lower earlier as investors dumped their holdings after
another double-digit selloff Tuesday
. The
SPDR Gold Shares
(GLD) - Get Report
exchange-traded fund dropped more than 30 tons of gold on Tuesday.
>> Video: How to Trade Commodity ETFs
Gold's hovering around the $1,330 level has two results. First, investors see the fall in price, panic and sell. I received a question from a reader Tuesday who bought silver coins and -- spooked by silver's 12.8% selloff so far in 2011 -- was anxious to sell. Or second, traders look at these levels as a time to start buying.
"I am a lot more interested at this level," says Scott Redler, chief strategic officer at
T3Live.com
. "I personally think the way gold is acting we could have some lower prices in the next few weeks, or the next month or two, down to the 200-day
moving average around $1,265." Redler still thinks that a new high for gold this year is possible, but that the feeble rallies and selloffs create short-term trading opportunities.
Jeb Handwerger, editor of
GoldStockTrades.com
, says "gold has been on sale every six months ... the primary trend is up." Handwerger thinks that the eurozone debt crisis will worsen and that the U.S. dollar will hit new lows as the U.S. government's debts balloon, both of which will push gold to new highs.
"Look for buyers to come back into precious metals and mining stocks now as it reaches long term support and extremely oversold levels," Handwerger says.
The World Gold Council released its Gold Investment Digest early Wednesday which said strong demand from investors was one pivotal factor to higher prices in 2010. The WGC, the sponsor of the SPDR Gold Shares, said investors bought 361 tons of gold through ETFs in 2010, bringing total holdings to 2,167 tons.
This figure trumped jewelry demand for the first nine months of the year which totaled 1,468 tons. Even though that figure marks an 18% year-over-year jump for jewelry demand, it still pales to investment demand.
So far in 2011, investment support has been deteriorating -- the GLD alone has lost 55.39 tons.
Juan Carlos Artigas, investment research manager for the World Gold Council, says that it's the special combination of jewelry, investment and industrial demand that is responsible for higher gold prices.
"The combination of the three works well in different periods of time ," Artigas says. "There are going to be periods in which there's a strong demand from one sector and ... other periods in which there is a strong demand in other sectors."
What remains to be seen is if jewelry demand can offset losses in investment demand or short trading. In the fourth quarter, short-only positions in the gold futures market increased 17.3% vs. the third quarter, while long-only contracts rose 8.9%, according to the WGC. Despite this disparity, long positions still outnumbered their short counterparts. Short positions also gained interest when gold broke over $1,400 an ounce.
This kind of trading mentality is one of the reasons why gold prices are having a problem regaining upward momentum. Those looking at gold as an asset class are very different to those looking at gold as a hedge against another trade or a quick way to make money. The addition of these traders helped gold prices see huge run-ups, like the one headed into the end of 2010 when gold settled at $1,421.40, but also led to recent declines.
Adrian Ash, head of research for
bullionvault.com
says "Asian demand is switching to more cost-efficient units, first from jewelry to coins and ingots, and now onto large internationally-accepted wholesale bars." As alternative ways of investing in gold are promoted in Asia, in particular, China, then investment demand (i.e., ETF demand) could find new support.
>> Video: 3 Drivers for High Gold Prices in 2011
Inflation also plays a big part in gold's role as a safe-haven asset. Although the United States has yet to feel inflation's effects, emerging markets as well as the United Kingdom and the European Union have. The U.K. is even talking about raising key interest rates despite the country's anemic growth.
In whatever country there is inflation, gold becomes more attractive as an alternative to the local currency. The WGC report showed that gold prices rose in all currencies except the Australian dollar in 2010, outpacing global stock markets as inflation worries increased.
However, with the
Dow Jones Industrial Average
breaking through 12,000 for the first time since 2008, gold is showing less appeal as an alternative asset.
Short term, gold prices got some direction from the Federal Reserve's interest rate decision. Key rates will remain low for an "extended period of time" and the Fed's bond buying program will also remain unchanged; both moves were expected.
The Fed also said the economic recovery was continuing but that it wasn't sufficent enough to help the jobs landscape. There was a nod to rising commodity prices but the Fed said that long-term core inflation is stable, which was a green light for its bond buying program.
Gold prices were moving $8.30 higher after the announcement as there is no rate hike in the cards for the near future. Instead, the Fed might be more likely to think about more quantitative easing especially if core inflation remains low. The Fed's inflation mandate on the low end is 1.5% and core prices have risen 0.8% year over year. It should be noted though that inflation factoring in food and energy prices, which most countries do, is up 1.5%.
ended up 31 cents to $27.12 while copper added 4 cents to $4.26.
, a risky but potentially lucrative way to
, were moving higher.
Kinross Gold
(KGC) - Get Report
was adding 3% at $16.82 while
Gammon Gold
(GRS)
added 3% at $7.42. Other gold stocks
New Gold
(NGD) - Get Report
and
Gold Fields
(GFI) - Get Report
were trading at $7.78 and $16.05, respectively.
--
Written by Alix Steel in New York.
Readers Also Like:
>>Exxon, Chevron to Extend Gains, Investors Say
>To contact the writer of this article, click here:
Alix Steel
.
>To follow the writer on Twitter, go to
.
>To submit a news tip, send an email to:
..
Disclosure: TheStreet's editorial policy prohibits staff editors and reporters from holding positions in any individual stocks.