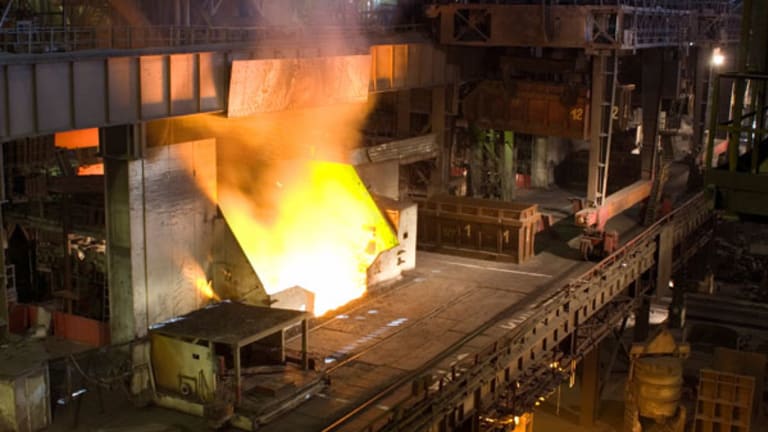 Gold Prices on Comex Recover From Selloff
Gold prices regained some ground Monday after Friday's big selloff.
NEW YORK (
) -
regained their footing on the Comex Monday after the precious metal lost 3% in a broad market selloff Friday.
Gold for December delivery settled up $3 to $1,368.50 an ounce at the Comex division of the New York Mercantile Exchange. The gold price traded as high as $1,375.50 and as low as $1,356.50 during Monday's session.
The
was rallying 0.45% to $78.43 on the back of a weaker euro, which was falling to $1.36 vs. the dollar. The spot gold price Monday lost some ground and was down $2.80, according to Kitco's gold index.
Gold investors were trying to recover after Friday's deep selloff which pushed prices through multiple support areas to settle below $1,370 an ounce. Better-than-expected October retail sales as well as a slew of merger news Monday kept a lid on gold's gains as investors opted for stocks, but weaker-than-expected New York manufacturing data and bargain hunters helped support prices.
In the medium term, global uncertainty, currency instability, debate over quantitative easing round II, a possible Ireland default and eurozone contagion all promise to leave the gold market vulnerable.
"Volatility looks set to remain a feature in the coming sessions," says James Moore, analyst at
thebulliondesk.com
. "
But given the bearish dollar fundamentals we expect corrections will continue to be
viewed as good buying opportunities by investors with longer-term inflation concerns."
The dollar has been curbing its expected decline from the
Federal Reserve's
loose monetary policy because of a falling euro. The euro has been hit over the past week on some of the EU members' inability to raise money. Investors had been dumping bonds from Ireland, Portugal and Spain on worries that they would be on the hook if the country needed bailout money or defaulted.
EU leaders have since debunked that worry putting the burden on the taxpayers until new bailout requirements are passed, which probably won't be until 2013. This calmed some worries but Ireland is still in trouble.
European Union officials are trying to push Ireland into taking bailout money of more than $680 billion, but the country is resisting and fears are heating up other EU nations could also find themselves in the same boat. Portugal's finance minister said that the country might have to leave the euro if the government cannot pass austerity measures to meet requirements.
The
SA London
reported that Portugal would need bailout money, but later in the day the country's finance minister said there was "no imminent" plea for aid.
On top of EU contagion fears, there are still worries that China will raise key interest rates in order to stem rising inflation and that other central banks will follow suit. If inflation is effectively controlled, this will force traders who own gold as an inflation hedge to rethink and alter their gold holdings. This comes as headlines start to circulate which say that the Fed's QE2 policy isn't working. The yield on the 10-year note actually rose to 2.90% Monday as the Fed bought more than $7 billion in Treasuries.
The hope was that as the Fed bought bonds, yields would fall, which would lower key interest rates. But investors, in fact, remain hesitant to lend money to the U.S. over the longer term which is pushing yields up instead. Bond prices and yields have an inverse correlation as the less demand there is the more the government must sweeten the pot for investors by raising the yield.
According to the
Wall Street Journal
, Republican economists, lawmakers and political strategists are also gearing up to put pressure on Bernanke to abandon QE2. All the negative chatter about QE2 coupled with unhappiness from emerging market countries over the U.S.'s loose monetary policy, leaves global currency markets shaky.
This kind of economic environment is a mixed blessing for gold. Uncertainty, "free" money and volatile markets are typically a green light for gold buyers. Gold becomes attractive as a safe-haven asset and a good place to preserve one's wealth as global currencies struggle. Also a weaker dollar will be good for gold as the two typically trade inversely to each other.
This kind of backdrop pushed prices to a new record high last week of $1,424 an ounce. But instead of finding the momentum some analysts were looking for, gold prices have become very violent which is keeping some traders out of the market. Without substantial new money in the market, gold won't be able to hold new highs.
Scott Redler, chief strategic officer of
T3Live.com
, is holding some shares of the gold exchange-traded fund
SPDR Gold Shares
(GLD)
, but isn't actively trading it. "We're starting to see big range expansions ... so for me I would be very cautious up here. And I know traders who are trying to time it every day are really getting chopped up because
gold's not trading well at all."
Gold prices on the Comex must also contend with options rollover as November draws to a close. Traders must either let their contracts for December expire or pony up the cash to have them roll over to February 2011, which leads to more volatility.
With equity markets just as volatile, traders might also be forced to sell some gold for cash headed into the end of the year as the metal has rallied more than 25% year to date.
Although this climate leaves gold prices on rough ground for the short term, some gold bulls and stock bears are still seeing $2,000 plus gold prices. David Tice, Federated's chief portfolio strategist for bear markets, is still anticipating that the
Dow Jones Industrial Average
and gold will resume a 1:1 ratio. "They could cross at 3,000 or 4,000 maybe at 6,000 it depends on how much money Bernanke prints into the system."
settled 15 cents higher to $26.09 while copper closed up 3 cents to $3.92.
, a risky but potentially profitable way to
, were mixed.
Freeport McMoRan Copper & Gold
(FCX)
was up 1.24% to $102.63 while
Kinross Gold
(KGC)
was 1.85% lower at $18. Other gold stocks
New Gold
(NGD)
and
Gold Fields
(GFI)
were trading at $8.72 and $17.27, respectively.
--
Written by Alix Steel in New York.
>To contact the writer of this article, click here:
Alix Steel
.
>To follow the writer on Twitter, go to
.
>To submit a news tip, send an email to:
.
Readers Also Like:
>>10 Cheapest Energy Stocks as Oil Spikes
Disclosure: TheStreet's editorial policy prohibits staff editors and reporters from holding positions in any individual stocks.