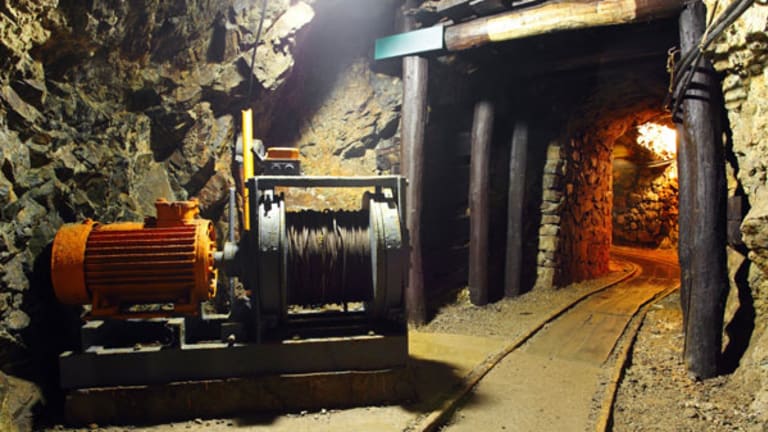 Gold Prices Slammed by Rate Hike Worries
Gold prices were hit with another double-digit selloff Thursday after Brazil aggressively hiked its interest rate.
NEW YORK (
) -- Rate hike worries were pressuring
Thursday as Brazil led the charge to control inflation. The selloff was accelerated by solid economic data from the U.S. and technical trading.
Gold for February delivery was lost $23.70 to $1,346.50 an ounce at the Comex division of the New York Mercantile Exchange. The gold price traded as high as $1,370.90 and as low as $1,342.40 during Thursday's session. The spot gold price was down more than $18, according to Kitco's gold index.
The
was rising 0.14% to $78.74 while the euro was flat at $1.34 vs. the dollar.
Brazil enacted an aggressive interest rate hike of 50 basis points to 11.25% after inflation almost reached 6% in 2010. One of the big pressures on emerging-market economies has been the slide in the U.S. dollar, especially leading up to the second round of quantitative easing.
An inflow of U.S. dollars into the system wreaked havoc on higher-yielding currencies which became more attractive to foreign investors. Brazil took the step last Friday of essentially trying to buy up dollars to eliminate some pressure on the real, but Thursday's move is much more aggressive.
Although countries like Brazil will have to hike a lot to really make a dent in the inflation picture, the move was pressuring gold. China might follow Brazil's lead, although its path is a bit more shaky.
As was disclosed Wednesday, China's economy grew 10.3% in 2010 (9.8% in the fourth quarter), and consumer prices rose 4.6% in December vs. a year ago. All told, prices jumped 3.3% last year.
The inflation reading of 4.6% is slightly lower than the 5.1% increase in November, and it might take some pressure off the country to raise interest rates. But with a real interest rate of negative 1.85%, China may eventually decide it has no choice but to its tighten monetary policy further.
China hiked its interest rate by 25 basis points on Dec. 27
and it increased the amount of money banks must hold in their reserves on Friday, the seventh time in the past year. Currently the one-year deposit rate is 2.75%.
A negative real interest rate environment is great for gold buyers in that country as an investment into gold winds up being worth more.
Nigel Moffatt, head of Treasury at Gold Corp., owner of the Perth Mint, has noticed "an influx of strong demand recently from China for gold in kilobar form."
"I think investors are looking for confirmation that real interest rates are going to remain low," says Nick Brooks, head of research and investment strategy for ETF Securities.
Brooks thinks that rates will remain low despite any hikes, but that gold investors will be tortured by the day-to-day worries and speculation. "With governments needing to tighten on the fiscal side ... it's pretty clear that central banks are going to have to target low real interest rates even if the growth numbers look a little bit better than in the past."
One possible solution for China, one that was on the roster for President Obama and President Hu Jintao, is letting the yuan rise in value. China has let it tread up 3.5%, but China has been reluctant to let the yuan jump because a cheaper currency helps export demand. A stronger yuan could increase purchasing power and trigger more demand for gold.
On a more macro level, a stronger yuan means that Chinese goods will cost more to sell in other countries. This shift could hurt oversea sales and stifle the disposable income of the fledgling middle class, who are typically strong gold jewelry consumers.
Many analysts believe that gold consumption per capita will grow as the Chinese middle class keeps buying gold jewelry as gifts for holidays, weddings and celebrations. Any dent in their disposal income could curb demand and weigh on prices.
Crimping gold prices' safe-haven bid is slowly improving economic data on the domestic front. Weekly jobless claims fell 37,000 to 404,000 for the week ending Jan. 15. The news triggered a rally in the dollar as investors felt better about the U.S. economy, which accelerated gold's selloff into double digit territory.
Investors seemed to also be dumping their gold trades, possibly for other riskier assets. "The ETFs have lost nearly 50 tons
in the past month," says Jon Nadler, senior analyst at
Kitco.com
. "We have seen the HSBC absolute return fund scale back its gold holdings by 50% in the last month." The day after a big selloff has typically been met with bargain-hunting for the physical metal.
Physical demand, i.e. gold bars, is ardently needed to hold up the loss of investment demand, i.e. paper gold or gold ETFs. The
SPDR Gold Shares
(GLD) - Get SPDR Gold Shares ETF Report
ETF dumped more than 5 tons Wednesday while the
iShares Silver Trust
(SLV) - Get iShares Silver Trust Report
dropped 10 tons.
"Heavier lifting is called for this year from the investor community just to keep the game alive," says Philip Klapwijk, executive chairman of GFMS Research Group. He estimates that several billion dollars of investment inflows are needed in order to sop up the extra supply of silver in the marketplace. Silver supply is not constrained like gold is.
Any big selloff in gold also triggers sell-stops in which traders sell to lock in gains. "Support was $1,360 and $1,350," says George Gero, vice president at RBC Capital Markets, "
but it now looks like
a wider trading band at $1,325 support, still the $1,420 area looks hard to break out of on the upside." Gero thinks that Friday could hurt as well as gold prices see some margin selling and the "last of the rollover into April contracts."
Industrial metals were getting slammed on Brazil's very real rate hike.
were down $1.32 to $27.47 while copper lost 9 cents to $4.27.
, a risky but potentially lucrative way to
, were mostly lower.
Kinross Gold
(KGC) - Get Kinross Gold Corporation Report
was bucking the trend and was rising slightly to $17.05 while
NovaGold
(NG) - Get Novagold Resources Inc. Report
was shedding 2.36% at $13.48. Other gold stocks
New Gold
(NGD) - Get New Gold Inc. Report
and
Gold Fields
(GFI) - Get Gold Fields Limited American Depositary Shares Report
were trading at $7.98 and $16.47, respectively.
Freeport McMoran Copper & Gold
(FCX) - Get Freeport-McMoRan Inc. Report
was down almost 4% to $110.78 despite the fact that it reported killer earnings of $3.25 a share in the fourth quarter on revenues of $5.60 billion. The company expects to sell 3.85 billion pounds of copper and 1.4 million ounces of gold in 2011.
--
Written by Alix Steel in New York.
Readers Also Like:
>>4 Stocks to Get a Boost From Inflation
>To contact the writer of this article, click here:
Alix Steel
.
>To follow the writer on Twitter, go to
.
>To submit a news tip, send an email to:
.
Disclosure: TheStreet's editorial policy prohibits staff editors and reporters from holding positions in any individual stocks.