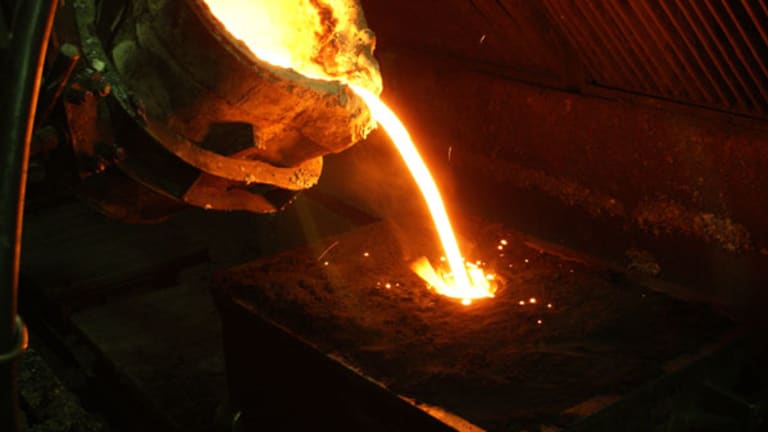 Gold Prices Volatile, Eye $1,300
Gold prices were still eyeing $1,300 Friday on hints of monetary easing from the Fed and hedge fund buying.
NEW YORK (
) --
are moving to $1,300 an ounce on inflation worries, rumor of quantitative easing round II from the
and a lackluster global economy.
Gold for December delivery Friday settled $3.70 higher to $1,277.50 an ounce on the Comex division of the New York Mercantile Exchange. The gold price has traded as high as $1,284.40, another record, and as low as $1,273. The
was adding 0.13% to $81.36 while the euro was down 0.22% to $1.30 vs. the dollar. The spot gold price was adding 90 cents, according to Kitco's gold index.
Gold prices lost some steam Friday as the U.S's weak inflation reading tempered inflation fears that have been bubbling up around the globe. The U.S. consumer price index for August was unchanged from July but this was in opposition to a higher-than-expected producer price index reading on Thursday. The U.K. reported a higher inflation reading this week and India's central bank is taking steps to take money out of circulation to fight inflation.
Friday is also quadruple witching in which options on stock index futures, stock options, stock index options and stock futures all expire, leaving traders having to rebalance their portfolios. This leads to more volatility especially in the gold market.
Video: How to Buy Record-High Gold Prices >>
But the real reasons gold is breaking to new highs right now are hedge funds and the Federal Reserve. The Fed will meet Tuesday to discuss interest rates, and although no changes are expected, the rumor is that the Fed will run its printing presses and issue another round of monetary easing. A low inflation reading in the U.S. might also give the Fed a green light to pump more money into the system.
Although there have been reports that the Fed will do no such thing because the governors can't come to a consensus, the conviction and gold's monster rally tell a different story.
The other factor moving gold prices is hedge fund buying. Strong double-digit gains like the market saw on Tuesday always point to big purchases. Many experts say that gold will inevitably hit $1,300 as "it seems very likely that the funds have decided that this is the next target," says Jon Nadler, senior analyst at Kitco.com.
Of course, fund buying leaves the room for fund selling. If funds are buying gold as protection against more quantitative easing then what happens if the printing presses never run and the crisis premium comes out of the market? A $30 move up could result in a $30 selling frenzy.
Nadler also called a time top in gold saying that in the next 12 months gold's 10-year bull-run will come to an end when investment demand cools. "It's possible that this market ... has anywhere from $50-$100 worth of life left in it." This would put gold prices at $1,360-$1,380 an ounce.
Video: Time for Top Gold Prices >>
Despite technical readings, $1,300 gold is a big sexy number that will no doubt catch the eye of more hedge funds and retail investors alike. Even though it's just a number and many gold bugs predict $2,500 to $5,000 gold in the future, $1,300 is an important psychological barrier.
At record high prices, the tendency for investors is to chase the market because the reality is that most people don't own gold. "The reflexivity of the moment is for buying to beget buying," Tony Crescenzi, strategist and portfolio manager at Pimco.
Analysts typically recommend that an investor have 3%-10% of his portfolio allocated to the precious metal depending onrisk tolerance, but that allocation is pretty rare.
Video: Bearish Case for Gold Prices >>
Even legendary investor
, the seventh largest shareholder of the gold exchange-traded fund,
SPDR Gold Shares
(GLD) - Get Free Report
, is only 2.6% diversified into gold not counting gold mining stocks.
So when gold hits a record high and investors hear $1,300 an ounce, the temptation is to rush in to buy so as not to miss the boat.
Even the CEO of
U.S. Gold Corp
(UXG)
, Rob McEwen, urges caution for new gold investors. "There will be corrections because nothing goes in a straight line," he said in a recent interview with
TheStreet
. "It'll go up, it'll correct, it'll consolidate and then move higher."
McEwen believes that at some point there will be a mania in gold, but that the market isn't even close. "It's an iterative process that takes people a long
time and they finally go I've got to have some." McEwen thinks investment buying is a third of the way there.
When buying reaches 100%, McEwen says to sell. "Gold is going to reach a point when its purchasing power relative to other assets is going be at its zenith and that's when you want to start thinking about trading out and going into the debt market or equity market and diversifying out into other investments."
settled 4 cents higher, after hitting a 20-year high, to $20.81 while copper prices closed up 2 cents to $3.52.
, a risky but profitable way to
, were trading lower Friday.
Freeport McMoran Copper & Gold
(GG)
was flat at $81.66 while
Eldorado Gold
(EGO) - Get Free Report
was losing 1.56% at $19.56. Other gold stocks
New Gold
(NGD) - Get Free Report
and
Gold Fields
(GFI) - Get Free Report
were trading at $5.90 and $14.90, respectively.
--
Written by Alix Steel in New York.
>To contact the writer of this article, click here:
Alix Steel
.
>To follow the writer on Twitter, go to
.
>To submit a news tip, send an email to:
.
Readers Also Like:
>>18 Overbought Stocks to Sell Now
Disclosure: TheStreet's editorial policy prohibits staff editors and reporters from holding positions in any individual stocks.