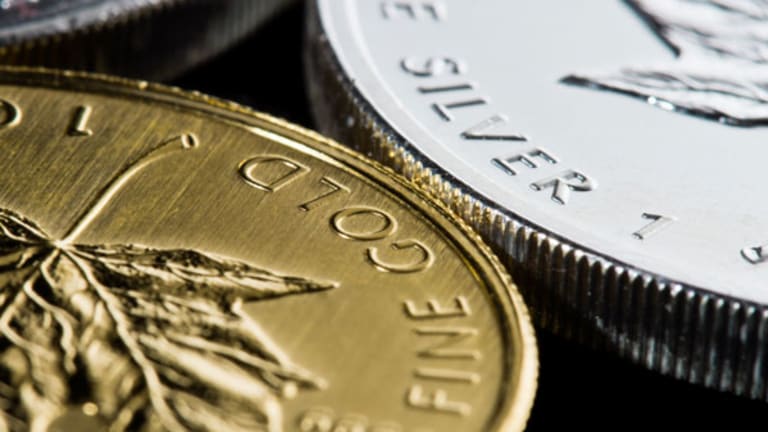 Gold Prices Settle Near $1,300
Gold prices were trading around $1,300 Monday as investors tentatively bought the safe-haven asset.
NEW YORK (
) --
traded around $1,300 Monday as investors tentatively bought the safe-haven asset. Higher prices also got support from weak central bank sales during the past year.
Gold for December delivery settled up 50 cents to $1,298.60 an ounce at the Comex division at the New York Mercantile Exchange. The gold price traded as high as $1,301.30 and as low as $1,295.80 on Monday.
The
was losing 0.04% to $79.36 while the euro fell slightly to $1.34 vs. the dollar. The spot gold price Monday was down 70 cents, according to Kitco's gold index.
Record high gold prices were sparking some profit-taking and some tentative buying Monday as investors remained cautious over the global economy.
Moody's
downgraded
Anglo Irish Bank
's senior unsecured debt to one level above junk status which highlighted the fact that Ireland still has a lot of bailout money to issue as it tries to manage the nation's largest flailing bank.
Traders are also shuffling their books as the third quarter comes to a close on Thursday. Some will need to ramp up their long gold positions to show they own the metal while others might need to sell gold to show a profit.
"We anticipate further resistance short-term on a mix of profit-taking and option/technical selling," says James Moore, analyst at
thebulliondesk.com
in his daily metals report. "But with little change in the broader economic picture and investors concerned about further devaluing of fiat currencies we expect the bullish trend to continue."
Video: Beware $1,300 Gold Prices >>
Gold is the go-to investment during times of uncertainty and there is a lot out there for investors to fret about. First off, most analysts are expecting the
Federal Reserve
to announce another round of quantitative easing at its next meeting in early November. Investors already have been buying gold as protection against a weakening dollar.
The mid-term elections are also just over a month away, and although the expectation is a stalemate in Congress with the House going to the Republicans, the question mark is providing yet another reason for investors to own gold. To add fuel to the fire, the third quarter officially ends Thursday, and many companies have been warning of choppy results.
Also supporting record high gold prices was a report from
The Financial Times
which said that the 19 central banks within the Central Bank Gold Agreement had sold only 6.2 tons of gold in the past year. Central banks are allowed to sell a combined total of 400 tons of gold each year and this past year represents the smallest amount of sales in 11 years. Their lack of selling underscores the trend that central banks have transitioned into net buyers of gold rather than net sellers.
"There has been a fundamental shift in the behavior of central banks over the past few quarters," says Natalie Dempster, head of investment for the World Gold Council. "Central banks on the whole have been net sellers of gold for the past two decades."
Since the second quarter of 2009, central banks from emerging market countries have led this transition into buying gold. The Reserve Bank of India has been actively buying gold from the International Monetary Fund. India now holds 7.5% of its assets in gold reserves, which is still considerably lower than the 20% of gold reserves it held in 1994.
One of the biggest buyers is China. Over the past five years, the country secretly increased its gold holdings from 600 tons to 1,054 tons. China currently holds only 1.6% of its reserves in gold. Dempster says that if the continent were to reallocate its holdings to 3%, it would need to buy 1,000 tons of gold. Compare this with the U.S. and Portugal, which hold 70% and 80% of their reserves in gold, respectively.
"Some banks like India," says Dempster, "have been rebalancing as the percentage of gold in total reserves has fallen over time. Others are looking to diversify away from dollar-based assets, and with sovereign debt concerns continuing to grow around the world, gold's attractiveness as a reserve asset that bears no credit risk continues to grow."
Central banks, in general, regard reserve allocation as an ongoing government policy. Although the governments consider fundamentals like dollar weakness and the sustainability of gold as money, they don't trade gold; they buy it as an investment. They will buy gold when they feel gold reserves are too low when compared to other holdings.
Gold prices have rallied 30% in the past year as central banks held on to their gold, indicating a shift into gold holding and not just gold buying. In the second quarter, according to the World Gold Council, sales among the 19 central banks that participate in the CBGA amounted to just a fraction of a ton. In fact, the first quarter of 2009 was the last time central banks were net sellers, according to the World Gold Council. The U.S. is currently the largest holder of gold with 8,133.5 tons, which accounts for 72% of its reserves.
In an analyst note Friday, Dick Bove, vice president of equity research at Rochdale Research, pointed out that the Federal Reserve values its gold at $42.22 ounce, or $11 billion, vs. $338 billion in today's prices.
"The gold backing of each American dollar is rising rapidly," wrote Bove. "This increase in value is accelerating not decelerating as the growth in dollars is failing to keep pace with the growth in the value of gold."
have also hit record levels, their highest since 1980. Prices settled 7 cents higher Monday to $21.47 while copper prices closed down 2 cents at $3.59.
, a risky but potentially profitable way to
, were mixed.
Yamana Gold
(AUY) - Get Yamana Gold Inc. Report
was down 0.54% to $11.04 while
Gammon Gold
( GRS) was slightly higher at $7.27. Other gold stocks
Hecla Mining
(HL) - Get Hecla Mining Company Report
and
Harmony Gold
(HMY) - Get Harmony Gold Mining Co. Ltd. Report
were trading at $6.21 and $11.36, respectively.
Shares of
Capital Gold
(CGC) - Get Canopy Growth Corporation Report
were popping almost 16% to $4.40 on reports of a takeover offer for the company by
Timmins Gold
for $4.50 per share. Capital Gold's stock was halted briefly and the company was not wholly receptive to the proposal.
The buyout bid is the latest in a string of mergers and acquisitions in the gold mining space. As producers sell all their gold to meet rising demand, companies must find new gold fast. A new mine can take up to 10 years to come into production so the fastest way to get new gold is to buy smaller companies.
Capital Gold has a market cap of $202 million and Timmins is equally as small at $300 million. Timmins has one newly producing mine in San Francisco with expected production to be between 80,000 and 100,000 ounces of gold per year at a cash cost of $412 per ounce.
Capital Gold owns and operates the El Chanate open pit gold mine in Sonora, Mexico. According to the company's website, the mine is expected to produce between 65,000 and 70,000 ounces in 2011.
Timmins said on its website that the combination of Timmins and Capital Gold would "result in a merger of two equal-sized companies with regional and operational synergies that would ...
create a mid-tier, low cost, Mexico-focused gold producer."
--
Written by Alix Steel in New York.
>To contact the writer of this article, click here:
Alix Steel
.
>To follow the writer on Twitter, go to
.
>To submit a news tip, send an email to:
.
Readers Also Like:
>>10 Top-Rated Dividend Stocks
Disclosure: TheStreet's editorial policy prohibits staff editors and reporters from holding positions in any individual stocks.