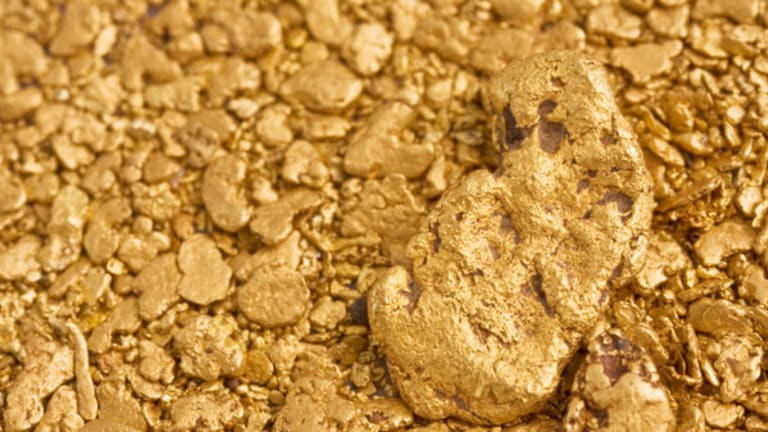 Will Inflation Kill Gold Miners?
Gold companies are reporting solid quarters, despite some production issues, but will higher input costs crimp future profits?
(Gold inflation article updated with earnings results.)
NEW YORK (
) --
continue to add to the appeal of the gold miners this earnings season as companies rake in the cash despite higher input costs.
Heavyweights, from
Kinross Gold
(KGC) - Get Kinross Gold Corporation Report
,
Agnico-Eagle
(AEM) - Get Agnico Eagle Mines Limited Report
, to
Barrick Gold
(ABX)
,
AngloGold Ashanti
(AU) - Get AngloGold Ashanti Limited Sponsored ADR Report
and
Newmont Mining
(NEM) - Get Newmont Goldcorp Corporation (NEM) Report
have all reported solid results. Despite some production wobbles and inflation worries, the companies turned nice profits as
soared to a 2010 intraday high of $1,432.50 an ounce.
Vote: Where will gold prices finish in 2011?
I will be interviewing a dozen CEOs of major gold companies at the BMO Capital Markets Global Metals & Mining Conference next week to see if they expect their flush cash days to continue with inflation on the rise. Here is a quick snapshot of gold miners' earnings and worry spots to watch.
Barrick was the clear winner. The company got ahead of the game by declaring its regular quarterly dividend of 12 cents a share on Feb. 16, a day before it reported earnings. Barrick made 95 cents a share in the fourth quarter, up 55% from the same period a year earlier, and blew past estimates of 84 cents a share.
Revenue also topped $2.95 billion and gold production reached 1.7 million ounces at cash costs of $486 an ounce, or $326 an ounce if you factor in sales of byproduct metals. Barrick expects to produce 7.6 million to 8 million ounces of gold in 2011 at cash costs of $450 to $480 per ounce. Cash costs will be higher in 2011 due to rising raw material costs and lower grade gold at some of its mines.
The big takeaway from Barrick is that it had "no" problems, no production snags, no currency issues, even rising cash costs were manageable.
Goldcorp
(GG)
was also a big winner. The behemoth blew past estimates and jumped on the dividend bandwagon increasing its annual dividend by 11% to 40 cents a share.
The gold miner earned 57 cents a share in the fourth quarter by producing 689,600 ounces of gold at total cash cost of $164 an ounce. Excluding bi-products, Goldcorp's cash costs were $461 an ounce. Goldcorp saw record production from three of its mines, as well as the first full quarter of production at its newer Penasquito mine.
Goldcorp reported record margins as the company took advantage of record high gold prices as well as record operating cash flows of $646.1 million, $1.7 billion for the whole year.
Helped by the miner's acquisition of
Andean Resources
, Goldcorp's reserves grew by 23%. CEO Chuck Jeannes said that "gold production
is forecast to grow 60% over the next five years at very low cash costs." Total cash costs for 2010 were $443 an ounce or $274 an ounce counting bi-product credits. Mid-$400's, although marginally higher, was still pretty impressive as most of Goldcorp's peers had to contend with higher input and labor costs.
Goldcorp expects to produce between 2.65-2.75 million ounces of gold in 2011 as cash costs of $280-$320 including bi-products or $475 to $500. The company is expected to spend $1.8 billion on its operations and projects as well as $170 million in exploration.
Iamgold
(IAG) - Get IAMGOLD Corporation Report
also reported a killer fourth quarter. The $7.7 billion gold miner made 39 cents a share on revenues of $495 million, both crushed expectations.
Gold production rose 35% to 315,000 at cash costs of $574 an ounce, which was almost an $100 jump from the same quarter a year earlier, due to higher mining costs. Operating cash flow popped 228% to $221.3 million as the company was propped up by its Essakane mine, now fully operational.
Iamgold expects to produce 1.1 million to 1.2 million ounces of gold in 2011 at cash costs between $565 and $595 an ounce. Proven and probable gold reserves grew by 13% to 16.4 million ounces.
Iamgold is in the same spot as its peers, raking in cash with gold prices so high but seeing profits get clipped as mining costs and taxes rise. The company is able to mine lower grade gold as long as gold prices stay high, increasing its production output. The miner is planning to spend $511 million in capex and exploration in 2011 and currently has $411.3 million in cash and cash equivalents. The company recently issued shares for a private placement to raise $43.3 million and increased its dividend to 8 cents a share.
AngloGold, the South African miner, also killed the earnings numbers. The gold company pays an 11 cent dividend and delivered a solid quarter despite a soaring rand and political uncertainty.
Net income for the fourth quarter was $294 million, which topped estimates. Production for the quarter was 1.148 million ounces, slightly less than the previous quarter, but in line with guidance. Cash costs were high at $672 per ounce as higher input costs mixed with a higher currency ate into profits.
AngloGold expects to produce between 4.55 million and 4.75 million ounces of gold in 2011 at cash costs between $660 and $680 an ounce. Not only must AngloGold combat a high currency but there are added seasonal tariffs, annual labor costs increases and higher royalty payments.
Another recent question mark is that South Africa's African National Congress is considering nationalizing local mines. The combination is leading CEO Mark Cutifani to consider spinning off the company's South African operations into a different company so the remaining projects won't be dragged down by currency and political issues and could take advantage of a higher gold price. South Africa currently accounts for less than half of the company's gold production.
Yamana Gold
(AUY) - Get Yamana Gold Inc. Report
saw record revenues of $535 million in the fourth quarter, which helped the company make 22 cents a share, 340% higher than the same period a year earlier.
Yamana produced 286,682 of gold equivalent ounces for negative $34, when the company used copper and silver sales to offset the cost of producing an ounce of gold. Even without the bi-product, cash costs were still relatively low at $465 an ounce.
For the full year, Yamana reported $747 million in operational cash flow with record production of 1.1 million gold equivalent ounces at $50 an ounce, or, just for gold, $416-$628 an ounce.
In 2011, Yamana expects to produce between 1.04-1.14 million gold equivalent ounces and 145-160 million pounds of copper for under $250 an ounce. The company has set aside $85 million for exploration. Yamana's proven and probable mineral gold reserves grew 26% in 2010 to 22.1 million ounces.
Kinross Gold had some production problems but posted revenue of $920.4 million for the fourth quarter, and $3 billion for the full year. Kinross is giving some of that cash back to shareholders, announcing its regular semi-annual dividend of 5 cents a share after Wednesday's close.
The $19.22 billion market-cap company made 13 cents a share, or $144.7 million in the fourth quarter, down 38% from a year earlier, mainly because of exploration costs at Tasiast, which it acquired as part of its purchase of Red Back. Earnings were also hurt by the timing of year-end sales, which reportedly deferred 30,000 ounces of sellable gold to the first quarter of 2011.
Despite the financing hurdles, the senior gold miner produced 676,635 ounces of gold for $551 an ounce and, for the full year, produced 2.3 million ounces at cash costs of $508 an ounce. In the fourth quarter, Kinross sold gold for $1,333 an ounce, bringing in hefty profit margins.
Kinross expects to produce 2.5 million to 2.6 million ounces of gold in 2011 at cash costs of $565 to $610 an ounce.
Eldorado Gold
(EGO) - Get Eldorado Gold Corporation Report
earned 8 cents a share in the fourth quarter, slightly below expectations of 10 cents a share. The company produced 148,374 ounces of gold, up 15% from the same period a year earlier, at a total cash cost of $460 an ounce. The jump in ounces was helped by a full quarter of production from Jinfeng and White Mountain mines.
Revenues popped 47% compared to the fourth-quarter 2009, helped by a surging gold price. On average, Eldorado sold each ounce of gold for $1,373.
Eldorado's operation costs, however, rose 22% compared with a year ago, caused by lower grade gold mixed with higher currency exchange rates. These issues were offset by the high price of gold.
The company paid a dividend of 10 cents a share for 2010 and will pay semi-annual dividends for 2011 at the end of the second and fourth quarters.
Great Basin Gold
(GBG)
turned its first profit in the fourth quarter by making 2 cents a share. Great Basin produced 31,911 gold equivalent ounces at $690 cash costs, including royalties. Revenues came in strong at $43 million.
Processing at its Esmeralda mill was slowed by high metal content which hurt the carbon and Great Basin is currently installing a carbon regeneration system to fix it. The company expects be in a better financial spot at the end of 2011 as its Burnstone Mine came on stream in 2011 with 90,000 tons of low grade ore milled in January of this year.
Great Basin is also continuing drilling at its Hollister property. The company just raised $75 million in a public offering and borrowed $60 million from Credit Suisse which, according to the CEO, Ferdi Dippenaar, has provided the company with enough money for the project work required at Burnstone.
Agnico-Eagle was one of the worst companies to report so far. The $12.82 billion market-cap company produced 1.2% less gold than it had planned for 2010, delivering 987,609 ounces for the year at cash costs of $451.
Although the company produced 100% more gold than in 2009, the miss hurt. Agnico had lower-than-expected grades at two of its other mines in the fourth quarter, which crimped productivity. Agnico produced 256,469 ounces of gold in the fourth quarter at cash costs of $485 an ounce.
To Agnico, $485 cash costs for the fourth quarter is high, although it is still one of the lowest in the business. The increase mostly stemmed from higher operational and development costs at two of its fledgling mines, Kittila and Meadowbank. Nevertheless, the company said annual earnings jumped 284% year over year and cash flow soared 320%.
The company, which had been contending with growing pains for the last three years, earned 53 cents a share, or $88 million, in the December quarter, up 71% from the same period a year earlier. "The growth plan that transformed the company over the past several years has resulted in record gold reserves and record annual financial and operating results", said CEO Sean Boyd in a press release.
It could take as much as six months for Agnico to work out these new kinks. Agnico is hoping to produce 1.2 million ounces in 2011.
Agnico-Eagle was already returning money to its shareholders with a dividend of 16 cents a share.
Randgold Resoures
(GOLD) - Get Barrick Gold Corporation Report
also had a tough quarter but increased its dividend by 18% to 20 cents a share.
The West African gold miner made 29 cents a share in the fourth quarter versus 35 cents in the same period in 2009. The company sold $145 million worth of gold and produced 132,099 ounces of gold at cash costs of $766 an ounce, but CEO Mark Bristow's dream of being a one million ounce a year producer at low cash costs were snagged in 2010 due to production issues at its Loulo mine in Mali and political uncertainty in the Ivory Coast, which disrupted production at its new Tongon mine.
Much of Tongon's gold remained unsold, $33 million worth, as disputes over a November election in the Ivory Coast prevented the company from being able to sell the gold. Tongon produced 28,126 ounces but only sold 4,698. Production is reportedly functioning normally.
As for Loulo, both underground and open pit, production was hurt by expansion plans in the plant and a lack of strong throughput, the amount of ore passed through the mill. During the quarter, Loulo produced 80,332 ounces of gold at total cash cost of $799 an ounce.
Randgold estimates it can produce between 750,000 and 790,000 ounces of gold in 2011 at cash costs lower than $600 per ounce while battling higher oil prices and higher royalties. Despite the fact that Randgold is making more for its gold, it must also hand over more in royalty payments. The company is hoping higher grades will offset increasing costs.
Newmont Mining took the cake for worst gold report. The company made $1.61 a share in the fourth quarter, which blew past estimates, on revenues of $2.55 billion. The $28.3 billion company produced 1.4 million ounces of gold in the fourth quarter and sold them for $1,366 per ounce, leaving a $854 profit margin.
Newmont's 2011 isn't as rosy, which is why the stock took such a hit. The company expects to produce between 5.1 and 5.3 million ounces of gold in 2011, which is slightly lower than 2010's production rate of 5.4 million ounces. Copper production is expected to be between 190 to 220 million pounds, a steep fall from 2010's 327 million pounds.
Newmont is running into problems with lower grade gold at its Boddington mine in Australia as well as lower mill throughput. Its Batu Hijau mine will also be producing less in 2011 primarily due to Newmont processing stockpiles at the site. Cash costs for the company are expected to be around $560-$590 an ounce, which are also slightly higher than 2010 due to rising input and labor costs.
Newmont's overall operating costs for the fourth quarter were up 18% from the same period a year earlier at $1 billion. The company saw record cash flow for the year of $3.2 billion, but also saw operating activities rise to $3.1 billion.
Newmont also increased its gold reserves by 1.7 million ounces and is hoping its recent purchase of
Fronteer Gold
( FRG) for $2.3 billion will only keep reserves growing.
The worst kept secret in the gold community was that Newmont and
Barrick Gold
(ABX)
would have to make an acquisition to replenish their gold reserves. Its peers,
Goldcorp
(GG)
,
Kinross Gold
(KGC) - Get Kinross Gold Corporation Report
and
Agnico-Eagle
(AEM) - Get Agnico Eagle Mines Limited Report
, all had to pony up the cash in 2010 to find more gold.
Newmont's purchase of Fronteer has removed this headwind for the company. It's solved the question marks of how to get more gold, when it will happen and at what price tag. In total, the company has just purchased measured and indicated gold resources of 4.2 million ounces at roughly $547 per ounce.
For all gold companies, cash costs are their bread and butter, but as the prices of raw materials rise so do energy and input costs, and as the gold price stalls out, so can their profit margins. It should be noted that most big gold producers only need gold prices to stay above $1,000 for them to keep making serious money.
--
Written by Alix Steel in
New York.
>To contact the writer of this article, click here:
Alix Steel
.
>To follow the writer on Twitter, go to
.
>To submit a news tip, send an email to:
.
Disclosure: TheStreet's editorial policy prohibits staff editors and reporters from holding positions in any individual stocks.