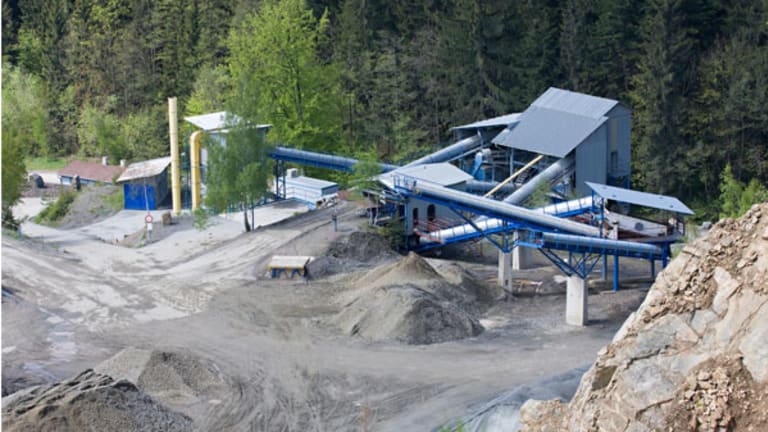 Gold Miner Prospects: Five Stocks to Watch
From Kinross, Barrick and Goldcorp, to Newmont and Yamana, these are the five gold-mining stocks to watch as gold-miner earnings season kicks off.
NEW YORK (TheStreet) -- Quarterly earnings don't normally move shares of gold-mining companies.
When
Rangold Resources
(GOLD) - Get Free Report
, for example, reported a fourth-quarter profit three times what it made in the year-ago period and beat Wall Street's expectations by 11 cents, its stock price dropped by 2.6%.
But investors do pay attention, and do react, to the production outlooks and mine-development updates that companies provide within their earnings reports.
Any gold miner, after all, whether a bearded Levis-wearing '49er or a Toronto-based corporate titan, must always be prospecting -- and staking claims. Combined with rising gold prices, the engines of miner growth are fueled by finding, developing and bringing mines online -- whether through the acquisition of smaller exploration outfits or via their own fortune-seeking efforts.
With that in mind, grab your pans and your pick axes as
TheStreet
parses the prospects of five stocks worth watching through the upcoming gold-miner earnings season, which kicks off Wednesday when
Kinross Gold
(KGC) - Get Free Report
reports its fourth-quarter results after the market close. Read on....
Barrick Gold
Barrick Gold
(ABX)
, the largest precious-metals producer in the world when judged by revenue and stock-market value (the latter more than $36 billion as of the close of trading Friday), spent 2009 belatedly unwinding its gold hedges, as prices for the malleable metal were toying with and rising above the mystical $1,000-per-ounce level.
You might describe the move as massively belated, since the bull market in bullion had been (or continues to be, depending on your bent of mind) ongoing for the last decade. Indeed, Barrick was the last of the major miners to remove its hedges. Doing so was a costly endeavor. The company "essentially ate up all the retained earnings they'd made over the last twenty years," estimates John Doody, founder and publisher of the newsletter
Gold Stock Analyst
.
Still, by removing those hedges -- meant to protect the company against weakening gold values -- many observers have argued that Barrick also removed the drag on its profits and thus its share price. But the company finished unwinding its positions on Dec. 1, just in time for the price of gold to start, well, weakening. The yellow metal has fallen back toward $1,000 an ounce since touching its record high of $1,227.50 back on Dec. 3. Barrick's share price, meanwhile, has lost 20% over the same period.
Despite the hedging dramas that have afflicted Barrick, "The market appreciates that they're a very good developer of mines," says Caesar Bryan, portfolio manager at the Gamco Gold Fund. He said investors will be looking closely for updates on several of the company's new projects, including progress on the ultra-low cost (but environmentally controversial) Pascua-Lama mine, 15,000 feet into the Andes on the Chilean-Argentine border.
Another of the company's developments -- the Cortez Hills project, in Nevada -- has also met with controversy, and may have taken the place of those gold hedges in casting a shadow over Barrick's share price, says John Doody.
Several environmental groups and a band of Shoshone Indians have filed suit against Barrick in an attempt to block the opening of the aptly named Cortez. In a plot that would surpass cliche if it weren't real -- indeed, James Cameron could have borrowed it for his latest film -- the anti-Cortez groups argue that the Nevada mine threatens to scarify a portion of Mt. Talopo, which some Shoshone consider sacred ground, and that the water used by the project would permanently sap the mountain's streams and rivers.
Cortez, a combined open-pit and underground mine that Barrick spent more than half a billion dollars to build, is all but ready to go. The company says the site will produce about a million ounces of gold a year. But since the mine is tied up in the battlegrounds of the real, non-IMAX world -- which is to say the injunctions and filings and appeals of the legal system -- no one knows when or if Cortez will begin production in earnest.
Meanwhile, Barrick will report its fourth-quarter results on Thursday. Analysts are looking for earnings of 59 cents a share on revenue of $2.4 billion, up from 32 cents a share and $2.1 billion a year ago.
GoldCorp
Investors will scan
Goldcorp's
(GG)
quarterly earnings report, set for release March 11, for updates on the Penasquito mine in Mexico, which the company just started ramping up late last year.
Barrick's Vancouver-based archrival, second-biggest by market cap of the gold majors at $27.2 billion, expects Penasquito (an ore body discovered years ago by the old Kennecot Copper Co.) to produce some 180,000 ounces of gold this year. But that amounts to a baby step toward the lode's ultimate potential, on which the company has almost completely based its ambitions for the next five years: to increase its gold production by half.
Over the course of a projected lifespan of 22 years, Goldcorp expects to bring 500,000 ounces of gold out of the Penasquito earth on average each year (along with 30 million ounces of silver and 400 million pounds of zinc; indeed Goldcorp traditionally has mined more base metals than any of its peers). In 2009, by comparison, Goldcorp in total produced 2.3 million ounces of gold.
Partly because of its growth prospects,
driven by an acquisitive dealmaking strategy
, investors have made Goldcorp's stock the best performing among the gold majors -- which, as a group, have done poorly compared to shares of the junior and mid-tier gold prospecting concerns. An ugly January for mining shares in general has left Goldcorp's stock up 17% for the last 52 weeks, while hedge-burdened Barrick has lost 3% over the last year and Kinross nearly 4%.
(Gold itself is up 15.7% from the same time a year ago. All the fuss over bullion becomes curious when one realizes that its much ballyhooed rise has been easily bested by the good old S&P 500, up 30% over the last 52 weeks.)
As for Goldcorp and its fourth quarter, analysts are looking for the company to earn 24 cents a share on revenue of a little more than $732 million. A year ago, profit came to 12 cents a share and revenue $609 million.
Kinross Gold
Perhaps more than any other gold major,
Kinross
(KGC) - Get Free Report
prefers to explore for its own lodes, as opposed to acquiring junior miners who have already spent the time and energy on the prospecting.
Development snags, and therefore higher costs, have hit one of Kinross' most important projects, the Paracatu mine in Brazil. Not surprisingly, then, Kinross shares have lagged the gold group even more than Barrick.
Investors will be looking for updates on Paracatu when Kinross reports on Wednesday.
The mine ranks among the sparsest of any in the world when it comes to gold content -- less than half a gram (a few flakes of the element, really) per every ton of rock. Indeed, one of the problems has been that the company hasn't recovered as much gold from all that rock as it had expected, thought it says this is a technical issue, not a fundamental miscalculation of the amount of metal in the ground. Still, low labor costs will allow Kinross to operate the project profitably -- so long as gold prices remain at these levels and the company can get the mine up to speed.
The ramp-up snafus, which forced Kinross to miss analysts' third-quarter targets, have left many market watchers cold on shares of the Toronto-based company. "I don't like Kinross as an investment," says Doody, succinctly. He also points to the company's large-scale operation in Russia -- "and I don't want to be anywhere near Russia." He cites corruption concerns. "From Putin on down, they're kleptocrats...
"...in my opinion."
For Kinross's fourth quarter, analysts are expecting a bottom line of 16 cents a share, on revenue of about $663 million. That compares with year-ago figures of 9 cents a share and $484 million.
Newmont Mining
Newmont Mining
, based in Denver, has been tarred with a reputation for slow growth.
Some in the mining world attribute this to Canadian bias, since a vast majority of the mining concerns with corporate headquarters in North America pay their taxes in Canada. And, as such, most of the industry's bankers and equity analysts work for firms based near the miners in the towers of Toronto and Vancouver.
According to Gamco's Caesar Bryan, this inclination to dis Newmont makes the company's stock a "value play." (As of Friday's close, Newmont shares traded at 14.8 times Wall Street's 2010 consensus earnings forecast. That compares to a forward multiple of 27.6 and 29.3 on Kinross' and Goldcorp's stock, respectively. Barrick shares go for about 13.8 times projected 2010 profit.)
Bryan points to Newmont's ambitions Down Under, where the open-pit Boddington project -- an old mine acquired and refurbished by the company after it found other deposits at the site -- promises to become Australia's biggest gold mine once it reaches full capacity. For the first five years of production at Boddington, Newmont is hoping to extract a million ounces of gold annually.
"I think Newmont could actually surprise some people," says Bryan.
Doody, for one, who lives and works out of South Florida, agrees with the Canadians: "I don't like Newmont because there's no growth," he says.
Analysts are looking for Newmont to earn 76 cents a share in the fourth quarter on revenue of $2 billion. In the corresponding period of 2008, the company posted 26 cents a share on the bottom line and $1.3 billion on the top.
Yamana Gold
Mid-tier producer
Yamana Gold
(AUY) - Get Free Report
, by contrast to Newmont, is known as a high-growth operator.
As such, investors have paid up for its stock, which is expensive when judged by a valuation metric that divides a miner's market cap by every ounce of gold it has in production. For Yamana, that measure stands at $720 per ounce, compared with an industry average of $500, according to John Doody's calculations.
But the company's planned expansion from 1 million ounces of gold in 2009 to 1.5 million in 2013 makes Yamana stock a good buy -- once again, in Doody's opinion. He says the Toronto-based miner, which has assets in Brazil, Chile, Argentina and Mexico, has done a good job of laying out -- and proving out -- its planned pipeline of yellow-metal output. "There's no if-and-or-maybe kind of stuff," Doody says.
Others are a bit more circumspect. "I've got a small position in Yamana," says Bryan. "But I'm a little concerned." He notes that the company has faced problems with the grade of ore found at its Brazilian sites. Therefore, cash costs could be higher than anticipated.
Furthermore, he says, the company owns "an awful lot of mines. There are quite a lot of moving parts -- lots of bits and pieces -- and it's a challenge to bring it all together."
Analysts are expecting Yamana to turn a profit of 17 cents a share in its fourth quarter, on revenue of about $434 million. (It will report results on March 4.) Both figures are up enormously from the year-ago period, when the company earned 5 cents a share on revenue of $114 million.
-- Written by Scott Eden in New York
RELATED STORIES:
>>Gold Miner Losers: Kinross, Yamana
>>Dealmaking Goldcorp Sees Record 2010
Scott Eden has covered business -- both large and small -- for more than a decade. Prior to joining TheStreet.com, he worked as a features reporter for Dealmaker and Trader Monthly magazines. Before that, he wrote for the Chicago Reader, that city's weekly paper. Early in his career, he was a staff reporter at the Dow Jones News Service. His reporting has appeared in The Wall Street Journal, Men's Journal, the St. Petersburg (Fla.) Times, and the Believer magazine, among other publications. He's also the author of Touchdown Jesus (Simon & Schuster, 2005), a nonfiction book about Notre Dame football fans and the business and politics of big-time college sports. He has degrees from Notre Dame and Washington University in St. Louis.