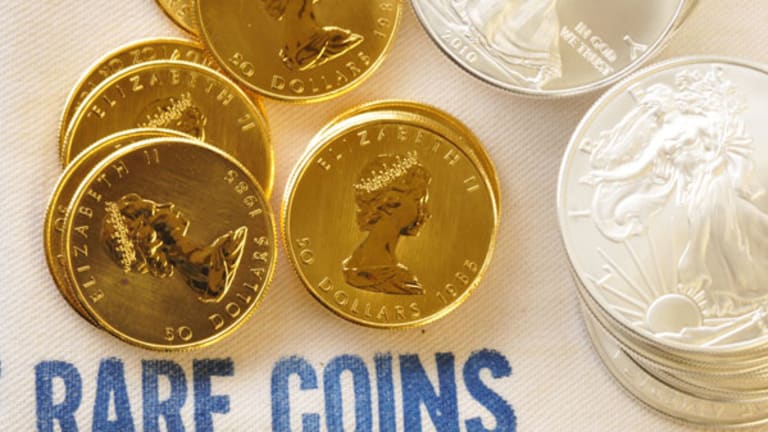 Gold Loses Safe-Haven Appeal
Gold spot prices suffered Thursday as ETFs drop gold and the metal can't find buyers.
NEW YORK (
) --
suffered more losses Thursday on lackluster physical buying as gold's appeal as a safe haven deteriorated.
Gold for February delivery dropped $14.60 to $1,318.40 an ounce at the Comex division of the New York Mercantile Exchange. But the futures market wasn't where gold was getting killed. The spot gold price was sinking more than $28, according to Kitco's gold index.
The gold price on the Comex was still stuck its recent range, trading as high as $1,347.50 and as low as $1,315.70 during Thursday's session. Gold is now testing its $1,315 support level. If prices can't hold, the next downward step is $1,265 an ounce.
The
was down 0.05% to $77.76 but the dollar itself was rising 0.72% against the yen after Japan received a credit downgrade from Standard & Poor's to AA-, its first downgrade in nine years.
Gold prices were down in every currency as the risk-on trade was eroding gold's shine, despite a jump in U.S. weekly jobless claims. The
SPDR Gold Shares
(GLD)
exchange-traded fund stemmed its losses Wednesday currently holding pat at 1,229.58 tons but its huge 42-ton decline this week combined with a lack of buyers has left extra supply in the market.
Gold's decline Thursday in the physical market just points to how influential gold ETFs can be. The futures market was struggling also but not as badly as traders took a breather. It was the spot price though that has to absorb a lack of ETF buying.
"Investors that are trading tactically in the gold market have taken some profits away from some of the other products," says Will Rhind, head of U.S. operations for ETF Securities. "However, the more strategic long-term investor is still very much part of the gold story."
Rhind says that ETF Securities' OTC business has seen no redemptions. The GLD has been a favorite trading vehicle as gold prices rise because it is so huge and liquid. ETF Securities' U.S. listed products --
ETFS Physical Gold
(SGOL)
and
ETFS Physical Asia Gold
(AGOL)
-- while growing, are much smaller.
Rhind says that if 2010 was any guide then a substantial dip in the spot price could bring in physical buyers like jewelry buyers. Jewelry demand increased 18% in the first nine months of 2010.
Part of Thursday's slip could also be related to sell stops, which means that traders sell when prices breach a certain level to lock in gains. "More sellers appeared after option expiration, which is not unusual," says George Gero, senior vice president at Lind-Waldock, "chart selling for now may continue until next week."
Another side of Thursday's weakness may be good old-fashioned profit-taking. Prices popped on Wednesday after the
Federal Reserve
concluded its first policy-making meeting of the year. The key points were that there was no change to the Fed's $600 billion bond buying program and little to no dissent. The Fed also acknowledged higher commodity prices in the short term but argued that inflation was still well below its mandate, leaving the door open for a more accommodative monetary policy.
Gold bugs took this as a green light for more money printing and possible inflation ahead.
, in Davos, said in recent interviews that the rally in commodities may remain for "a couple of years" before the supply/demand picture levels out.
Soros took some heat in 2010 for saying that gold is the ultimate bubble and for reducing his position in the GLD. Soros, however, simply bought shares of the
iShares Gold Trust
(IAU)
, the cheapest gold ETF. Soros cited a lack of confidence in currencies as a reason for owning commodities.
Gold's Fed rally, however, didn't last overnight and gold was not really fulfilling its safe-haven role in response to Japan's downgrade.
Cooling in China is another wild card for gold prices. The International Monetary Fund said it expects China to grow 9.6% in 2011 and 9.5% in 2012. If that is too hot for China, then more rate hikes are in the cards which would pressure gold. But until the country tames inflation, gold still makes a good alternative to the yuan.
James Moore, research analyst at
fastmarkets.com
, thinks that gold could test $1,265 if there is another rate hike and if gold plummets through the $1,315 level. "But, we still see the combination of rising inflation; possibility of doubledip recession in the U.K., huge deficit issues in numerous economies and the effects of quantitative easing as bullish for gold over the mid-to-longer-term."
were down 9 cents to $27.03 while copper closed up 7 cents to $4.33.
, a riskier way to
, were struggling.
Kinross Gold
(KGC)
was down 1.81% at $16.84 while
NovaGold
(NG)
was shedding 3.62% at $13.28. Other gold stocks
New Gold
(NGD)
and
Gold Fields
(GFI)
were trading at $7.77 and $15.98, respectively.
HSBC upgraded
Randgold Resources
(GOLD)
Thursday to overweight from hold and shares were stemming losses, down only 0.22% to $76.79.
--
Written by Alix Steel in
New York.
>To contact the writer of this article, click here:
Alix Steel
.
>To follow the writer on Twitter, go to
.
>To submit a news tip, send an email to:
.
Disclosure: TheStreet's editorial policy prohibits staff editors and reporters from holding positions in any individual stocks.