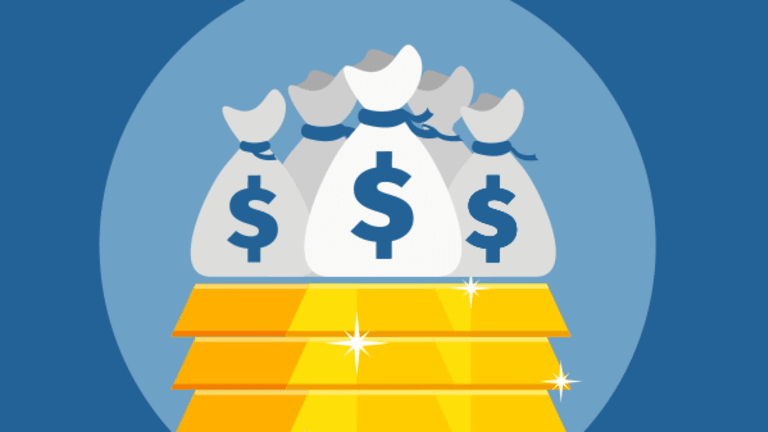 Gold Is Itching to Have a Major Breakout -- Here's How to Trade It
The GLD ETF is setting up for a major move higher if these levels get taken out.
The geopolitical situation with North Korea has been heating up again, after Kim Jong Un threatened to launch a missile toward the U.S. territory of Guam.
Some recent reports from the Associated Press suggest that North Korea plans to fire four ballistic missiles towards Guam, and have those missiles hit the water from 19 to 25 miles away from the U.S. territory in the western Pacific Ocean. Regime officials in North Korea reportedly plan to present a proposal to Kim Jong Un for approval within a week, and this news has invoked a strong response from U.S. President Donald Trump, who said on Tuesday, "they will be met with fire and fury like the world has never seen."
Trump has since said the U.S. is "locked and loaded." 
With this situation heating up literally by the minute, it's time to take a look at the chart for the SPDR Gold Trust ETF (GLD) . TheStreet's founder Jim Cramer, who also manages the Action Alerts PLUS charitable trust portfolio, also said investors can buy the GLD ETF or Randgold Resources Ltd. (GOLD) . Here's the rest of Cramer's suggestions in case further action is taken. 
Shares of the SPDR Gold Trust have had a strong rally over the last six weeks, after it double-bottomed in early July at $114.80 a share. That double-bottom was confirmed after GLD found some buyers just above some previous support near $114 a share. Following that bottom, shares of the SPDR Gold Trust rallied sharply, moving back above both its 200-day and 50-day moving averages.
At last check, GLD is up modestly on Friday morning by 0.18% to $122.43 a share.
If we zoom out to a two-year daily chart for the SPDR Gold Trust, we can see that a major development is starting to take shape for this gold ETF. That development is a major breakout over a key downtrend line that has acted as major resistance.
The SPDR Gold Trust has started to poke its head above that major downtrend line over the last few trading sessions, and it's starting to approach another key breakout trade over some near-term resistance levels between $123.31 to around $125 a share. A confirmed breakout above those levels, combined with the move above that key downtrend line would be a very bullish development for GLD.
Traders should now look for long-biased trades in GLD if this ETF manages to clear some near-term overhead resistance levels between $123.31 to ~$125 a share with strong volume. Look for a sustained move or close above those levels with volume that hits near or above its three-month average of 6.92 million shares.
It's likely that the first poke above that massive downtrend line for the GLD will be faded, so I see this ETF trending back towards its 50-day moving average of around $119 a share, before restarting its uptrend and making a run for that breakout over the previously mentioned near-term overhead resistance levels.
If that breakout triggers soon, then this ETF will set up to make a run at $130 to $131 a share, and likely much higher since we would get confirmation that the bulls are back in control above that key downtrend line. Look to buy the dip on GLD back to the 50-day, or get long once that breakout triggers with volume.
This article is commentary by an independent contributor. At the time of publication, the author held no positions in the stocks mentioned.