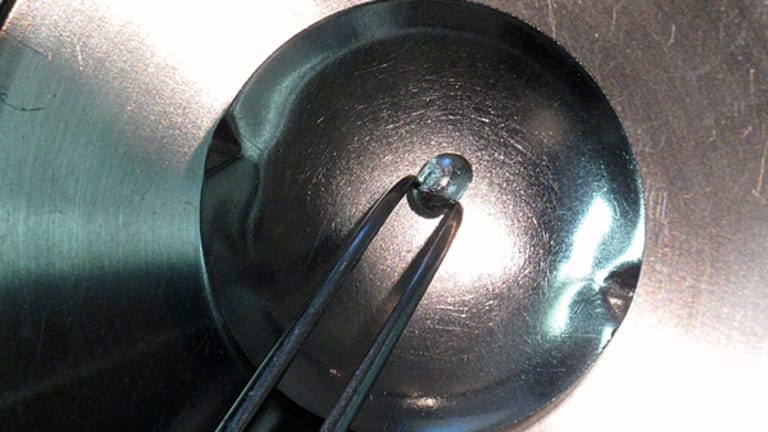 Gold Hedges Can Tarnish a Miner's Stock
If you think gold prices are going higher, avoid the fool's gold of mining stocks burdened by hedges on the precious metal.
If you think gold prices are going higher, avoid the fool's gold of mining stocks burdened by hedges on the precious metal.
NEW YORK (
) -- If you think gold prices are going higher, avoid the fool's gold of mining stocks burdened by hedges on the precious metal.
Hedges allow a gold production company to sell product at a set price, which can guarantee a certain profit if gold prices fall. When the spot price soars, however, hedging caps the company's earnings potential.
Barrick Gold
(ABX)
,
AngloGold Ashanti
(AU) - Get Report
,
Kinross Gold
(KGC) - Get Report
and
Apollo Gold
(AGT) - Get Report
are among the companies whose profits are potentially limited in this manner.
With gold futures trading over $1,000, hedging is a "dirty word" to many investors, says Matthew Piggott, a metals analyst at GFMS. Investors "buy mining companies as a play to get leverage to gold and if a producer has hedged away the leverage by fixing their revenue with hedging them...investors in general look down on that."
Buy This Gold Stock
A global hedge book analysis of the second quarter by GFMS shows that de-hedging declined in the past 10 years from 3,100 tons in 1999 to 458 tons this past June. Nevertheless, Piggott says that "anyone who hedged into the bull-run is still losing money."
Sometimes producers have no choice. They inherit hedges from mergers, and banks often require producers to hedge in order to secure project financing. Piggott says that required hedging by banks "is not a bad reflection on the company trying to secure the financing... A company with a good credit rating, strong balance sheet and positive cash flow each quarter may still be required to hedge."
But regardless of why a company has to hedge, hedging limits profit potential and an investor should consider avoiding these stocks. Let's break them down:
Barrick Gold announced on Sept. 9 it would close out its hedges on fixed price contracts and a portion of its floating price contracts. This will give the company a wider exposure to current spot price, but not until those hedges are unwound. Piggott predicts the company will begin settling contracts in the third quarter and that this will last well into the fourth quarter. Also, Barrick will retain a portion of hedges in floating contracts.
AngloGold Ashanti has also made moves to de-hedge recently. The company had 4.4 million ounces of hedges in June and by July only 3.8 million. Piggott believes the company will continue this trend.
Kinross Gold is the third largest hedging company with 600,000 ounces. The company inherited hedges from Bema Gold, which it acquired in February 2007, and has been buying back hedges ever since. Lisa Doddridge, director investor relations, says that the company has a "policy of de-hedging" and has entered into offsetting existing hedges at $850. Doddridge says Kinross' hedges do not hurt profit, share price or investors.
Apollo Gold is a small gold producing company with a market cap of $115 million. According to GFMS, Apollo de-hedged 9,635 ounces in the second quarter, but still has 240,765 ounces of hedges due to project financing.
De-hedging will most likely continue into 2010 as companies anticipate strong gold prices and look to capitalize.
But in the meantime, investors should be cautious with these stocks that don't give you the best gold for your buck.
--
Written by Alix Steel in New York.
Alix joined TheStreet.com TV in February 2007. Previously, she held positions in film and theater production, management, and legal administration. Alix has a degree in communications and theater from Northwestern University.