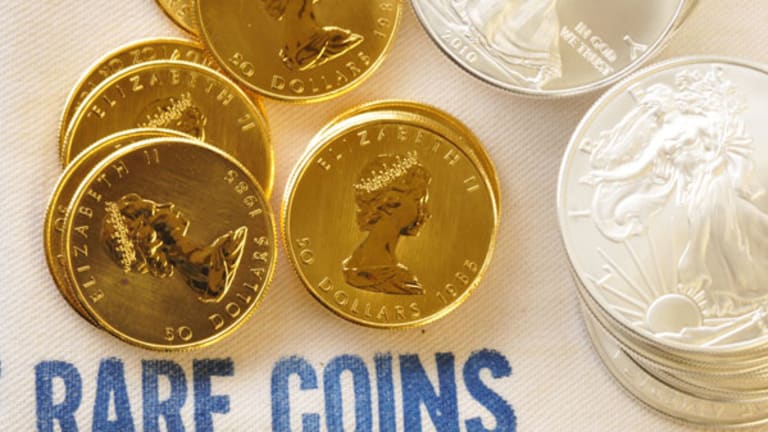 Gold Finds Buyers but Ride Still Bumpy
Gold prices rallied slightly Monday as investors bought the metal after last week's selloff.
NEW YORK (
) -- A resurgence in investment demand propped up
Monday, but the ongoing battle between profit-takers and bargain-hunters promises to keep gold in a tight range.
Gold for February delivery added $3.50 to $1,344.50 an ounce at the Comex division of the New York Mercantile Exchange. The gold price traded as high as $1,352.40 and as low as $1,340.70 during Monday's session, while the spot gold price gave up its gains and dipped $2.70, according to Kitco's gold index.
The
was down 0.18% to $78.07 while the euro was flat at $1.36 vs. the dollar.
Gold exchange-traded fund investors were hot for shares Friday.
SPDR Gold Shares
(GLD) - Get SPDR Gold Trust Report
added almost 20 tons in one day as investors jumped on gold's 5.6% 2011 selloff to buy the metal.
iShares Gold Trust
(IAU) - Get iShares Gold Trust Report
, the less expensive ETF, has not lost or added since Dec. 23.
Silver didn't fare quite as well as the silver ETF --
iShares Silver Trust
(SLV) - Get iShares Silver Trust Report
-- dropped 180 tons on Friday. Important to keep in mind is that Saturday was options expiration and the same kind of tonnage increase in the GLD happened in last month. Prior to options expiring on Dec. 18, also a Saturday, the GLD added 15.18 tons on Dec. 17 as traders sought gold to hedge their future contracts.
Whether the increase Friday signals technical trading or a new buyer, this kind of schizophrenia in the precious metal trade won't die out anytime soon as traders battle with a risk on/risk off mentality.
"The build in SPDR holdings Friday again indicates the scale of pent-up demand below the market due to ongoing concerns over debt-default in the eurozone and rising inflation fears," argues James Moore, research analyst at
fastmarkets.com
.
The uptrend for gold and silver will largely depend on investor dip-buying. Investors are unlikely to commit a huge amount of new money to gold and silver if they think there could be another selloff or if they feel better about a global recovery. But big double-digit declines will entice some traders to buy up the metal.
David Morgan, founder of
Silver-Investor.com
, is still not buying any gold or silver. "I might try to scale in on the way down if we get low enough. Right now the next support level, and it's a good one, is about $1,330 for gold so I am going to watch this one very closely," Morgan says.
Even if gold does bounce, which it is doing Monday, prices could still retrace and come back towards the $1,330 level, Morgan says.
Those buying gold as a safety net against inflation could be in for a bumpy ride.
It's hard to say how the inflation drama will play out for precious metals and gold in particular. Countries like Brazil, China, India as well as the United Kingdom and European Union nations have reported higher-than-expected inflation in 2010. The U.K. is flirting with inflation of 4% and expects inflation to continue higher in the short term. The EU is more moderate at 2.2% but still above the 2% target rate. Emerging-market inflation is a lot higher; it's moved above 5% for China and Brazil, whereas inflation in the United States is still a meager 0.8%.
The reason the U.S. isn't registering higher inflation is that the country excludes food and energy prices, which are volatile and have seen a meteoric rise in 2010. According to reports, world foods prices rose 25% in 2010, while corn alone rallied 79%.
In general, inflation is good for gold -- as prices rise faster than interest rates negative real interest rates ensue. A negative rate means the local currency is worth less leading many people to buy gold as a safe place to store their wealth.
There has also been chatter that the rise in the 10-year U.S. Treasury yield points to long-term inflation worries. If investors think the U.S. dollar will be worth less in the future, they are less apt to lend money to the country and interest rates must rise to entice them.
Those calling for $2,000 gold cite inflation and sovereign debt crises as the main drivers, but the rally might not be so simple.
Central banks' biggest tool to fight inflation is to raise key interest rates. China recently did so but rates are still a negative 1.85% so it would take a lot more than hikes of 50 basis points to start reversing the trend. Nevertheless, leaders like Jean-Claude Trichet, president of the European Central Bank, seem committed to fighting inflation first before worrying about growth in the EU nations. Trichet has said he is monitoring inflation very closely and isn't committed to low rates for any specific time frame.
India's central bank meets Tuesday and the expectation is that it will raise key interest rates for the seventh time in the last year. Inflation in December was more than 8% so a hike of 25 or 50 basis points likely will do little to change the negative interest rate picture in the short term.
Gold investors will also be taking their cue from the
Federal Reserve
and its first policy-making meeting of 2011. Rates will most likely stay unchanged at 0%-0.25%, but with yields rising and investor optimism improving, investors will look for signs that the Fed will alter its $600 billion bond buying program or raise rates sooner than expected.
Any rate raise puts a squeeze on gold until physical buying steps in to support prices. One of the main physical buyers has been China as consumers there get ready for their two-week long New Year celebration kicking off on Feb. 3.
Xinhua News Agency
, the press arm of China, said that gold output ballooned 14.89% year over year in 2010 in China's Xinjiang Uygur Autonomous Region, one of China's biggest gold producers. Although China is mining more gold, it still needed to import more than 200 tons of the metal in the first 10 months of 2010 to satiate demand.
closed down 10 cents to $27.32 while copper was up 3 cents to $4.34.
, a risky but potentially lucrative way to
, were mixed.
Freeport McMoRan Copper & Gold
(FCX) - Get Freeport-McMoRan, Inc. (FCX) Report
was adding 0.82% at $109.29 while
Goldcorp
(GG)
was down 1.02% at $39.85. Other gold stocks
New Gold
(NGD) - Get New Gold Inc. Report
and
Gold Fields
(GFI) - Get Gold Fields Limited Sponsored ADR Report
were trading at $7.79 and $16.27, respectively.
--
Written by Alix Steel in New York.
Readers Also Like:
>>5 Best Energy Stocks for $100-Plus Oil
>To contact the writer of this article, click here:
Alix Steel
.
>To follow the writer on Twitter, go to
.
>To submit a news tip, send an email to:
.
Disclosure: TheStreet's editorial policy prohibits staff editors and reporters from holding positions in any individual stocks.