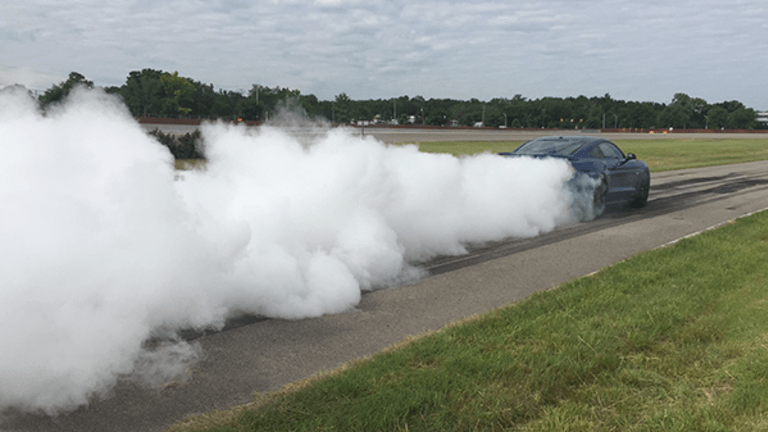 Ford's 2018 Mustang Will Have Rip-Your-Face-Off Horsepower and Be Virtually Silent
You don't want to miss out.
You don't want to miss out.
The 2018 Ford (F) - Get Report Mustang GT will be pretty impressive. 
Ford revealed recently that the new Mustang will have a "quiet" mode. By hitting the button, the Mustang's noise level will be cut in half. Ford also revealed the V8-powered GT will possess an impressive 460 horsepower, 5 horsepower more than the Chevy Camaro produced by rival General Motors (GM) - Get Report .
It will also have one key feature designed to get Mustang fans even more excited. 
The Mustang will debut an electronic line-lock as a standard feature on its upgraded 2018 Mustang powered by its turbocharged EcoBoost engine; a feature previously exclusive with the V8 GT.
The company said the feature, "one of many changes fans will see when the newest version of the iconic pony car races into showrooms later this year," will be available with the 10-speed SelectShift automatic or six-speed manual transmission.
Mark Schaller, Ford Mustang marketing manager, said in a statement that the automaker didn't want Mustang EcoBoost customers to "miss out" on the performance-enhancing feature. Electronic line-lock is used most commonly among drag racers, as it forces a stationary car to spin its wheels, heating up the rubber and creating a cloud of smoke for better traction on the road.
"The number of people choosing EcoBoost power continues to grow globally, and with the increased torque and new features coming on the new Mustang, customers will not be disappointed," Schaller said.
TheStreet's Brian Sozzi recently visited Ford's headquarters in Dearborn, Mich., where he got a sneak peak at the new charged-up 2018 Mustang.
Here's what he observed.
Watch More with TheStreet:
60 Second Tips: Back to School Tax Holidays
Will the Plant-Based 'Impossible Burger' Get FDA Approval?