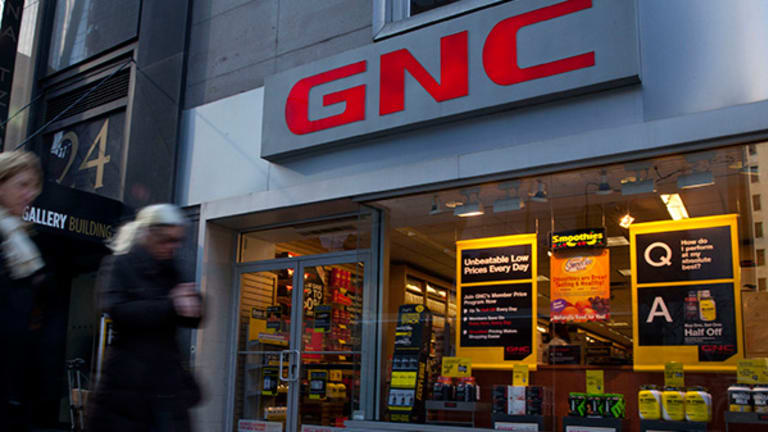 GNC's Stock Is Unhealthy and Unlikely to Improve for a While
The troubled, nutritional retailer closed all its bricks-and-mortar locations for a day in an effort to revamp its pricing, but its methods seem misguided.
Health and nutritional store GNC (GNC) - Get Report may be well known for selling protein powders to help weight lifters bulk up, but there's one other thing the company desperately needs to boost: its stock.
Shares of GNC have fallen by nearly 65% year to date, losing nearly 4% of their value during Wednesday trading.
This most recent decline may have stemmed from the announcement yesterday that the company had temporarily shuttered all its stores. The company's goal was to simplify and lower its pricing in an attempt to compete with e-commerce sites that have been able to undercut the company. But GNC has gone about things the wrong way and remains a stock to avoid. 
Granted, the company's business desperately needs an overhaul. Sales and revenue at GNC have taken deeper-than-expected plunges during the year. For the third quarter, the results of which were posted in October, sales at established, company-owned stores fell by 8.5%. That included sales made through the company's Web site.
One of the biggest complaints about GNC is its confusing pricing system. Prices for the same items can vary among stores and the company's Web site. The company's different pricing for loyalty program members is similarly confusing.
In struggling to compete with e-commerce giants such as Amazon, retailers have been forced to contend with shoppers who can find lower prices for goods online with the touch of a smartphone button. Efforts at streamlining prices in bricks-and-mortar locations and eliminating the need for coupon cutting have not been successful, as J.C. Penney can attest.
Some stores, such as GNC and home goods retailers IKEA and Restoration Hardware have created loyalty programs that offer members special discounts, in lieu of holding big sales events.
However, especially in GNC's case, that has only added to the confusion.
That's why the company closed all 4,000-plus locations yesterday and is reopening them today with a simplified pricing structure. According to the company, this "new GNC" will offer lower prices than before on approximately half its merchandise, while roughly one-third will have higher ticket prices.
The company also aims to create an improved rewards program.
All these efforts at revamping the company come courtesy of interim CEO Robert Moran, who took over from the departed Michael Archbold in July.
To be sure, a new and improved business practice is sorely needed.
However, GNC is going about it the wrong way.
The week following Christmas is a disastrous time to close a store's locations. Not only are customers looking to spend the gift cards they received in their stockings, but many Americans are making solemn vows to improve their health and fitness in the New Year.
For a number of consumers, that means stocking up on vitamins and nutritional supplements. With GNC stores closed, many may have opted for Amazon's Prime delivery service. In addition, Amazon is running a Prime Now promotion, in which consumers receive products at their doorstep in two hours for free.
Perhaps GNC will improve its business and see healthy sales again. However, any profits for the company's investors will take a while to arrive and may follow some possible, additional dips in share price. GNC is too risky a stock now.
---
A blistering financial storm is about to hit our shores. When it hits, weak companies and their investors will be washed away. You need to put yourself on solid ground. And that doesn't just mean changing your investment allocations or loading up on cash. I'll show you how to protect yourself and prosper when you click here.
The author is an independent contributor who at the time of publication owned none of the stocks mentioned.