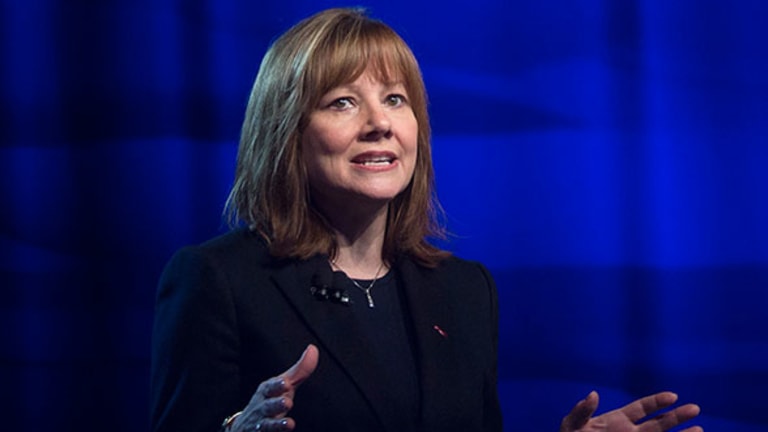 Publish date:
Ford Follows GM's Lead Vowing to Return Cash to Shareholders
The automaker expects to earn between $6 and $6.50 per share, compared to a $5.71 estimate, and added $5 billion to its buyback in anticipation of a strong year
The automaker expects to earn between $6 and $6.50 per share, compared to a $5.71 estimate, and added $5 billion to its buyback in anticipation of a strong year
Ford Motor (F) - Get Ford Motor Company Reportafter hours Tuesday added to the chorus of good news coming out of the Detroit auto show, reaffirming its full-year guidance and adding $200 million in one-time payments to its quarterly dividend.
Dearborn, Mich.-based Ford said that its board had declared a first quarter dividend of 15 cents per share, equal to the same quarter of last year, and a supplemental cash payment that is equal to 5 cents per share. Subject to board approval Ford is now on track to pay out $2.8 billion to shareholders in 2017.
The announcement comes just hours after crosstown rival General Motors (GM) - Get General Motors Company (GM) Report on Tuesday upped full-year guidance and announced a new $5 billion share buyback, expressing significant optimism about 2017 despite a number of potential headwinds.
Company CEO Mary Barra, speaking at an investor conference in Detroit, said GM expects full year earnings of $6 to $6.50 per share, compared to consensus analyst expectations for earnings of $5.71 per share, according to FactSet data. Shares of GM and Ford jumped on the outlook, with GM rising 5% to a new 52-week high.
GM also forecasted higher revenue as well as about $6 billion in free cash flow that will give it the flexibility to up its existing $9 billion buyback plan by $5 billion.
Ford meanwhile maintained its previous guidance for "somewhat lower" pre-tax profits in 2017 compared to 2016, due largely to its investment in new technologies, but said it expects profitability to rebound in 2018. Ford said it expects about $10.2 billion in pre-tax profits in 2016, with an adjusted effective tax rate in the 30% range.
The U.S. auto industry enjoyed record sales in 2016, but some investors have expressed concerns that rising interest rates and President-elect Donald Trump's pledge to crack down on foreign manufacturing might eat into results in the year to come. CFRA Research analyst Efraim Levy in a note Monday predicted U.S. light sales would decline by 1.75% in 2017, and warned of the potential for pricing and volume pressure in China.
GM has been particularly aggressive in China, the world's largest vehicle market by volume, but has argued that its mix of higher-end products in the market should help soften any declines in sales.
Barra according to reporters in Detroit said that "our overall financial outlook for 2017 is based on expected strong performance in North America and China, strong growth of GM financial, continued cost efficiencies, improvement in South America and an ongoing strong vehicle launch cadence."
The company is benefitting in part due to its strong mix of SUVs and other higher-margin vehicles that are heavily in demand. GM president Dan Ammann in remarks called the strategy "fishing where the fish are." GM also expects about $2 billion in profits from non-car businesses, a grouping that includes both traditional revenue streams like finance and aftermarket but also ride sharing and other next-generation technologies.
Both companies are also focused on investing in the future. GM in the last year has made a series of moves to gain exposure to new technologies, including buying self-driving tech company Cruise Automation and investing $500 million in ride-hailing firm Lyft, and is celebrating the release of its critically-acclaimed Chevy Bolt vehicle.
At the auto show Ford has also detailed seven of 13 new electrified vehicles plans to introduce in the next five years, and last year acquired San Francisco-based crowd-sourced shuttle company Chariot.