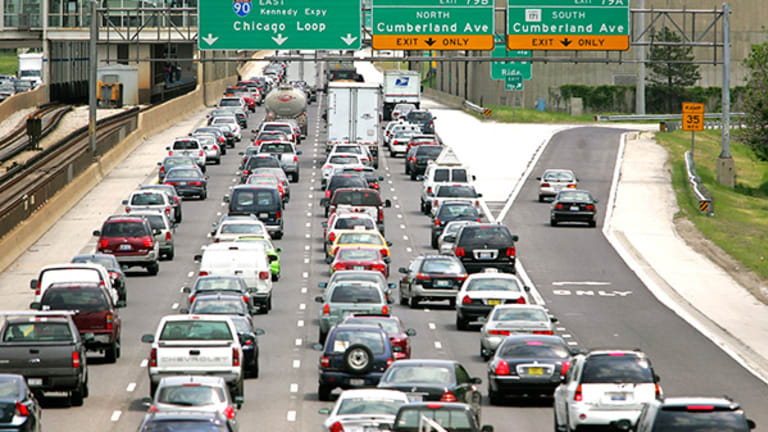 GM's Cautious Tone Sets Auto Parts Stocks Rising
Auto parts sellers could profit as more used cars hit the road.
General Motors Co.'s (GM) warning on 2017 auto sale reverberated through the market on Tuesday as aftermarket and refurbished auto parts makers and retailers rose.
The auto giant's Chief Financial Officer Charles K. Stevens told analysts Monday, June 26, that it expects industrywide light-vehicle sales to be several hundred thousand units under previous estimates, noting a 7% decline in year-over-year used vehicle prices. "The market is definitely slowing," he said.
A slowing auto market may be bad news for new vehicle manufacturers such as GM, but as drivers keep their cars on the road, auto parts sellers could profit off the rising number of clunkers in need of repair.
More used car sales could lead to a greater demand for car parts, and many top sellers saw their share prices make gains on the day's news.
Advanced Auto Parts, Inc. (AAP) , a Roanoke, Va.-based aftermarket retailer rose 1.71% yesterday to $121.79. This morning the stock rose another 0.35% to $122.22, though the company is still near its 52-week low of $118.26. Springfield, Mo.-based O'Reilly Automotive, Inc. (ORLY) was also up yesterday at $221.97, or 1.31%, but fell this morning to $221.62. Meanwhile, Atlanta-based Genuine Parts Company (GPC) , known for its NAPA Auto Parts brand, was up 0.46% on the day to $91.16 yesterday. The company fell slightly this morning to $90.93. 
Wholesale manufacturers have been more mixed. LKQ Corporation (LKQ) , a Chicago-based wholesale manufacturer, focused on used and refurbished auto parts, increased by 1.24 % yesterday to $32.67, continuing an ascent that began Friday, June 23. The stock has remained put this morning. Lear Corporation (LEA) rose 1.29% to $139.80 yesterday, but fell this morning 2.64% to $136.13. Dana Inc (DAN) rose 1.79% to $21.56 yesterday, but has fallen 2.37% this morning to $21.07.