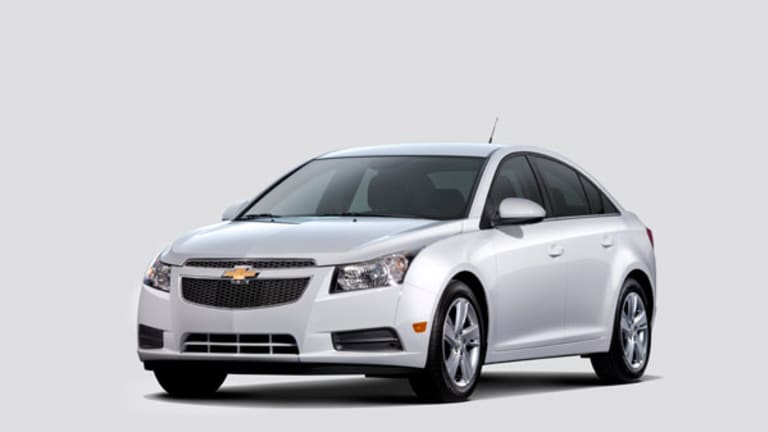 GM Returns to U.S. Diesel Car Market
GM is ready to move beyond the 1979 Oldsmobile Cutlass Supreme Diesel, a failed effort to sell U.S. drivers on diesel engines.
CHICAGO (
) --
GM
(GM) - Get General Motors Company (GM) Report
moved Friday to reignite the U.S. diesel car market as it rolled out the 2014 Cruze diesel at the Chicago Auto Show.
Offering a diesel engine passenger car "puts Chevrolet back in the conversation with
Mercedes-Benz,
Audi
,
Volkswagen
and
BMW
," all of which sell diesel cars in the U.S., said James Bell, GM's head of consumer affairs. None of the Detroit Three do so, although GM and
Ford
(GM) - Get General Motors Company (GM) Report
sell diesels outside the U.S.
"This gives GM customers another degree of choice, to pick the propulsion system that best fits their need, and it puts the Chevrolet brand in highfalutin company," Bell said.
In Europe, diesel-engine cars account for about half of the market, but in the U.S. the percentage is in the low single digits, even though diesel engines are more efficient at providing higher torque, or rotational power, in an engine. "The compression ratio in a diesel engine is much higher than in many gasoline engines," Bell said.
GM introduced the Cruze 2.0 Turbo Diesel at the Chicago Auto Show, rather than the Detroit Auto Show "because we didn't want it to get lost in the mix," Bell said. At the Detroit Auto Show last month, GM wanted attention focused on the unveiling of the Chevrolet Stingray and then benefited from the selection of Cadillac ATS as car of the year.
The Cruze diesel, produced in Lordstown, Ohio, starting in two months, will come to market this summer, with a list price of $25,695. That is more than the gasoline version, which starts at $17,940. It sounds high, but Bell noted that the average transaction price for a U.S. car is about $28,000 and that GM expects combined highway and city to be 42 miles per gallon, with mpg above 50 possible.
Clean diesel is most useful for highway driving, Bell said, because higher torque enables the engine to run at a lower RPM, which offers less benefit with stop-and-go city driving. Additionally, diesel engines are more durable.
Cruze diesel will mean one more fuel alternative to compliment the Volt.
"For many years, if you went to buy a car or truck, you picked the color but you knew you would use gasoline," Bell said. "Now you have clean diesel engines, electric cars and the Volt, which has both gasoline and electricity." Volt sales in 2012 reached 23,461, triple the 2011 level. GM's sales expectation for the Cruze diesel is a modest 10,000 vehicles per year, with sales concentrated on the East and West coasts.
GM has not had a passenger diesel car in the U.S. since the 1986 Chevrolet Chevette diesel. The 1979 Oldsmobile Cutlass Supreme diesel is considered to be one of the
10 worst
cars ever made. The failure of the Cutlass diesel "turned Americans off to diesel," said Edmunds.com editor-in-chief Scott Oldham, in a 2012 interview. "It is one of the reasons why diesel is still a bad word in this country."
The Cutlass Supreme diesel failed, Bell said, because "GM took existing engines and tried to modify them" for diesel. In reality, the engine must be thicker and stronger because "the combustion process for diesel is much more violent than for gasoline; the compression ratio is much higher."
This time, GM thinks it got diesel right.
-- Written by Ted Reed in Charlotte, N.C.
>To contact the writer of this article, click here:
Ted Reed