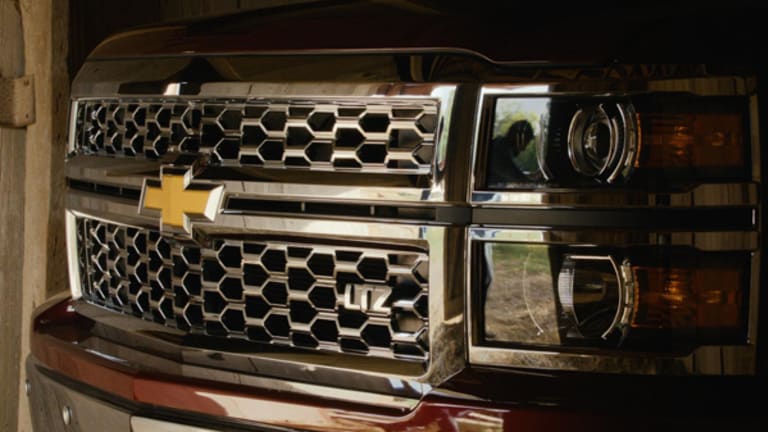 GM Over Ford Is Analyst's Call for 2014
UBS analyst Colin Langan anticipates that 2014 will be a better year for GM than for Ford, at least in the first half of the year, thanks to the benefit of the new Silverado rollout.
DETROIT (TheStreet) -- A leading auto industry analyst is projecting that GM (GM) - Get General Motors Company Report shares will perform better than Ford (F) - Get Ford Motor Company Report shares in the first half of 2014 and possibly beyond.
"While we believe both GM and Ford have compelling valuations, we see more positive catalysts for GM over the next six to nine months," wrote UBS analyst Colin Langan in a report issued Monday. He said GM will benefit from a sales ramp-up resulting from its 2014 Silverado introduction.
Meanwhile, Ford will "be negatively impacted by the downtime and costs associated with its full-size pickup launch" expected in July, and by the increased availability of the new Silverado, Langan wrote.
He cut full-year Ford earnings estimates to $1.60 a share in 2013, down from $1.63, and to $1.70 in 2014, down from $2. Consensus estimate are $1.66 a share for 2013 and $1.85 for 2014.
Langan also cut his full-year 2014 GM earnings estimate to $4.50 a share, down from $4.80. Consensus is $4.58.
Ford shares closed Monday at $16.94, down 7 cents. They are up 31% for the year. GM shares closed Monday at $37.55, down 8 cents. They are up 30% for the full year. Langan maintains buy ratings on both, although he cut target prices to $20 for Ford and to $50 for GM, reflecting cuts of $2 for both companies.
GM is "poised for a strong start to 2014," he said, noting that not only will pickup truck sales continue to rise, but also reduced launch costs will provide a moderate tailwind. Langan foresees a $2 billion increase in North America profits, a modest improvement in South America profit, improved profit in China and additional return to shareholders, possibly in the form of a share repurchase.
The reduced target price reflects the impact of European restructuring costs as well as more conservative North America production assumptions.
As for Ford, Langan called 2014 "a transition year," that will include rising competition for the F-150, a relatively small number of new launches, and costs associated with the shutdown of a Europe plant in Genk, Belgium, as well as with the new truck launch.
On the plus side, "Ford should exit 2014 with significant momentum into 2015 with the F-150 pickup ramp and Europe savings tailwinds," Langan wrote.
Written by Ted Reed in Charlotte, N.C.

To contact this writer, click here.

Follow @tedreednc