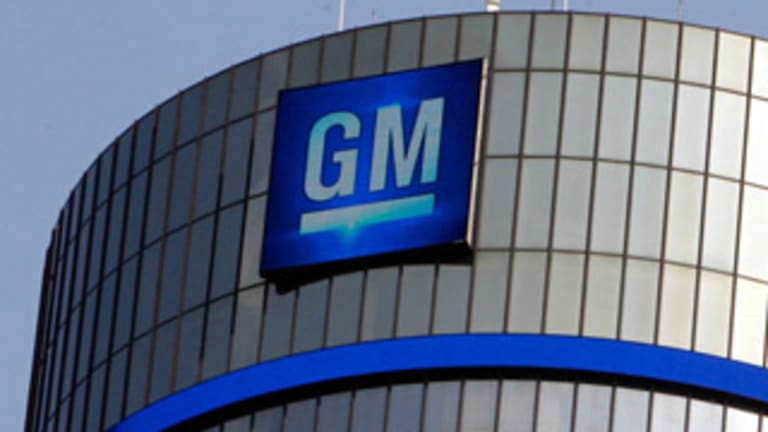 GM Expected to Tighten Grip on Top U.S. Spot as October Auto Sales Rise
GM only beat Ford by 3,000 sales in September, but experts see a 20,000 vehicle gap in October.
DETROIT (
) -- The government shutdown apparently had little impact on auto sales in October, which are expected to show double-digit gains when automakers report sales on Friday.
"The industry didn't escape the turmoil in Washington, but the disruption was not enough to stop the auto recovery," said LMC Automotive analyst Jeff Schuster, in a prepared statement. "Light-vehicle sales volume north of 16 million units in 2014 is well within reach; however, there is a higher level of risk that consumer confidence could be distracted again in the first quarter if, as expected, the debt ceiling gridlock returns."
Edmunds.com analyst Jessica Caldwell said, "It looks like the government shutdown ended just in the nick of time." In a prepared statement, Caldwell said, "The week-by-week data suggests that consumers started to get jittery by the middle of the month" but then the crisis ended. She said lost sales were likely made up in the latter half of the month.
Edmunds projects an October sales gain of 12.7%. while Kelley Blue Book expects a gain of 11.2%. Both expect total light-vehicle sales around 1.2 million. Kelley Blue book sees an October seasonally adjusted annualized sales rate of 15.4 million units, up from 14.3 million in October 2012 and up from 15.2 million in September 2013. LMC also projects a SAAR of 15.4 million units, while Edmunds projects 15.5 million units.
"Following the first year-over-year decline in 27 months in September, new-car sales should begin to bounce back in October, despite the federal government's shutdown earlier in the month," said Kelley Blue Book. The publication said October sales rates are benefiting from an additional selling day, as compared with October 2012, and by comparison with diminished East Coast sales that month due to Hurricane Sandy. It said industry sales remain on track to reach about 15.6 million in 2013.
GM
(GM)
and
Chrysler
will be in the spotlight this week, as both report earnings on Wednesday. Analysts surveyed by
Thomson Reuters
expect GM to earn 93 cents a share, just as it did in the third quarter a year earlier. GM remains second in global auto sales with 7.25 million vehicles, behind
Toyota
(TM)
, which said Monday that it sold 7.41 million vehicles in the first nine months of 2013. Chrysler, meanwhile, has filed for a public offering.
In terms of U.S. sales, GM "is expected to create a little breathing room at the top of the sales standings," according to Edmunds.com, which said that GM sales will increase 15% from September to October, outpacing No. 2
Ford's
(F)
growth of 5.2%. In September, Ford finished within almost 3,000 sales of GM's total, nearly leading the industry for the first time since since March 2011.
But this month, GM is projected to sell about 215,000 vehicles, while Ford sells 194,000 and Toyota sells 179,000. GM would have a 17.5% market share, with Ford at 15.8% and Toyota at 14.5%.
-- Written by Ted Reed in Charlotte, N.C.
>To contact the writer of this article, click here: