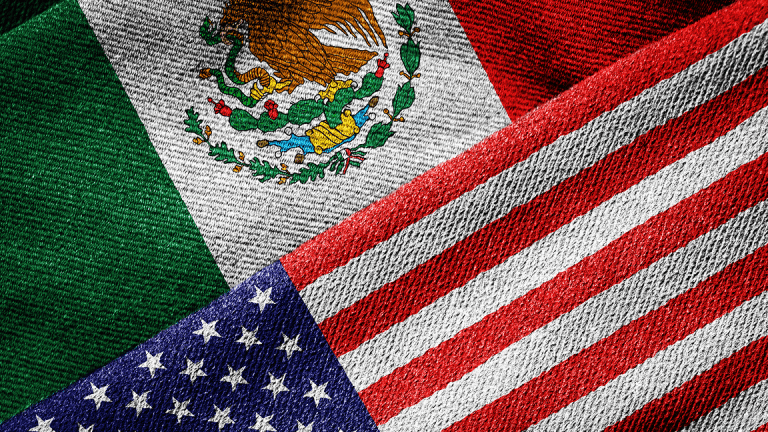 GM Defies Trump's Trade Outlook by Building New Chevy Blazer in Mexico
General Motors introduced its new Blazer model -- and said it will be produced in Mexico.
General Motors introduced its new Blazer model -- and said it will be produced in Mexico.
President Trump and the White House aren't backing down in the trade war. Just this week, trade-war rhetoric sunk U.S. equities as the Dow Jones Industrial Average strung together eight consecutive declines before Friday.
It's not just China either, as Trump has pushed back on trade deals with other partners like Canada and Mexico, as well as Europe.
Despite these developments, automakers aren't changing their plans too much. General Motors Co.  (GM) - Get Report unveiled its brand-new Chevy Blazer on Friday -- and announced that it will be manufactured in Mexico. The company made the decision even though the White House is apparently weighing a 25% auto import tariff and is investigating whether imported cars are jeopardizing national security. 
It seems like a stretch to investigate whether buying a Mercedes (which may very well be manufactured in Alabama in the first place) over a domestically made Cadillac is a national threat. But nevertheless, Trump has been adamant about the auto industry, pounding the table over frustration on auto imports and arguing against U.S. automakers like General Motors, Ford Motor Co (F) - Get Report and Chrysler (part of Fiat Chrysler (FCAU) - Get Report now) moving their production to other countries, mainly Mexico.
For its part, the UAW also said it disagrees with GM's decision.
So given this situation, why is GM pushing forward with plans to produce in Mexico? The automaker says it's been planning the new Blazer for several years, and because of its SUV production capacity in the U.S., the company planned to manufacture the new model south of the border.
Without knowing exactly how the White House will move forward, GM apparently feels confident enough to press on with its plans. 
Demand for SUVs continues to rise. As the segment gets better-looking cars and fuel efficiency continues to climb, consumers are willing to plunk down more cash for these bigger utility vehicles. It helps too that the economy continues to hum along, putting more cash in consumers' wallets.
As if the segment's sales weren't proof enough, luxury automakers are piling into the SUV/crossover segment too. It's not just Porsche with its Macan and Cayenne models, either. Mercedes has several in its lineup and Audi's lineup is doing well too. Beyond attainable luxury models, Bentley, Lamborghini, Aston Martin, Ferrari (RACE) - Get Report and others have announced or produce several models as well.
Also worth noting is Ford completely dropping its sedan portfolio in the U.S., save for the Focus and Mustang models in favor of trucks, SUVs and vans.
So for GM to bring back the iconic Blazer make sense, fitting it in as a smaller option to its Traverse and a larger model than its Equinox. Would they have been better off making a boxier, more rugged looking model instead of round, smooth and sporty vehicle? Well, that's debatable.
But one thing that doesn't appear up for debate is where GM will produce the car and right now, that's in Ramos Arizpe, Mexico.
This article is commentary by an independent contributor. At the time of publication, the author had no positions in the stocks mentioned.