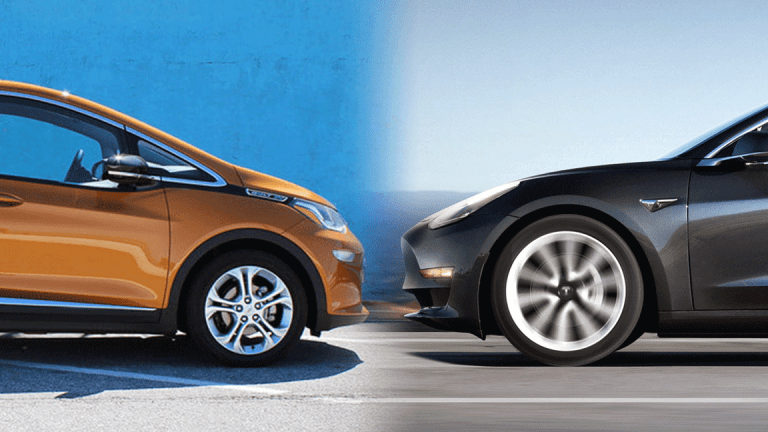 General Motors Won't Be Making Profitable Electric Cars Until 2021
'We are committed to a future electric vehicle portfolio that will be profitable,' General Motors' CEO Mary Barra said. Look out, Tesla.
General Motors Co. (GM) - Get Report is about to see Tesla Inc.'s (TSLA) - Get Report electric vehicle lineup and raise it some actual profit.
GM chief executive Mary Barra said the automaker plans to launch a new family of electric models in 2021 that will be less costly to produce and will turn a profit for the company.
"We are committed to a future electric vehicle portfolio that will be profitable," Barra said at the Barclays Global Automotive Conference in New York.
Barra's intentions for the No. 1 U.S. automaker present a direct threat to the likes of Tesla, which has hemorrhaged money trying to crank out its line of electric vehicles. Tesla recently reported its largest-ever quarterly loss.
GM's plan includes models that will accommodate several ranges of both size and segment and can be sold under many of GM's brands in the U.S. and China. While the electric vehicle trend is new to neither Detroit nor Silicon Valley, GM is among the first to promise it can deliver a profit on EV sales.
Barra said GM will bring three fully electric vehicles to the market in the next 18 months, two new fully electric crossover models to the market by 2020 and will eventually be able to manufacture its own batteries for the models.
It's not the first time the company has outlined its bold electrification strategy. GM said in October that it planned to launch 20 new electric models by 2023. Rival Ford Motor Co. (F) - Get Report has said that it plans to offer 13 electrified vehicles by 2023.
GM stock dipped lower 0.2% to $42.92 Wednesday afternoon.
More of What's Trending on TheStreet: