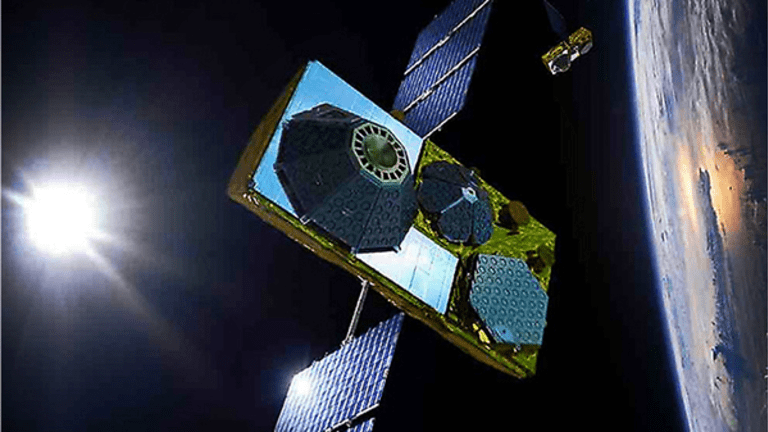 Globalstar Stock Jumps Amid Talk of Straight Path Bidding War
The satellite communications company also owns some desirable wireless spectrum.
As expectations mount for a bidding war over wireless spectrum holding company Straight Path Communications (STRP) , the stock of satellite company Globalstar (GSAT) - Get Globalstar, Inc. Report , which also owns coveted wireless spectrum, was shooting higher on Monday. And buzz about wireless deals should only grow later this month once the quiet period ends for a recent government auction of spectrum licenses.
Globalstar stock already bounced when AT&T (T) - Get AT&T Inc. Report said earlier in April that it would buy Straight Path and its portfolio of licenses for $1.6 billion. It benefited further on Monday on news that a rival suitor may seek to outbid AT&T.
Shares of Globalstar, whosespectrum could help wireless carriers bolster their coverage, rose 5% to $1.82 on Monday early afternoon, pushing its market cap above $2 billion.
Meanwhile, shares of Straight Path gained 16% to $106.61, after disclosing last Thursday after the market closed that another suitor had approached the company.
The unnamed company told Straight Path and its bankers that it is exploring an offer that would top AT&T's bid, Straight Path said in an SEC filing. Speculation centered on Verizon (VZ) - Get Verizon Communications Inc. Report , after a Reuters report identified the telecom as the challenger, citing sources familiar with the matter. Verizon declined to comment.
Globalstar provides satellite communications services, but scored a victory in December when the FCC said it could provide terrestrial service on its spectrum.
The ruling opens up the potential for Globalstar, or an acquirer, to use its spectrum for conventional wireless service. Globalstar has touted the capacity of its spectrum to support small cells, or clusters of transmitters that can "densify" network coverage in areas where cell towers or other larger infrastructure does not reach, such as stadiums or shopping malls. Verizon is an advocate of small cell deployments.
Globalstar declined to comment on the possibilities of deals.
AT&T and Verizon played a low-key role in a recently concluded government wireless auction of spectrum with relatively low frequencies, which can transmit data over long distances and allow carriers to cover large territories with limited spending on infrastructure. AT&T bid less than $1 billion, while Verizon purchased no licenses.
At this point in their development, AT&T and Verizon may be placing more of a premium on higher-frequency spectrum that travels a comparably limited distance, but can carry heavy data workloads as networks in high-traffic areas become more dense.