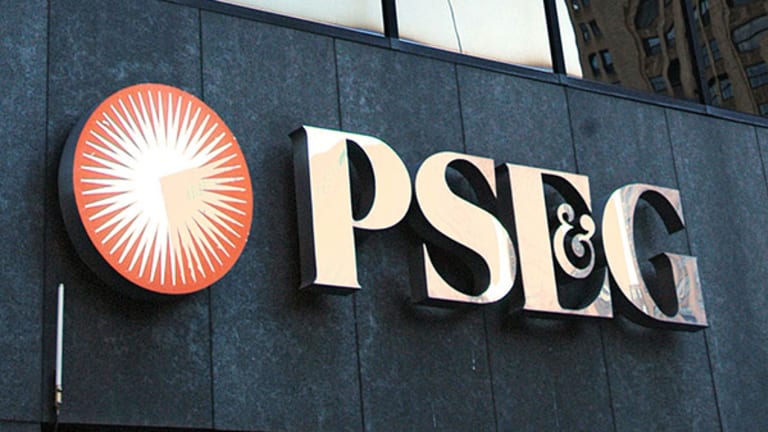 Global Warming Will Bring Electricity Sticker Shock, EIA Suggests
The U.S. Energy Information Administration's Short-Term Energy Outlook report hints that global warming is raising U.S. spending on electricity, particularly in the Northeast. Big utilities like PSEG could benefit.
NEW YORK (TheStreet) -- Last week, the U.S. Energy Information Administration released its latest Short-Term Energy Outlook, carrying the implication that electricity bills will be bumped up as an effect of global warming. That could be good news for stocks like Public Service Enterprise Group (PEG) and other big utilities still smarting from grid investments made post-Superstorm Sandy.
This report once commanded much investor attention and typically moved energy markets. Today that's not really the case. The report often seems to get lost in a myriad of geopolitical news briefs focused on events such as the latest unrest in Iraq which typically (and rightly) trumps any projected electricity analysis.
I don't want to downplay the importance of updates out of the Middle East or even the social unrest occurring outside the stadiums at the World Cup, but I do think it's a shame we don't take more notice of analysis coming from the EIA. Much like the Fed, the EIA does "at times" give subtle DaVinci Code-like hints of where they believe the energy markets are headed.
The latest "hint" links the effects of global warming with electricity consumption. Utility companies like PSEG, NRG Energy (NRG) , Con Edison (ED) and Duke Energy (DUK) could benefit. However, utilities will also be under increased scrutiny to meet that expected rise in electricity demand and to deliver power products retail consumers expect 24/7.
For the record, the EIA didn't blatantly state that global warming is going to wreak havoc on energy prices. However, based on the June 10 report, the EIA states that during the insanely bitter cold known as the Polar Vortex, electricity consumption jumped 5% more than the same period last year. Scientists have speculated that increases in global temperatures have fueled changes in the polar vortex, a circular pattern in the jet stream around the North Pole. Those changes created the bitter winter felt by much of North America.
Similarly, if the coming summer follows the recent trend, temperatures will be uncomfortably warm. The National Oceanic and Atmospheric Association reports April of this year tied with April of 2010 for the warmest on record globally. The EIA is forecasting that, even as prices have risen a relatively modest 2.6% on average the average each year since 2012, U.S. residential electricity customer will spend 4.9% more during the coming summer thanks to increased temperatures and higher expected consumption. The Northeast will be especially hard hit.
That sad news should be music to the ears of many utility players, especially those on the East Coast still recovering and implementing new energy programs following the experience of Superstorm Sandy in 2012.
Notable among them is PSEG, parent of PSE&G, a major utility in the Northeast, based in New Jersey. PSEG supplies power to 2.2 million electric and 1.8 million gas customers. The company recently agreed to a $1.22 billion settlement with the Board of Public Utilities for its Energy Strong plan. Despite that amount being a far cry from the expected $3.9 billion intended to strengthen its New Jersey energy grid, PSEG is not expecting any supply issues this summer. 
In fact, I spoke with John Latka, vice president of electric operations and Karen Johnson, spokesperson for the company, who told me PSEG is more equipped than ever before to handle customers' demand for safe, reliable electricity in the upcoming hot weather season thanks to over $2 billion in infrastructure upgrades.
Electricity price shocks are increasingly likely. Hotter temperatures are expected across the nation again this summer, with air conditioners blasting to cool off homes and commercial buildings and producing a new, more enormous strain on our dated U.S. utility power infrastructure which now on must supply even more electric juice to power all those shiny new mobile devices, TV's and electric cars.
Further, the impacts of global warming is only beginning. That's something the EIA did not say in its report. Let's face it, they really didn't have to since that scenario is now as credible as hot dogs and hamburgers on the grill in July.
Energy Rookies Challenged by a Radically Changed Playing Field
Why Alliance Resource, Cloud Peak Soar as Coal Sector Crashes
Why Deepwater Horizon Spill Was Worse Than Hell
John Licata does not own shares in any companies mentioned above. You can follow John on Twitter at bluephoenixinc.
This article represents the opinion of a contributor and not necessarily that of TheStreet or its editorial staff.
John Licata is the founder & chief energy strategist of New York based independent research company 
. He is the author of 
Lessons from Frankenstorm: Investing for Future Power Disruptions.
 He is known for uncovering new technologies, investment opportunities and future trends in the energy space ahead of mainstream thinking. He has been featured in the media for the last decade by the likes of Bloomberg
,
 CNBC,
BNN, Yahoo! Finance, Reuters Insider, TheSreet.com and Fox Business Channel.