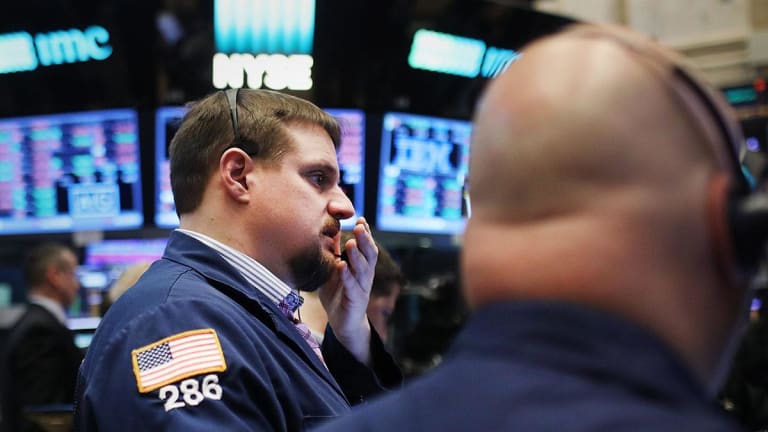 Global Stocks Slide on Trade, Growth Worries; Dow Futures Steady as Oil Rebounds
Global stocks extended declines Wednesday as investors grew increasingly concerned over a potential collapse in U.S. China trade talks and the impact it would have on an already-fragile world economy.
The Wednesday Market Minute
Global stocks extend declines on concerns over a collapse in U.S. China trade talks and its impact on an already-fragile world economy.
China's April trade data shows a surprise increase in exports, but a wider-than-expected trade deficit with the United States of $21.01 billion, adding pressure to the contentious talks this week in Washington.
Europe opens modestly lower despite stronger-than-expected German industrial data as concerns over the fate of the regional economy continue to pressure shares.
Oil prices resume their climb after China trade data shows an April import record for crude, offsetting Energy Department forecast for global demand and domestic production.
U.S. stocks set for modest opening bell gains ahead of earnings from Coty, Walt Disney and Wynn resorts as well as mortgage and crude stockpile data later in the session.
Market Snapshot
Global stocks extended declines Wednesday as investors grew increasingly concerned over a potential collapse in U.S. China trade talks and the impact it would have on an already-fragile world economy.
U.S. stocks, however, look set to hold their ground at the start of trading on Wall Street today, following last night's 500 point fall for the Dow Jones Industrial Average, as investors edge back into risk markets amid some promising signals on growth, solid domestic corporate earnings and hopes that this weeks talks in Washington will salvage months of negotiations on trade between the world's two biggest economies.
Contracts tied to the Dow suggest a 1 point dip for the 30-stock average today, while those linked to the S&P 500 indicate a 4 point dip for the broader benchmark, amid what remains extremely favorable fundamentals for U.S. equities in the form of rising corporate profits, improving labor market and wage gains, an economy growing at a near 3% clip and a dovish central bank that isn't prepared to signal rate hikes until at least the latter part of this year.
That said, international equity markets continue to navigate a far more complicated path towards extended 2019 gains, with investors concerned that a U.S.-China trade war will damage growth prospect in economies that export goods to both countries. 
European stocks, which have remained sensitive to develops in U.S.-China trade talks while having no influence on their outcome, fell modestly at the start of trading today, following yesterday's sharp declines, against a backdrop of weaker growth and political uncertainty.
The Stoxx 600 index, the regional benchmark, was seen 0.1% lower, however, in the opening two hours of trading, supported by a stronger-than-expected reading for Germany's manufacturing output over the month of March and solid second quarter profits from industrial giant Siemens AG (SEIGY) .
Asia stocks, as well, found some solace from a mixed set of China trade data that showed a surprise increase in April exports, but still recorded sharp declines as the momentum from last night's sell-off on Wall Street washed over markets around the region.
The MSCI Asia ex-Japan index was marked 0.7% lower heading into the final hours of trading while Japan's Nikkei 225 tumbled 1.46% amid concerns over lower-than-expected profit forecasts from Toyota Motor Co.
Global oil prices, however, bucked the broader risk-off trend in financial markets with solid gains for both world and U.S. futures following official China trade data that showed an April record in crude imports of 10.64 million barrels per day.
That figure offset concerns for both weaker demand and rising U.S. production rates, published yesterday by the U.S. Energy Department, which sees domestic output rising to as high as 13.38 million barrels per day by the end of next year, a figure which would make it by some distance the biggest oil producer in the world.
Brent crude contracts for July delivery, the global benchmark for oil prices, were marked 40 cents higher from their Tuesday close in New York and changing hands at $70.28 per barrel while WTI contracts for June delivery were seen 58 cents higher at $61.98 per barrel.