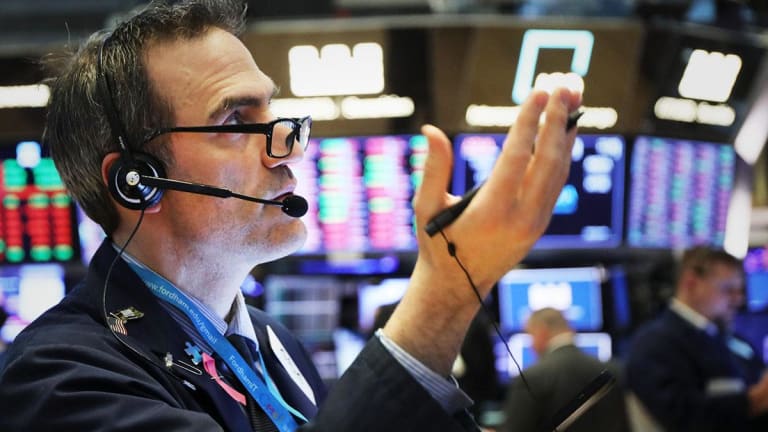 Global Stocks Rally Despite Trump Tariff Decision as Talks With China Continue
Global stock notched surprisingly solid gains Friday, helping U.S. equity futures edge towards a positive open on Wall Street, as investors reacted to President Donald Trump's decision to increase tariffs on China-made goods in the steepest escalation of the ongoing trade war between the world's two biggest economies.
The Friday Market Minute
Global stocks rebound despite the U.S. increasing tariffs on China-made goods as investors hope a narrow window in application will pave the way for a trade deal.
Tariffs increased to 25% from 10% on $200 billion worth of Chinese imports, but wont' apply to goods already in transit, leaving a two week window during which Washington and Beijing can continue to negotiate.
China stocks surge in a late-session rally, Asia books solid gains and Europe opens stronger on the trade optimism.
Global oil prices also register solid gains, as hopes for a deal, as well as ongoing OPEC cuts, offset rising U.S. production rates.
U.S. equity futures point to more opening bell gains on Wall Street ahead of consumer inflation data at 8:30 am and earnings from Marriott and Viacom.
Market Snapshot
U.S. equity futures reversed earlier gains Friday after President Donald Trump unleashed a torrent of comment on social media that suggested there was "no rush" to reach a trade agreement with China just after after he opted to increased tariffs on $200 billion worth imports in the latest escalation of the ongoing trade war.
Trump made good on his threat, first revealed in Tweet five days ago, at midnight Eastern Time, with U.S. Customs and Border Protection officials confirming a new 25% tariff on around 5,700 product categories comprising around $200 billion of Chinese imports, The new tariff level, however, won't apply to goods that are already in transit to the United States, providing Washington and Beijing with a two week window during which the two sides can reach a comprehensive agreement that could roll back last night's tariff increase.
China's Commerce Ministry vowed retaliation, saying in a statement Friday that unspecified countermeasures would be deployed following the "disappointing" U.S. decision, but the two-week window, as well as the fact that Vice Premier Liu He remains in Washington for a second day of talks with top U.S. trade officials, gave global markets a chance to rebound from a week of notable losses in markets around the world.
Japan's Nikkei 225, however, was left out of the Friday rally, with the benchmark ending its worst week of the year with a 0.27% decline as the yen gained in safe-haven trading sparked by the second short-range missile test by North Korea of the past ten days. 
Broader Asia stocks, however, including China's Shanghai Composite, booked strong gains, with the benchmark rising 3.1% thanks to a late-session rally and the MSCI Asia ex-Japan index rising 0.52%.
U.S. equity futures slipped lower following Trump's Tweets, with contracts tied to the Dow Jones Industrial Average indicating a 130 point slip and those linked to the S&P 500 suggesting a 19 point pullback for the broader benchmark.
Trump again intimated -- incorrectly -- that China would pay the cost of the tariff increases, which rose to 25% from 10% at midnight last night on around 5,700 different goods, and repeated his threat to apply levies to a further $325 billion of Chinese imports.
Uber Technologies (UBER) will debut on the New York Stock Exchange Friday, after raising just over $8 billion from its much-anticipated initial public offering that values the ride-sharing group at $82.4 billion, against a volatile market backdrop and ongoing controversy over its business practices.
Uber priced its offering at $45 per share, near the bottom of the $44 to $50 range its Wall Street advisors had marketed the stock to investors in the weeks prior to today's listing, which will be the biggest for a U.S.-based company since Facebook's Inc. (FB) flotation in 2012. The 180 million shares will earn Uber $8.1 billion -- an amount that nearly matches the ride-sharing group's losses over the past three years -- and gives it a market value of $82.4 billion.
European stocks opened the Friday session on solid footing, as well, boosted by hopes that the two-week tariff window will pave the way for a U.S.-China trade deal as well as a stronger-than-expected reading of March exports from Germany that suggests surprising resilience for the region's biggest economy.
The Stoxx 600 benchmark was seen 0.6% higher by mid-afternoon in Frankfurt, with Germany's DAX performance index pacing the advance with a 0.7% gain as trade-sensitive sectors such as autos and tech lead gainers on the benchmark.2
Britain's FTSE 100 was also on the move, rising 0.3% as the pound held at the 1.30 market against a moderately weaker U.S. dollar and first quarter GDP was revised up to a 0.5% growth rate.
Global oil prices were also boosted by the near-term optimism, rising across the board despite this week's EIA data showing both a bigger-than-expected reduction in domestic crude supplies and record production rates of 12.3 million barrels per day.
Brent crude contracts for July delivery, the global benchmark for oil prices, were marked 44 cents higher from their Thursday close in New York and changing hands at $70.83 per barrel while WTI contracts for June delivery were seen 16 cents lower at $61.86 per barrel.