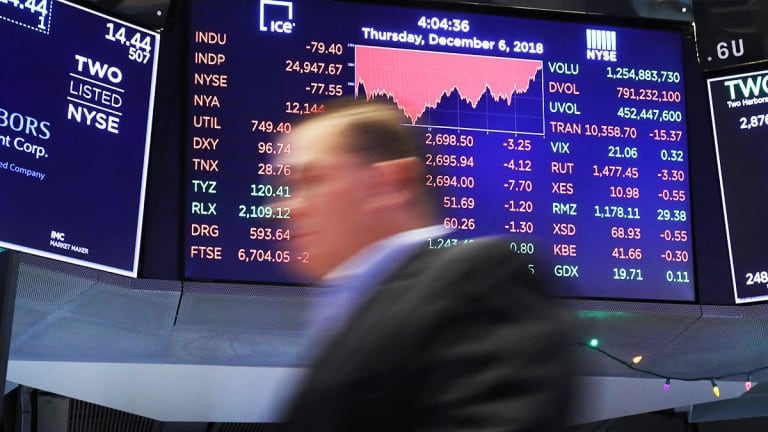 US Stocks Gain on Q3 GDP Revision; Global Markets Rattled by White House Turmoil
U.S. stocks look set to open firmly higher Friday after weaker-than-expected economic data suggested the Federal Reserve may not be able to raise interest rates as quickly as anticipated, even if underlying growth and labor markets remain solid.
The Friday Market Minute
Global stocks extend declines amid a concerning backdrop of rising U.S. interest rates, slowing economic growth and renewed White House turmoil.
Stocks in Japan hit a 15-month low as the yen climbs against a weaker U.S. dollar, while China shares slide after U.S. prosecutors charge two Chinese nations with hacking key government agencies
Oil prices rebound on reports OPEC members will step up production cut compliance, but prices remain some 37% from their early October peak.
U.S. Treasury yield curve remains flat, with 3-month libor rates rising above 10-year note yields in further bond market warning on growth. 
U.S. stocks set to open modestly higher, with Dow futures indicating a 160 point opening bell gain, following heavy selling last night that left the major indices at October 2017 lows at the Nasdaq dangling a few points from bear market territory.
Market Snapshot
U.S. stocks look set to open firmly higher Friday after weaker-than-expected economic data suggested the Federal Reserve may not be able to raise interest rates as quickly as anticipated, even if underlying growth and labor markets remain solid.
Third quarter GDP growth was revised to 3.4% from 3.5% today by the Commerce department, while durable goods orders for the month of November rose by a less-than-expected 0.8%.  The data offset concerns of a government shutdown that had accelerated selling on Wall Street last night, pulling the Dow Jones Industrial Average I:DJI and the S&P 500 I:GSPC to the lowest levels since October of last year, and dangling the tech-focused Nasdaq Composite I:IXIC within just a few points of bear market territory.
Early indications from U.S. equity futures suggest an opening bell rebound Friday, with contracts tied to the Dow indicating a 166 point decline and those linked to the broader S&P 500 guiding to a 16 point advance for the broader benchmark.
Nike Inc. (NKE) - Get Report shares were indicated sharply higher in pre-market trading Friday after the world's biggest sports apparel company posted stronger-than-expected quarterly earnings as new digital drive boosted revenues at home and accelerated sales in key markets such as China abroad.
Nike said earnings for the three months ending in November, the company's fiscal second quarter, came in at 52 cents a share, firmly ahead of the Street forecast of 46 cents and up 13% from the same period last year. Group revenues, Nike said, rose 10% to 9.4 billion, again topping Street forecast, as sales in China rose 26.5% to just over $1.54 billion thank in part to a 40% surge in Singles' Day activity.
Global stocks, however, declines Friday as Wall Street heading for its worst quarter since the financial crisis, as investors reacted to the fallout from this week's Federal Reserve rate decision, slowing economic growth, U.S. China trade tensions and renewed chaos in the White House. 
Investors faced a host of issues heading into the final full trading day of the year Friday, with many growing increasing concerned that President Donald Trump's erratic administration will add to a global market backdrop that is already struggling under intense pressure from falling share prices, slumping crude and a weakening U.S. dollar.
The mood in the U.S. was darkened by the fact that President Trump appeared content to risk a government shutdown later today by refusing to sign a continuing resolution that would fund the nation's spending plans until February, arguing it didn't include $5 billion for a proposed wall along the Mexican border.
That move, which was backed up by a Congressional vote that is unlikely to find support in the Senate, was followed by the resignation of Defense Secretary James Mattis, perhaps the most highly-respected member of his administration, over differences linked to foreign policy and the withdraw of troops in Syria.
Stocks in Asia followed Wall Street lower Friday, with Japan's Nikkei 225 slumping to a 15-month low as the yen strengthened against the sliding greenback, while China's tech-focused CSI 300 fell 1.24% following charges by U.S prosecutors against two Chinese nationals for hacking key government agencies and a broader statement that accused Beijing of economic espionage.
"No country poses a broader, more severe long-term threat to our nation's economy and cyber infrastructure than China," said FBI Director Chris Wray. "China's goal, simply put, is to replace the U.S. as the world's leading superpower, and they're using illegal methods to get there."
European stocks were weaker by mid-day in Frankfurt, with most of the major bourses around the region slipping into the red and the Stoxx 600 falling 0.34%, led by a 0.47% slide for the trade-sensitive DAX performance index in Germany.
Investors are also keeping a keen eye on developments in the U.S. government bond market, where the spread between 2-year and 10-year note yields narrowed to just 9.5 basis points as 10-year notes traded at 2.745%, the lowest since April, following Wednesday's Fed decision that signaled two 2019 rate hikes  -- following the fourth increase of the year -- even as the central bank trimmed GDP growth forecasts.
The yield moves were matched by an inversion of the spread between 3-month libor, a rate which is used by investment banks to benchmark lending to each other and to underpin the prices of trillions of assets all over the world, and 10-year note yields, a condition many see as signalling recession within the next 18 months.
Oil prices, too, have been suggesting significantly slower economic growth of late, with Brent crude prices falling more than 37% over the past three months, even as OPEC cartel members plotted to cut their collective production by 1.2 million barrels per day.
Prices edged modestly higher Friday, however, amid reports that OPEC members will need to increase their rate of compliance with the cuts, which are scheduled to commence in January, in order to offset the extra supply coming from the United States, where output has reached a record 11.7 million barrels per day. Those gains were reversed later in the session as the dollar rebounded following reports of potential tax and interest rate cuts from China.
Brent crude contracts for February delivery, the global benchmark, were marked 96 cents lower from their Thursday close in New York and changing hands at $53.49 per barrel while WTI contracts for the same month were marked 38 cents lower at $45.50 per barrel.