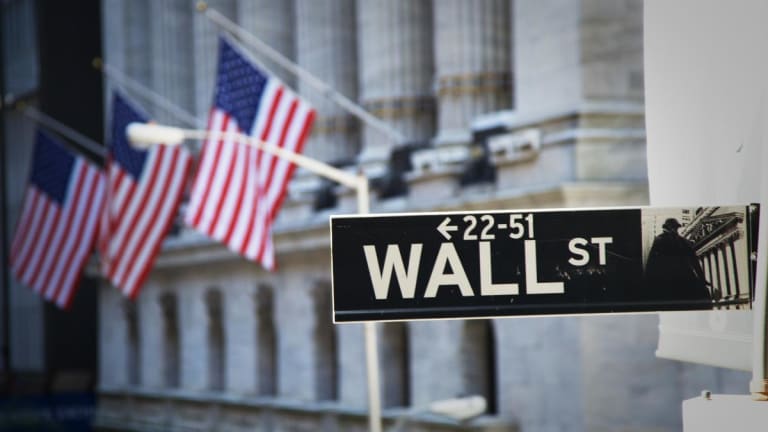 Global Stocks Climb on Reports of Detailed Trade Talk Progress, 'Patient' Fed
Global stocks extended gains Thursday amid multiple reports of significant progress in U.S.-China trade talks and confirmation from the Federal Reserve that it will remain "patient" on future rate hikes in the world's biggest economy.
The Thursday Market Minute
Global stocks extend gains on reports of detailed progress in U.S. China trade talks that could allow President Donald Trump to extend the March 2 deadline.
Stocks get a further boost from Thursday's Fed Minutes, which reiterated the central bank's "patience" on policy but left the door open for late 2019 rate hikes.
Global oil prices print fresh 2019 highs as OPEC+ production cuts and a flat U.S. dollar offset a buildup in U.S. inventories and slowing global demand.
U.S. equity futures point to extended gains Thursday ahead of quarterly earnings from Kraft Heinz, Hewlett Packard Enterprises and Newmont Mining.
Market Snapshot
Global stocks extended gains Thursday amid multiple reports of significant progress in U.S.-China trade talks and confirmation from the Federal Reserve that it will remain "patient" on future rate hikes in the world's biggest economy.
Negotiators from both the U.S. and China working this week in Washington have drawn up several memorandums of understanding, covering issues ranging from agricultural purchases to intellectual property protection, that would define the nature of any broader agreement the two sides may reach over the coming weeks and months, several media outlets have reported Thursday, citing sources close to the talks.
The agreements, while still at draft stage, would mark the most significant progress in the current round of negotiations, which began in early December, and could suggest that President Donald Trump is more likely to extend the March 1 deadline in order the allow the process to play out.
Investors were also buoyed by the release yesterday of Minutes from the Federal Reserve's January rate-setting meeting, which reiterated the central bank's aim to be more "patient" on future hikes while still leaving room to take lending rates higher later in the year.
"Many participants suggested that it was not yet clear what adjustments to the target range for the federal funds rate may be appropriate later this year," the Minutes read. "Several of these participants argued that rate increases might prove necessary only if inflation outcomes were higher than in their baseline outlook."
The Fed also indicated it would like to halt the reduction of its $4 trillion balance sheet, suggesting the so-called "roll off" -- where maturing bonds are not reinvested into the portfolio -- could end before the end of the year.
Markets in Asia tested fresh four-and-a-half month highs in overnight trading as a result of the twin set of bullish news, although gains were capped somewhat by rising crude prices, which hit new 2019 highs as the impact of OPEC+ output cuts continues to offset record U.S. production.
Early indications from U.S. equity futures prices suggests Wall Street could extend last night's modest gains, which lifted the S&P 500 undefined to an 11% year-to-date gain, with contracts tied to the broadest benchmark of U.S. shares indicating a 4.5 point advance and those linked to the Dow Jones Industrial Average I:DJI suggesting a 32 point bump for the 30-stock index.
European stocks, however, were modestly weaker by mid-day trading in Frankfurt, with the Stoxx 600 drifting 0.17% into the red as some of the region's blue-chip stocks delivered weaker-than-expected quarterly earnings.
Germany's DAX performance index, perhaps the most trade-sensitive benchmark in the European region, added 0.10% while Britain's FTSE 100 slipped 0.72% despite a solid .32% gain for Barclays plc (BCS) - Get Barclays PLC Sponsored ADR Report after it reported weaker-than-expected 2018 earnings but said it would continue to grow its dividend payout.
The U.S dollar index, which tracks the greenback against a basket of six global currencies, was little-changed in overnight trading after the Fed Minutes, which indicated both patience on rates and the potential for a late 2019 rate-hike. Benchmark 10-year Treasury bond yields were marked at 2.659% while 2-year notes were seen at 2.51%.
Global oil prices traded at the highest levels of 2019 in early European hours, taking the year-to-date gain for Brent crude close to 25%, as investors continued to watch the collective momentum of OPEC+ production cuts offset record U.S. output, White House sanctions on Iran and Venezuela and a buildup in domestic oil inventories.
Brent crude contracts for April delivery, the global benchmark, were marked 6 cents lower from their Wednesday close in New York and changing hands at $67.02 while WTI contracts for the same month were seen 10 cents higher at $57.26 per barrel.