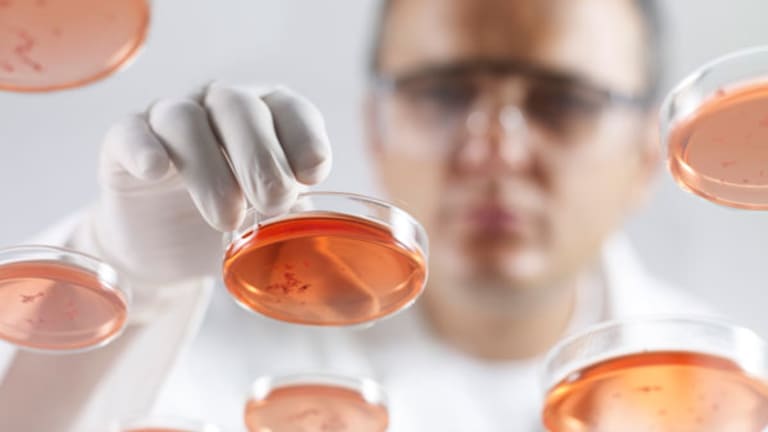 Global Blood Bolsters Sickle Cell Drug With More Patient Data
Expanded results from a Global Blood study continue to show encouraging reductions in the number of sickled red blood cells, supported by other improvements in measures of the disease.
Global Blood Therapeutics (GBT) - Get Global Blood Therapeutics Inc Report completed a successful initial public offering public earlier this year based on a promising sickle cell disease drug with data culled from six patients treated for just one month.
The company has now treated 30 sickle cell patients with its experimental drug, GBT440. The expanded, but still interim, results from a clinical trial announced Sunday continue to show encouraging reductions in the number of sickled red blood cells, supported by other improvements in measures of the disease. The new data also raise some questions about GBT440 that will only be answered with more time and patients treated.
The new GBT440 data were presented at the American Society of Hematology (ASH) annual meeting, underway in Orlando, Fla. Dr. Claire Hemmaway of Queens Hospital in the United Kingdom presented the GBT440 and called the drug potentially disease modifying for sickle cell patients. 
Based on these new data, Global Blood has amended the study to extend treatment with GBT440 to three months in order to collect longer-term efficacy and safety data. The first of these three-month results should be announced in the second quarter of next year, said Global Blood CEO Ted Love in an interview Saturday.
Global Blood and Bluebird Bio are tackling sickle cell disease in different ways. Bluebird's Lentiglobin is designed to fix a mutated gene in patients which causes oxygen-carrying red blood cells to deform into a sticky, sickle shape. It's a complex but one-time gene therapy treatment with the scientifically audacious goal of curing the disease.
Global Blood's GBT440 works by modifying hemoglobin, the oxygen-carry protein inside red blood cells. GBT440 makes oxygen attach more tightly to hemoglobin. By keeping hemoglobin in a highly oxygenated state, the mutation which causes sickle cell disease is covered up, preventing red blood cells from becoming deformed and clumping together.
GBT440 is a pill which sickle cell patients would take once daily for the rest of their lives.
In the study presented Sunday at the ASH meeting, 22 sickle cell patients were divided into two groups and treated with 500 mg or 700 mg of GBT440. EIght patients were treated with a placebo.
After 28 days, median sickle cell counts fell by 56% in the 500 mg GBT440 patients and 46% in the 700 mg GBT440 patients. In placebo patients, median sickle cell counts increased by 14%.
Overall, the updated decrease in sickle cell counts in the 22 GBT440 patients was numerically smaller than the approximate 80% reduction observed in the first six treated patients presented when Global Blood went public. There was also no dose response, meaning the lower GBT440 dose performed better than the higher dose.
Global Blood's Love said the overall response to GBT440 remained encouraging, even with the smaller numerical reduction in sickle cell count. He also said there was high variability between patients depending on the severity of their sickle cell disease.
Directionally, other measures of efficacy assessed in the study supported the activity of the drug. This included a median increase in hemoglobin concentration of 0.5 g/dl and 0.7 g/dl in the 500 mg and 700 mg doses of GBT440, respectively. By comparison, placebo patients showed a 0.1 g/dl decrease in hemoglobin.
The hemoglobin increase tied to both GBT440 doses peaked between days 22-25 but then dropped as the study concluded at day 28. The hemoglobin concentration in the placebo arm of the study was also trending down at day 28.  This downward trend in hemoglobin production raises questions about the durability of GBT440's effect.
Love said a hemoglobin increase of 1 to 1.5 g/dl is considered clinically meaningful by most doctors who treat sickle cell patients. GBT400 is not quite there yet, but the company believes longer treatment will help patients get closer to that goal.
On safety, none of the sickle cell patients discontinued treatment with GBT440 and there were no serious adverse events reported in the study.
While no safety issues have cropped up in GBT440-treated patients yet, attempts by other companies to develop similar hemoglobin modifiers have not ended well. The big safety risk is that oxygen becomes so tightly bound to hemoglobin that it doesn't detach when instructed. This can lead to hypoxia, or tissues and organs deprived of adequate oxygen.
One of the goals of the ongoing three-month treatment with GBT440 will be to further define the drug's safety profile in sickle cell patients.
Adam Feuerstein writes regularly for TheStreet. In keeping with company editorial policy, he doesn't own or short individual stocks, although he owns stock in TheStreet. He also doesn't invest in hedge funds or other private investment partnerships. Feuerstein appreciates your feedback; click here to send him an email.